Following on from last years spectacular success 'Winter Wonderland' and a fantastic year in the city Bongo's Bingo will be hosting 14 panto-inspired shows this December at The Boiler Shop.
'Bongo and the Beast' is bound to bring festive fun, prizes and the usual mayhem, mischief and magic to the city of Newcastle this Christmas. Mickey Pickles and his dancers are set to dazzle as they take us all on a glittery odyssey – and tickets are selling fast.
90's boy band 5ive are set to make three special guest appearances at the Boiler Club for shows on the November 29 , November 30 and December 1.
Then seeing out 2018 and welcoming 2019 will be a series of shows with S Club making special guest appearances from December 27 right through to NYE.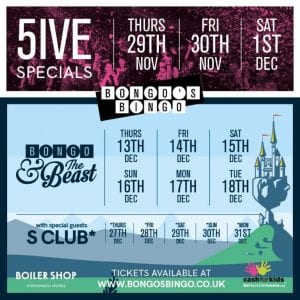 Having teamed up with 'Cash for Kids' for all of the shows £1 from each ticket sale will be donated to the charity raising approximately £7.5k.
Tickets go on sale 6pm on Tuesday October 2 and can be purchased here
Expect big cash prizes, silly prizes (we hear a box of Coco Pops could be in store for one lucky winner), awkward dance offs (like the ones round your Nans house on boxing day), rave intervals Christmas bangers and much more.
Bongo's Bingo is an insane mix of a live show, a rave and heads-down game of bingo, with
dance-offs, rave intervals, plenty of heckling, lots of audience participation and countless classic anthems each night.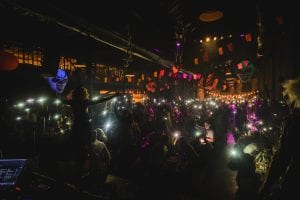 There's the chance to win pink unicorns, mobility scooters, mobility scooters and life-size cardboard cut outs to big cash prizes, as the electric tension
rises with each round of bingo.
There will of course be a more than liberal dose of party songs from across the ages too throughout the shows – plenty of classics, ballads and hands-in-the-air merriment – and extra special Christmas prizes too for lucky winners.
Fancy dress is encouraged for the most amazing time of the year, with plenty of confetti-filled bangs, loads of glow sticks, a Henry Hoover and gallons of Buckfast to warm the collective cockles as winter draws in.
Dates for shows without the special guest appearances from 5ive or S Club run for a consecutive period from December 13 through to December 18.
I Love Newcastle Magazine would love to hear your thoughts about the above post, so please feel free to share them in the comments box below.