Geordie Film set to Celebrate 18th Birthday with Tim Healy & Cast
CHRIS CROSS the Magician has gathered fellow Geordie Stars together to raise Cash for a few local charities, whilst Celebrating 18 years since the cult Geordie film, Purely Belter, was filmed on location in the North East.
Landmarks in the movie include; The Angel of the North, The Spanish City Fairground, St James's Park, Kielder, Gateshead High St, Metroland, Northumberland Street, The Quayside, Grey Street and many other well known spots around the region.
Yes, it's 18 years since that film about two lads wanting season tickets to Newcastle United was filmed here in Newcastle – how time flies!
Tim Healy, Charlie Hardwick, Greg McLane, Chris Beattie, Val McLane, Charlie Richmond & Other Cast members of the movie are all confirmed to attend this special one-off event.
After the screening, they'll take to the stage for a bit of banter with Host & Organiser, Chris Cross the Magician. Expect behind-the-scenes stories, anecdotes and a good laugh with some of our favourite Geordie faces!

All profits from the screening event will be donated to a few local causes:
Funds in aid of David Whitaker: A Donation towards the ongoing care and rehabilitation of local acclaimed actor, Dave Whitaker. North East actor David Whitaker suffered a massive stroke during the interval of a performance of the Live Theatre / Soho Theatre production Utopia at the Soho Theatre in July 2012. Since then, after being treated at University College Hospital in London, the RVI in Newcastle and then at Newcastle General Hospital, he has been unable to speak and has very limited movement, being paralysed down the right-hand side of his body, and has been living in a care home.
Intensive therapy sessions, not available on the NHS, are essential to enable him to regain some quality of life and his family, friends and colleagues have been fundraising to enable this therapy to continue.
The Jay Lennon Foundation: Paul Gascoigne's sister set this up in memory of her son, Jay Lennon Kerrigan Gascoigne. It started as a fund raising group, raising money for MIND and raised over £5,000 in less than 5 months. They're now raising money for Jay Lennon hospital beds for mental health patients. Their ENOUGH IS ENOUGH Campaign is one of the Biggest ever mental health campaigns seen in the UK. The money raised will go towards beds in North East hospitals.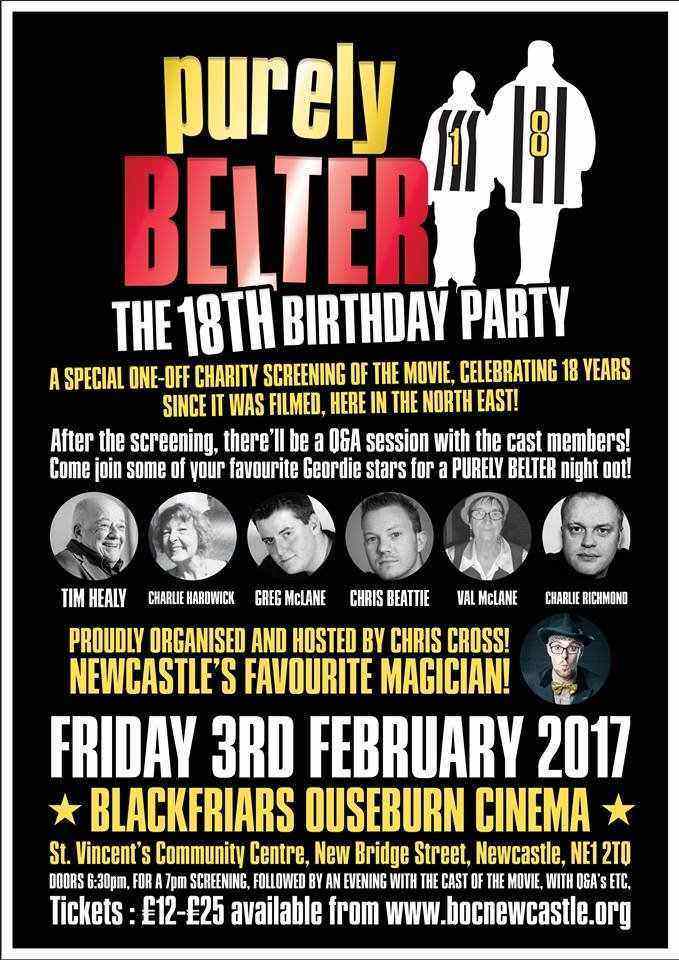 Chris Cross the Magician, Organiser & Host of the Evening, says:
"Purely Belter is one of my favourite films and I've been mates with Chris Beattie, who played 'Gerry' in the movie, for a while now. We got talking one day about the film and he told me loads of interesting facts as well as funny stories from filming that I'd never heard before and would never have known, neither!
A few weeks later, when I got booked to entertain at Alan Shearer's statue unveiling after-party, I mentioned the film to Alan and he started recalling parts of it and laughing about him getting his car nicked in the movie!
At that point, I decided that on its 18th anniversary, the movie shouldn't sneak under the radar!
I'm REALLY excited to be bringing the majority of the films cast together for one PURELY BELTER Night- As well as a few tricks, I also have some questions up my sleeves that I'm dying to ask them".
I'm really pleased to be donating the profits to a few LOCAL causes too. Money raised won't go to a big national charity elsewhere in the country,
it'll be distributed here, in the north east, to a few worthy causes I've selected. Charity starts at home."
Chris Cross, 27, from the West End of Newcastle, has been performing as a Close-up & Cabaret Magician at Private, VIP & Celebrity events around the world. Since he was 10 years old for the likes of Alice Cooper, The Prince of Wales, Mike Tyson, Boy George and many others.
The Blackfriars Ouseburn Cinema is hosting the event and kindly donating the screening facilities. The Cinema, which is a new not-for-profit, pop-up cinema, regular hosts screenings at Blackfriars.
The Cinema prides itself on being a little different to most cinemas; offering a unique way to experience film. With a dimly-lit table set-up, a traditional intermission and even refreshments delivered directly to viewers seats, screening in a large beautiful hall with a wonderful bar that provides a full range of hot and cold drinks & snacks including ice-cream and popcorn!
Tickets are Priced between £12 – £25 and go on sale Tues 29th November:
www.BOCNewcastle.org/purely-belter
I Love Newcastle Magazine would love to hear your thoughts about the above post, so please feel free to share them in the comments box below.