THE Jolly Fisherman on Newcastle's Quayside opened at the former Waterline pub site last week and has gained a renowned head chef to deliver its quality seafood offering.
Adam Hegarty will oversee the restaurant's kitchen, creating seasonal food made using only the best fresh seafood and locally sourced produce, having headed up some of the region's top eateries, including Wynyard Hall and The Baltic's Six Restaurant.
The 40-year-old originally from Devon, has lived in the North East for 15 years and has over 18 years' industry experience, enjoying a stint at London's Claridge's in the early days of his career.
Adam will run the restaurant's two kitchens, which are being installed to meet the venue's focus on exceptional food, as part of the £700,000 venture which has created up to 25 local jobs.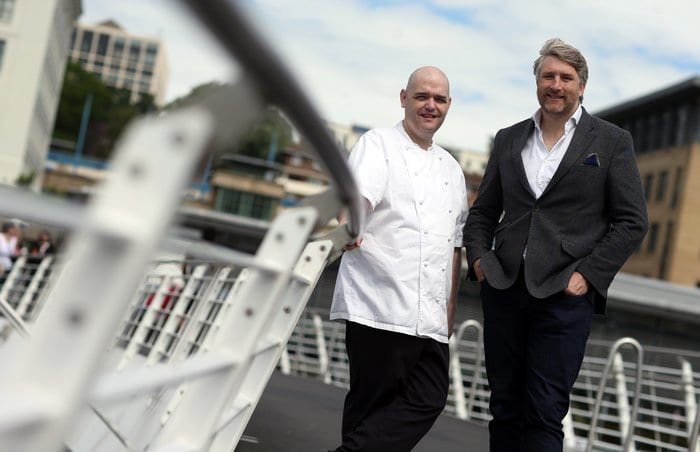 The project is being led by local restauranteur David Whitehead, in partnership with Star Pubs and Bars. David also runs the popular Jolly Fisherman pub in Craster and Plough Hotel in Alnwick.
The Jolly Fisherman on the Quay will open its doors seven days a week, for coffee and pastries from 9am, serving food until 10pm, with a midnight closing time. The restaurant and bar will offer relaxed casual dining in a stylish setting, with views of the River Tyne's iconic bridges, catering to diners and non-diners alike.
The lunchtime menu will include rustic favourite's from the restaurant's sister venue in Craster, from the crab sandwich and crab soup, to The Jolly Fishboard – a crab pot, fresh salmon, kipper pate, smoked salmon, prawns and herring roll mop, a side salad and local artisan bread.
During the evening, seafood lovers can enjoy authentic fish dishes, with elements including cured salmon, and smoked salmon – smoked on site in the restaurant's kitchen, as well as The Jolly's Marseille Bouillabaisse, Craster Crab Theremadore, and sharing options including fruits de mer.
Diners can also choose from an extensive wine selection, as well as cocktails created by a dedicated cocktail manager, and a selection of beers, ales, spirits and soft drinks.
David Whitehead, owner of The Jolly Fisherman on the Quay, said: "We have worked hard to bring to life the Quayside's newest casual dining spot and I'm thrilled to have secured such a talented and well respected head chef.
"Adam's passion for cooking with fresh fish and locally sourced produce to create top quality seafood dishes goes hand-in-hand with what The Jolly Fisherman on the Quay is all about and I'm looking forward to seeing the restaurant full of happy diners enjoying our food, whether it be couples, families, friends or groups.
"We will be open in the morning for coffee and pastries, for lighter bites during lunchtime, and casual dining in the evening, offering rustic dishes and a great selection of drinks."
Commenting on his appointment, Adam said: "It's really exciting to be taking on the head chef role at this new venture, which will bring a contemporary addition to Newcastle's iconic Quayside.
"Our food will be a true reflection of locally sourced produce at its best, with fresh fish from local boats and game from Northumberland. I'm looking forward to life in the kitchen and working with my new team to create some amazing dishes."
I Love Newcastle Magazine would love to hear your thoughts about the above post, so please feel free to share them in the comments box below.