I must start this review off by saying with all respect there is little mention of both Rory Wynne and Cabbage as unfortunately my busy schedule on the night of the event prevented me from spectating the warm up acts, however, what they did do, they did right, as the crowd upon entering was as lively as I'd ever seen it at the o2. Admittedly I only started to take a liking to Blossoms in the past few months.
Shazam-ing that catchy tune on the way back from work lead me to discovering one of the most exciting bands of 2016. When they last played in Newcastle at the modest venue Riverside, it was too little too late to grab a ticket as the unlucky few who missed out were desperately offering up thrice the price of the original figure to be in with a chance of going.
BUT once again the O2 Academy saved the day and rightly so, the show sold out within a mere two days which shows just how well their debut album eponymously titled 'Blossoms' commercially performed. It was also this years NME Tour which gives smaller bands the chance to really make a name for themselves in a mini line-up of Indie and Alternative equitably sourced bands. In the middle of a cluster of shows including the likes of Kings of Leon and The Weeknd, it was up to Tom Ogden and the gang to really go to town and use the acoustics of the smaller venue to their advantage in a much more intimate, personal setting.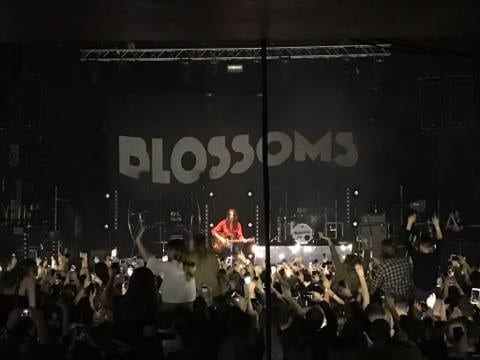 With successful singles like Charlemagne, Getaway, At Most a Kiss and Blown Rose among others I knew it wouldn't just be the overpriced pints of carbonated lager that would get me singing along to their catchy lyrics.
Unfortunately, it was only the Rose that was blown away, as I thought their overall performance was quite average. Having been compared to the likes of Catfish & The Bottlemen for their enthusiastic performances I got the impression that their erratic tour schedule had eventually caught up with them.
Despite the fact that lead singer, Tom Ogden, is clearly a very talented musician, writing all of the songs featured on the album as well as his pitch and tone of his voice mirroring that of the albums, something was missing. Perhaps it was a slight lack of energy and charisma. The lead bassist offered no sign of communicating and interacting with the audience, in fact, I don't think he moved from his spot all throughout their stage time. Ogden made contact with the crowd and addressed them on occasion but again, it was the generic: "I think this crowd could be the best we've played in front of on tour", come on, this isn't a school disco anymore, although the crowd generally was quite young, it's an outdated tactic to get the younger ones shouting louder, and P.S. we already know we're the best crowd we're Geordies for god sake.
But of course in terms of their potential, they are still in their infancy, this is merely the inception of their talent and I'm sure in time they will become better, and will grasp any crowd by the scruff of their necks. Yes I may still be a little spiteful because lager was spilled on my new suede shoes but what Blossoms did do well, and I'm sure they can build on this in gigs to come, they put their own personal stamp on some of the songs, dedicating their song My Favourite Room, as slower, melodic and subtly sombre to anyone who has recently broken up with their significant others. This song became somewhat of an acoustic mashup with Ogden effortlessly blending in the likes of Babybird's "You're Gorgeous" and Oasis' "Don't Look Back in Anger" into one long nostalgic love session which gently lifted the reluctant hairs upon my neck, before resuming to their upbeat, idiosyncratically synthy songs. Ending on Charlemagne was a wise move as that's when lads really begun to sacrifice their shoulders as pedestals for eager partners.
Overall Blossoms was an enjoyable night but until you have the prestige of a band like Kings of Leon, known to be relatively quiet on stage, then you have to interact with the crowd. Familiarise and immerse yourself with the personality of each crowd and their respected city, without overdoing it. They'll only get better and I wish to spectate from close distance as they climb the musical ladder and begin a path to cult-status stardom.
I Love Newcastle Magazine would love to hear your thoughts about the above post, so please feel free to share them in the comments box below.