STAR WARS fans will get the chance to meet the most famous bounty hunter of them all when BOBA FETT 'stars' at an out-of-this-world Newcastle event.
Jeremy Bulloch, who played the fearsome assassin in the original Star Wars trilogy, will meet and greet fans on Thursday May 4th, internationally known as 'Star Wars Day'.
Geordie magician Chris Cross has organised the event – 'An Evening With Boba Fett' – at Blackfriars Cinema. Fans will get to watch latest Star Wars flick 'The Force Awakens' before quizzing the man behind the mask.
Jeremy starred alongside superstars including Carrie Fisher, Harrison Ford and Mark Hamill in the first three films. The first film, 'A New Hope' was released 40 years go this year.
Jeremy said: "'If you miss this one -off event, then I will find you; and you'd best be prepared for sure disintegration!"
"May the 4th be with you!"
In addition to the movie and Q&A, Chris will perform Star Wars-themed magic tricks. The Geordie magician has performed for stars including Mike Tyson, Floyd Mayweather, Alan Shearer and the Arctic Monkeys, and for British and international royalty.
There will also be stalls selling Star Wars artwork, a Galactic Photobooth and a chance for photos with costumed characters.
Star Wars obsessive Chris said: 'I met Jeremy for the first time in 2013 at a Sci-fi Convention, where I performed an escapology stunt with him.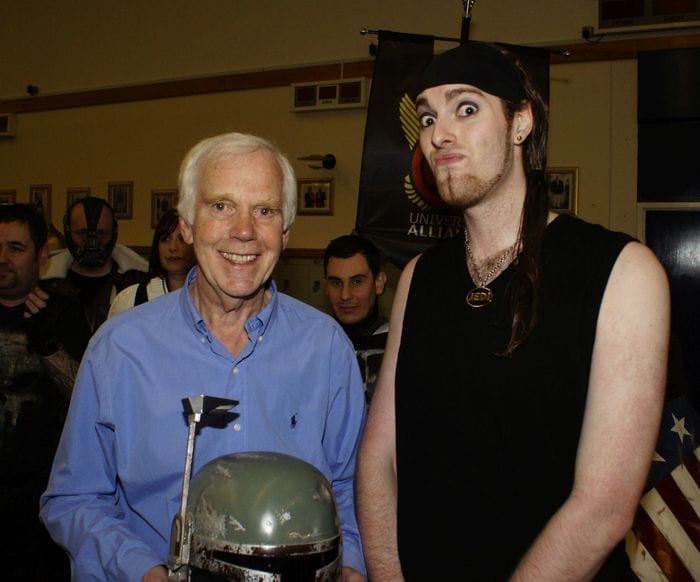 "Since then, we've kept in touch with phone calls and I always look forward to getting a Christmas card from him each year, which usually has various doodles of the famous Fett helmet on it!
"As a Big Star Wars fan myself, I've been wanting to get Jeremy to visit Newcastle for ages now, but he's always so busy jet-setting across the globe appearing at fan events all around the world!
"Finally I have pinned him down and brought film's most fearsome bounty hunter to Newcastle for the first time.
"This will be a great fun event for ALL ages – kids and big kids, alike, with plenty of stuff going on all evening.
"I'm pleased to finally bring this event to the North-East fans, it shouldn't just be London that gets all the cool events – we want some of the action up here, too!'

Jeremy has recorded a special message for Newcastle's Star Wars fans, here: https://www.facebook.com/TheChrisCross/videos/10154174375302231/
Check out http://www.bocnewcastle.org/events/boba-fett/ and https://www.facebook.com/events/1325446574142460/ for more information and tickets.
EVENT INFO
Date of Event: 4th May 2017
Venue: Blackfriars Ouseburn Cinema at St Vincent's Community Centre, Newgate St, Ouseburn.
Doors open at 6pm to VIP & Premier ticket holders, then 6:30pm General Admission. Expected finish time 11 – 11:30pm. VIP & Premier ticket holders get the chance to have a photo with Jeremy and will receive a signed posted.
VIP & Premier tickets have SOLD OUT, though a limited amount of £15 Standard Admission Tickets are available.
I Love Newcastle Magazine would love to hear your thoughts about the above post, so please feel free to share them in the comments box below.