Bongo's Bingo is very proud to announce a very special show on Saturday 22nd April at The Boiler Shop in Newcastle, as they bring S Club to the city.
In just two raucous years – from a dingy venue in Liverpool with a laptop and bingo machine to criss-crossing the UK with sold out shows – Bongo's Bingo has become a pivotal part of the country's cultural landscape; the wild scenes at each night, taking in such a vibrant demographic from across the UK, are indicative of a seismic shift happening in the nighttime agenda. And this spring the party is taking in Dubai, as well as further international shows to be revealed soon.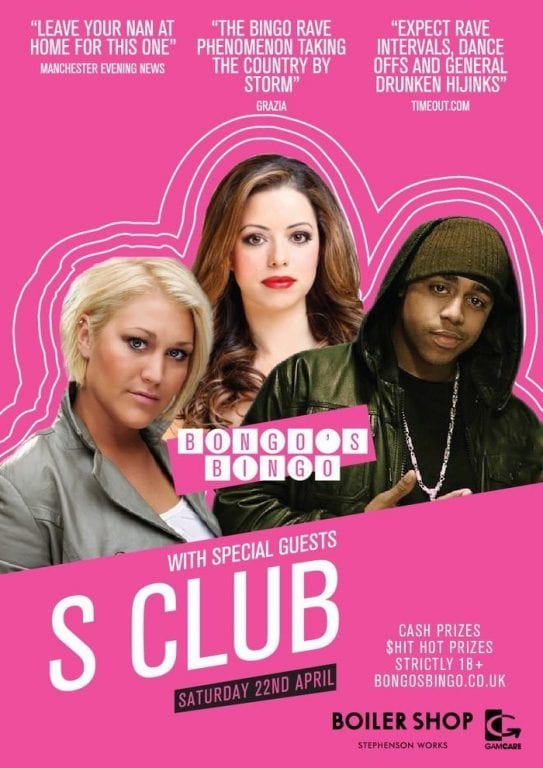 And in keeping with Bongo's Bingo's select special shows with iconic guests, Sat April 22nd is set to be a real classic with some much-loved artists dropping in. S Club 7 were one of the biggest bands of the late 90s and early 00s, with a huge catalogue of hit singles ranging from Don't Stop Moving through to Never Had A Dream Come True, the band have had huge chart success worldwide. Expect plenty of hands in the air classics on the stage and on the floor.
It's true that Bongo's Bingo has to be seen to really be believed – the show mixes the traditional elements of bingo with dance-offs, rave intervals, plenty of heckling, audience participation, endless hands-in-the-air anthems and of course winning prizes too, from Henry Hoovers to actual cold hard cash. It's a sublimely chaotic experience, and predictably unpredictable – no two shows are ever the same, yet there's a familiar thread of distilled mayhem orchestrated by Jonny, with magic running through each and every Bongo's Bingo.
Organiser Joshua Burke explains: "We've had a crazy last few weeks, including everything from going to Snowbombing which was an insane adventure, then recently our 2nd birthday weekend in Liverpool was amazing fun, and now we are going to Dubai this week too! We know this show in Newcastle is going to be special – we have brought some amazing special guests to Bongo's Bingo already, and S Club are going to have The Boiler Shop going crazy!"
WHEN & WHERE
Saturday 22nd April
@ Boiler Shop, 20 South St, Newcastle upon Tyne NE1 3PE
Featuring big cash prizes, "$hit" prizes, rave intervals and dance-offs and more!
Doors open from 6pm
TICKETS
Tickets and info from: www.bongosbingo.co.uk
To keep in touch with everything Bongo, please follow: https://twitter.com/bongosbingo88
www.facebook.com/BongosBingo
I Love Newcastle Magazine would love to hear your thoughts about the above post, so please feel free to share them in the comments box below.