OUR CITY'S restaurant scene is growing by the day… and this is instigating somewhat of a renaissance in Newcastle Dining.
The new arrivals, which seem to be popping up everywhere these days, are bringing something new to the table in order to satisfy our ever increasing, high Geordie standards. The City's existing venues also seem to be upping their game as they attempt to prevent their faithful clientele succumbing to the lure of these sparkly new establishments.
Even our city's most established eateries such as Browns have taken the initiative and introduced new steps to compete in this burgeoning and competitive market.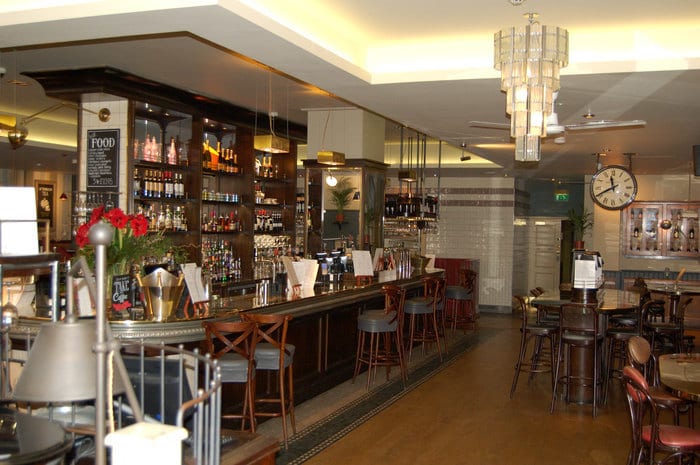 Browns Brasserie & Bar situated on Grey Street has introduced bold new menus which feature some new takes their classic dishes along with an array of new and ambitious cosmopolitan creations.
I recently visited Browns for lunch in order to give their newly launched menus a bash. The building, like all on Grey Street, is an impressive Georgian structure and Brown's interior reflects its exterior splendour with spacious seating arrangements complemented with decadent marble and mahogany furnishings.
The menus are well considered offering food for all occasions. I was particularly impressed with the vegetarian, vegan and Gluten free offerings. Browns also have a mind blowing wine list which only a building of this grand scale could comfortably house.
I chose the Malbec/Cabernet Sauvignon £34, Argentina (£34.00 bottle) as I wanted a big wine in this big space. It seemed apt.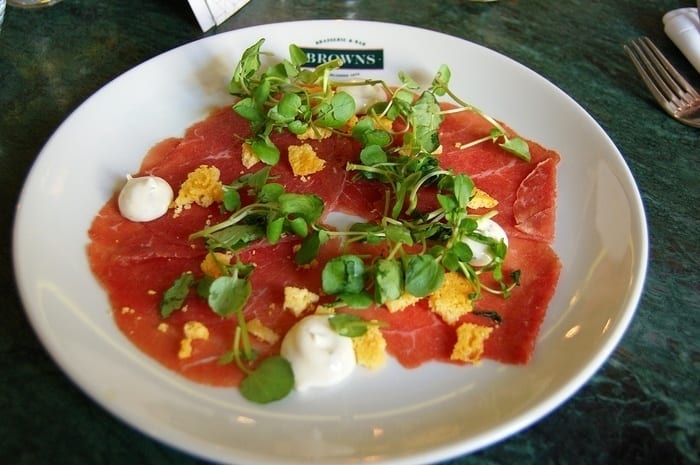 For starters, I chose the Beef Carpaccio (£7.95). A summer dish 'I know', but when it comes to the North East climate, I have to get my summer fix anyway I can! The dish was served with Parmesan crisps, pea shoots, tarragon & lemon mayonnaise. The beef was delicious and tender, the Parmesan crisps were light, crisp and added texture, and the pea shoots fresh and nicely green. The tarragon & lemon mayonnaise presented A refreshing sharpness to the dish, in contrast to the sweet, tender beef.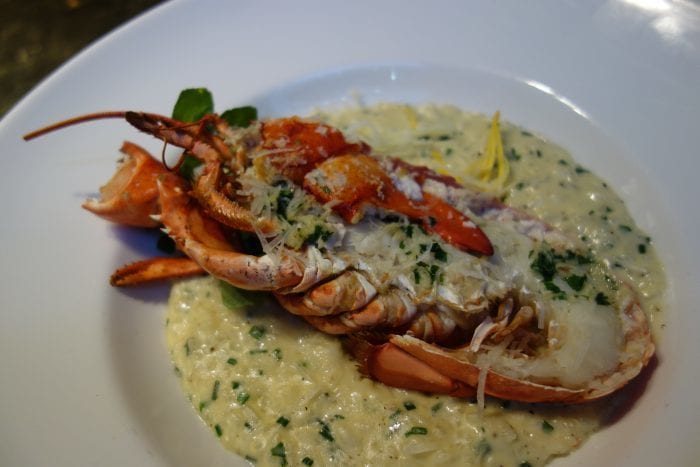 I wanted to try the lobster so chose the Lobster Risotto (£15.95) with parmesan, chive, courgette and lemon. The dish arrived beautifully presented. The lobster was fresh, perfectly cooked and flavoursome. The creamy risotto was light and tasty with just enough herbs and seasoning which helped the dish attain a more than plausible 'taste of the Mediterranean.'
On to the dessert! I ordered the Caramelised Lemon Tart (£5.95). A simple dish which many restaurants get wrong. Fortunately for me, the chefs at browns know their desserts and my dish had all the right flavours and most importantly, a perfect sweet to sour taste ratio.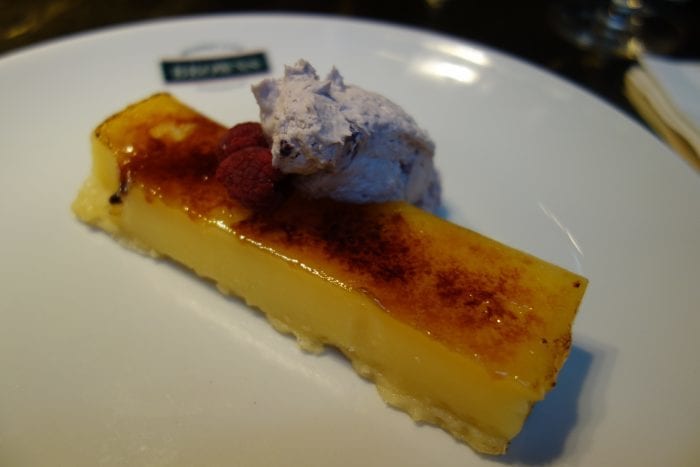 Browns is a great place to hang and eat well prepared, proper good food. With charming, helpful staff along with competitive prices, Browns will not be eclipsed by our city's new restaurant additions. In fact, this well established Newcastle favourite will undoubtedly shine through!
RATING ****
I Love Newcastle Magazine would love to hear your thoughts about the above post, so please feel free to share them in the comments box below.