Tyne Theatre and Opera House celebrates its 150th Anniversary this year, and Newcastle's very own Chris Cross and his The Greatest Show on the Tyne will play a major part in the theatre's celebrations.
2016's The Greatest Show on the Tyne was undoubtedly the biggest variety show that the North East had seen for years, featuring world-class acrobats, magicians, musicians, contortionists, comedians and more dazzling the theatre's packed audience.
Such was its success that The Greatest Show on the Tyne will be back in 2017, taking place on Friday 6th October. It will be even bigger than last year, starring the cream of the cabaret & variety crop – both the very best local and national talent.
The line-up is almost fully confirmed for this year's entertainment extravaganza, though one act is still to be decided. To find this final act, Chris Cross is giving the people of the North East the chance to audition to be part of his show. Not only is a slot in the show up for grabs, but there will also be a cash prize of £100.
The auditions are open to anybody who has a talent, and all ages and talents are welcome, whether you have a dancing dog, can do the splits, can burp the alphabet, can hula a hundred hoops, can spin on your head or can juggle chainsaws – Chris Cross and the judges want to see the North East's talents!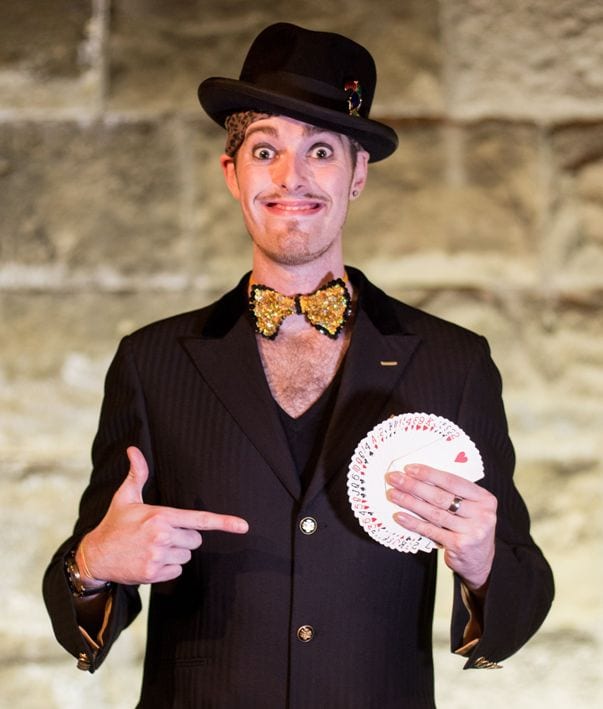 Chris Cross the Magician / Artistic Director of The Greatest Show on the Tyne says:
''I'm really excited to see what wonderful talents we have hiding amongst us in the North East! This opportunity could be the start of a dazzling career in show business – this really is YOUR time to shine folks! The other judges and I are looking forward to seeing what you've got to show us!''
Theatre Director Joanne Johnson says: "I'm thrilled that Chris Cross has asked me to be involved in the audition process and I'm intrigued to see what will be in store! The Greatest Show on the Tyne is part of our 150th Anniversary celebrations, so it's great to be involved in picking someone who will become a part of the theatre's history. "
Auditions will take place on a first come, first seen basis with a limit to 5 minutes per act. Anyone wanting to audition for the Talent on the Tyne contest should arrive at Tyne Theatre & Opera House between 10.30am and 2.30pm on Saturday 29th April. There won't be a theatre audience, but you are welcome to bring a few family members/friends along for support.
A mini-jack for music and a mic on a stand will be provided should you need to use them.
THE JUDGES
Jo Johnson – Director of Tyne Theatre & Opera House.
Chris Cross – Newcastle's favourite magician, daring escapologist & Artistic Director of the show.
Cal Halbert – Comedy impressionist & one half of BGT semi-finalist double act The Mimic Men.
Bobby Pattinson – The North East's undisputed King of comedy & legendary local entertainer.
Tickets for The Greatest Show on the Tyne are available now from www.tynetheatreandoperahouse.uk
The Tyne Theatre & Opera House Box Office is open 10am-3:30pm Monday to Friday and event days.
Booking and Information Line: 0844 2491 000 (10am – 6pm Monday to Friday)
Theatre Address: 109 – 119 Westgate Road, Newcastle, NE1 4AG
I Love Newcastle Magazine would love to hear your thoughts about the above post, so please feel free to share them in the comments box below.