CAIRN Group has injected a significant £400,000 to transform Spy Bar in Jesmond, creating increased floor space, updating both its interior and exterior areas, and enhancing its offering.
The refurbishment has touched upon the Lounge Bar to extend space for customers and refresh its décor, which now has a rustic feel featuring bare brick walls, dark wood tables with metal chairs, burnt orange leather booth seating and exaggerated light fittings.
A favourite with students and football fans, the bar's TV screens have been replaced by a collection of 60" plasma screens, for a higher quality of viewing the major sporting events regularly screened.
The outdoor drinking and dining terrace has also benefitted from the works, including the arrival of new furniture totalling almost £6k in place of the weathered pub-style tables. It now boasts luxe cushioned sofas and seats, set under parasols with heat lamps, as well as new smaller, gold and black metallic chairs and tables dotted around to provide more seating capacity for customers.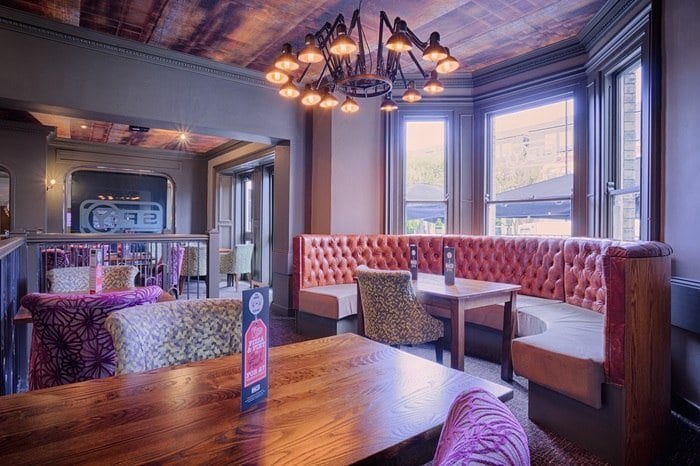 In addition to its fresh interior, the lively bar has also welcomed a new food menu featuring a mix of burgers, pizzas and even a pairing of the two – ideal accompaniments to a casual beer with friends whilst watching live sports at the venue, or lunchtime fuel before a university match.
Stand out dishes include the Paris Burger (£7.50) – beer-battered onions, smoked bacon and Comté cheese in a bun; the Crispy Duck and Hoi Sin Pizza (£8.50) – with finely chopped spring onion, chilli and cucumber and a welcome return of the Spy Bar All Day Breakfast (£5.75).
A Sunday special has been launched in the form of the Roast Beef Dinner Burger (£7.95) crammed with meat, curly kale, red cabbage, carrot, piccalilli, sauté potato, horseradish sour cream, rich home-made gravy, with fries on the side.
A collection of cocktails have also been introduced alongside the range of beers, spirits and soft drinks already available, with blends perfect to drink out on the bar's terrace throughout summer such as the Strawberry and Lychee Mojito, Passionfruit Caipirinha and Bubblegum Zombie.
Known best for its passion for sports, hearty food and weekend party atmosphere, Spy Bar can be found in a prime position on Osborne Road and is open seven days a week, from lunchtime until late evening.
Spy Bar's general manager, Daniel Ormonde, said: "Works are complete and we have opened our doors just in time for the warmer weather and our busiest time of the year – being on the sunny side of Osborne Road. It's been great to see the positive reaction of regular visitors so far to our new look and enhancements in their favourite bar.
"Thanks to our new furniture and layout, we can welcome more customers, who can take advantage of our plasma TVs and enjoy the updated food and drink offerings right in the heart of Jesmond. We do everything big; whether it's food or the screens where we show live sports, and our extensive craft ale menu is certainly no different."
Spy Bar will officially relaunch on Thursday 6 July. For more information on Spy Bar visit: www.spybarjesmond.co.uk or call 0191 281 3361.
I Love Newcastle Magazine would love to hear your thoughts about the above post, so please feel free to share them in the comments box below.