The month of May isn't just bank holiday season—it's Local and Community History Month too. Organised by the Historical Association, the campaign is all about inspiring people to learn about their local history. What better way to celebrate all that's unique about our region's history than rounding up a few Geordie traditions?
Admittedly some of our traditions are kind of quirky. Like our insistence on never wearing a coat on a night out or the even crazier annual ritual of running 13 miles from Newcastle to South Shields that so many of us choose to indulge in.
However strange, these traditions are what make the North East the North East. Can you even really call yourself a Geordie if haven't taken part in at least one of them?
The Great North Run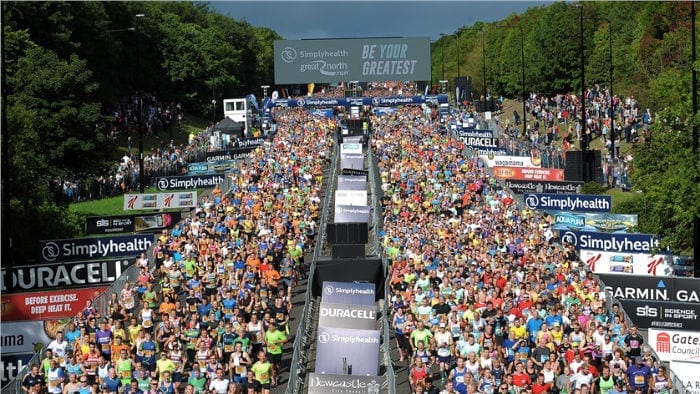 Founded by Hebburn-born long distance runner and Olympic medallist Brendan Foster, the very first Great North Run took place back in 1981 with 12,000 runners participating. These days over 40,000 runners take part each year making the Great North Run one of the biggest—not to mention most iconic—half-marathons in the world.
Whether taking part or cheering runners on from the sidelines, it's a tradition during which the whole region comes together—where non-professional runners run the same route as world-class athletes like Mo Farah and Paula Radcliffe. Best of all, the run raises a tonne of money for worthy charities each year. In 2018 alone, runners taking part raised a massive £15.5 million.
Going out without a coat on no matter what the weather
It's an unspoken rule round these parts that thou shalt not wear a coat on a night out, no matter how terrible the weather might be. So legendary is this Geordie ritual that we've been known to make national headlines when the temperatures plummet and snow starts to fall and local lads and lasses still enjoy coatless nights out in glad rags more befitting of Tenerife than the Toon in winter.
Scientists have even pondered whether there might be a genetic reason why us Geordies are seemingly immune to sub-zero temperatures, suggesting we might have thicker skins than out fellow countrymen. The real reason is probably far more simple—because we live in a fairly compact city, it's usually only a short walk shivering and slipping in the snow and ice before you get to the warmth of the next club or pub. Plus the fact we're naturally hard as nails of course.
The Hoppings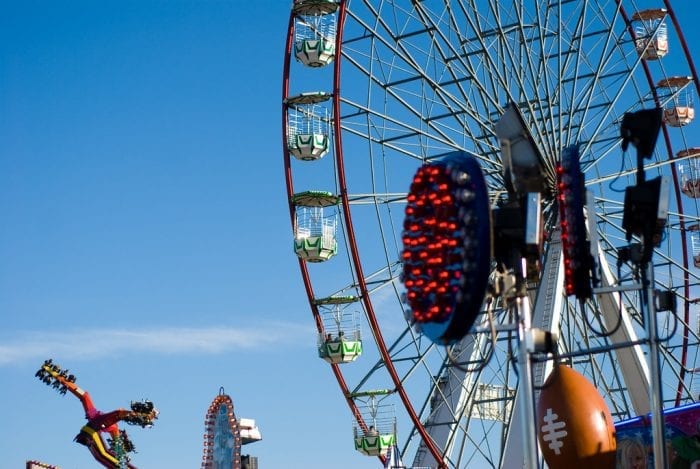 The Hoppings first took place 137 years ago in 1882 as a temperance festival, believe it or not. Organised by Victorian teetotallers, the event was held as an alcohol-free antidote to the rowdy and booze-fuelled Race Week at Newcastle Racecourse. Clearly the temperance movement didn't have much lasting impact up here but The Hoppings certainly did and bar a few interruptions like World War I, freak weather and internal disputes it's taken place at the Town Moor ever since.
Today, the nine-day event attracts hundreds of thousands of people every year. It's said to be the biggest travelling funfair in Europe and boasts hundreds of rides and attractions for thrill-seekers to take their pick from.
The Blaydon Race
First held in 1981 by Dr James Dewar of the Blaydon Harriers running club, The Blaydon Race is an annual road race that takes place every 'ninth o' Joon' and follows the route outlined in the local folk song of the same name by Geordie Ridley.
Just over 200 runners took part in the first ever Blaydon Race but these days over 4,000 local, national and international runners take part every year starting out at the old Balmbra's pub at the Cloth Market and running along Scotswood Road to the finish line across the Tyne in Blaydon. All runners receive a t-shirt and beer for crossing the finish line and there's a selection of traditional local food like black pudding and tripe on offer for those who dare.
Northumberland Miners' Picnic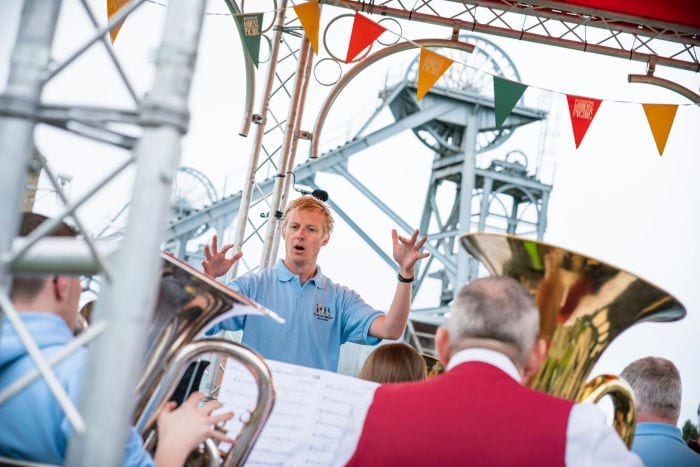 Although the mining industry has all but disappeared from the North East, our region's rich mining heritage is still celebrated today with the Northumberland Miners' Picnic. First held over 150 years ago in the 1860s, the miners' picnics were originally part political rally and part family day out and back when coal was still king major political and trade union leaders like Clement Atlee and Arthur Scargill travelled up to make speeches at the events.
Nowadays, the Northumberland Miners' Picnic takes place at the Woodhorn Museum in Ashington and pays homage to our local history but with a contemporary twist. This year's event takes place on Saturday 8 June and begins with a Miners' Memorial Service followed by plenty of music including a few brass bands.
Fenwick's Christmas window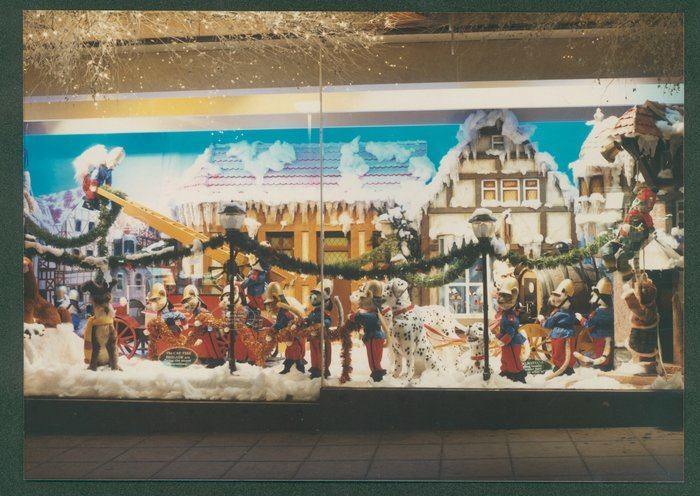 Gathering en masse in Northumberland Street every year to see the annual Christmas window display at Fenwick's is a fond festive tradition for many a Geordie.
The department store's first animated window display back in 1971 was themed around popular kids show Camberwick Green and has featured a different theme every Christmas since—including The Snowman, Peter Pan, Oliver Twist and a controversial alien theme in the early noughties which we collectively deemed not befitting enough of the festive season. Alien debacle aside, the Fenwick Christmas window is as much a festive tradition up here as turkey, crackers and passing out in a food coma before the Queen's Speech has even aired.
First-footing on New Year's Eve
Apparently a festive ritual in Scotland and other places Up North too, the tradition of first-footing is performed after midnight on New Year's Eve and is supposed to bring you good luck for the coming year if done right.
For those not familiar, the 'first-foot' is the first person to enter your home after the clock strikes midnight. There are regional variations but in the North East tradition states that the first-foot should be a tall, dark-haired man that is bearing gifts of silver, coal, salt and bread that symbolise good fortune for the next year. And after all that palaver, we drunkenly sing Auld Lang Syne like the rest of the country.
I Love Newcastle Magazine would love to hear your thoughts about the above post, so please feel free to share them in the comments box below.