Chaophraya has become the latest and spiciest edition to Newcastle's burgeoning dining scene.
Set on the top floor of intu Eldon Square's new and exciting Grey's quarter, the new Thai Restaurant has the rule of the rooftop floor with elevator access and unique views.
Pronounced; 'Chow – Pry – Ah,' the new restaurant promises to deliver a sophisticated edge to Thai dining, offering a mix of eclectic and contemporary dishes inspired by tastes from across the Thai regions and drawing inspiration from the country's rich culture.
We went along to the restaurant's much anticipated launch night.
Thai food is often associated with street food – Bangkok is known as the street food capital of the world – but from the moment you walk in, it's clear Chaophraya is fine dining.
The restaurant itself is expansive, refined and relaxed…This place is classy! The contrast between decadent plush furnishings and traditional Buddhist décor help create a sophisticated yet serene atmosphere.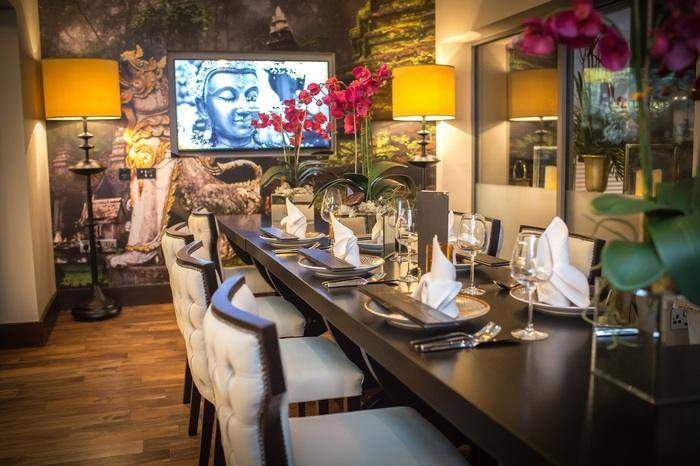 We were seated in The Garden Terrace which is covered and heated to accommodate our inclement Geordie weather. The roof, however can be retracted for Summer and with its views of Grey's Monument, would be a perfect venue for watching the world go by while sipping exotic Thai cocktails in the 'not so long' Summer months.
The menu features traditional dishes such as Tom Yum Goong (£8.95), Thai Red Prawn Curry (£11.95) and Chicken with Cashew Nuts (£9.95). There is, of course, Massaman curry (£14.00) – The popular Thai dish recently came top in a list of foods deemed "worth travelling the world to gorge on" compiled by CNN.
To drink, I chose Mai Mao (£4.50) a non-alcoholic cocktail of mango juice, lychee juice, mixed with raspberries strawberries and blackberries- a drink so delicious it's enough to make a hardened drinker give up alcohol.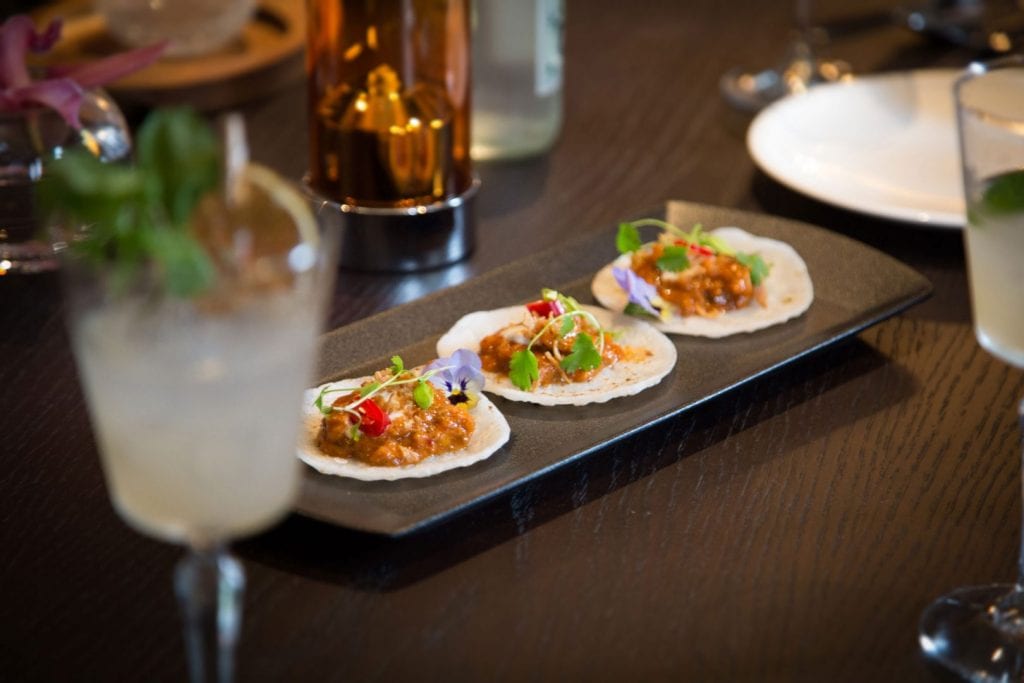 For starters, I chose Thai Chicken Tacos (£7.50) were elegant and probably the most 'fine dining' Thai starter I've ever eaten. Red curried chicken with coconut milk is served over lightly pan seared rice flour tacos. The flavours were delightful as they danced in your mouth.
For mains we chose two classic Thai dishes. I chose Massaman curry Curry (£14.00) – Pieces of tender lamb stewed with, coconut milk, carrots, potatoes and baby onions and topped with cashew nuts. The curry was creamy and neither too hot nor too spicy. The best Massaman curry I've ever tasted.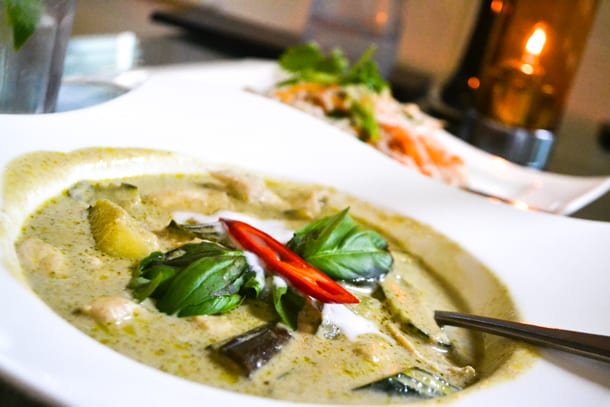 My companion chose Chicken Pad Thai (£9.95), Thailand's national dish. Stir fried rice noodles in tamarind sauce with chicken, spring onions, carrots, egg, sweet turnip and bean sprouts served with ground peanuts and fresh mango, which she described as tasty and wholesome, an authentic-tasting, well-balanced fusion of flavours.
A selection of 'classic desserts' is available, but to complete the Thai experience we resisted the temptation to go for the Chocolate Fudge Cake (£5.75) and opted for Thai Pancakes (£6.95) instead.
The pancakes were soft and sweet and bright green with three different fillings – pandan leaf, sticky rice and coconut caramel. Thai pancakes. Melt-in-your-mouth and lighter and easier to digest than they appeared.
We'll be back. It's not the cheapest Thai restaurant in Newcastle but you get what you pay for. The surroundings are opulent, the food is lovely and the portions are generous. The service is five star and the staff are mega friendly and charming.
I Love Newcastle highly recommend Chaophraya.
RATING
*****
CONTACT & BOOK
15, Eldon Square, Newcastle upon Tyne NE1 7RA
0191 731 4719
http://chaophraya.co.uk/newcastle/
I Love Newcastle Magazine would love to hear your thoughts about the above post, so please feel free to share them in the comments box below.