North East TV star, Kim Tserkezie lifts the curtain to 'living grotto' with help from Newcastle Legends' Steve Wraith, local schoolchildren, a miniature 'reindeer' and Santa Claus himself.
St Oswald's Hospice gave Fenwick's Christmas window a run for its money last wDecember 2016) as popular Newcastle actress, Kim Tserkezie revealed a live festive display at the charity's Dunston furniture shop.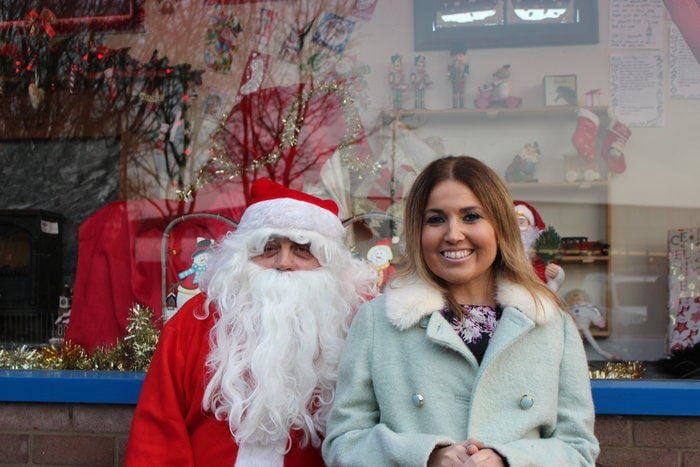 Best known for her role as Penny Pocket in CBeebies' BAFTA award-winning children's series, Balamory, Kim welcomed a large crowd of spectators anticipating the first glimpse of the shop's latest window wonderland.
Joining the actress was managing director of Newcastle Legends and Hospice supporter, Steve Wraith. Smurf the mini reindeer-pony, complete with antlers and a sleigh, added a little Christmas magic to entertain the masses as they admired the merry visuals.
Depicting a spectacular Santa's grotto scene, an abundance of decorations, toys, presents and lights filled the space. Cards adorned a traditional fireplace and an abundance of letters poured through a letterbox at the back of the room, adjacent to a traditional Christmas tree.
The display came to life as store manager, Steve Blackburn arose from Santa's seat to take centre stage dressed as the festive figure, accompanied by the charity shop's longest-serving volunteer, Lillian Donnelly as Mrs Claus.
This is the third consecutive year Steve and his team have delighted customers and passers-by with their eye-catching window, which takes months of preparation.
The showcase has become locally-renowned for bringing Christmas cheer to the community ahead of the festive season, with Dunston residents, families and businesses flocking to see what the charity shop has in store each year.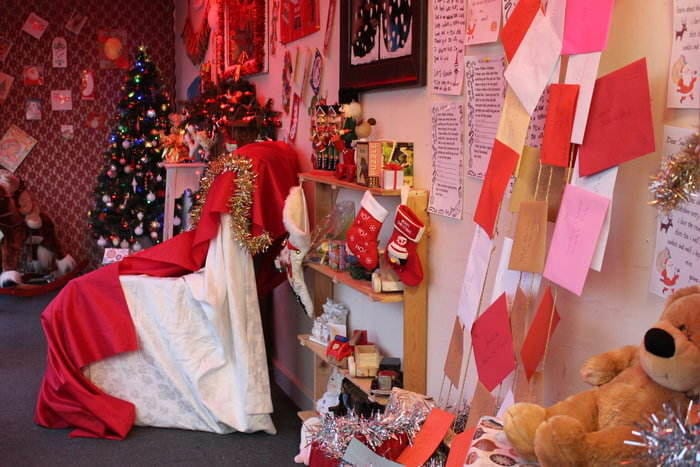 Steve, who has managed the Ellison Road-based furniture store since its launch in 2014, said: "The idea to hold a Christmas window display came to me not long after we opened as a way to thank the people of Dunston for their support. I love Christmas and the shop's big windows offer the perfect opportunity to make use of the space and do something different every time, it's become a tradition!
"The response to our displays from the local community is phenomenal, it really touches people. In our first year, an elderly customer commented how much she loved the tree in our window, but hadn't decorated her home since her losing husband a few years before, at Christmas time.
"I offered her the tree with all the decorations for a small donation if she promised to put it up. The next year, the customer's daughter called in to thank us for helping her to celebrate Christmas again."
In previous years Steve and his team have experienced eager visitors as early as 7:30am, with parents stopping by for festive photo opportunities with their children.
Kind-hearted manager Steve often turns the lights on early and leaves them on late for commuters to enjoy the window, and traditionally dresses as Santa to bring the festivities to life.
This year has been no exception, with Steve once again donning his jolly outfit to pose for photos with adults and children alike, alongside guests of honour Kim and Smurf at the grand unveiling.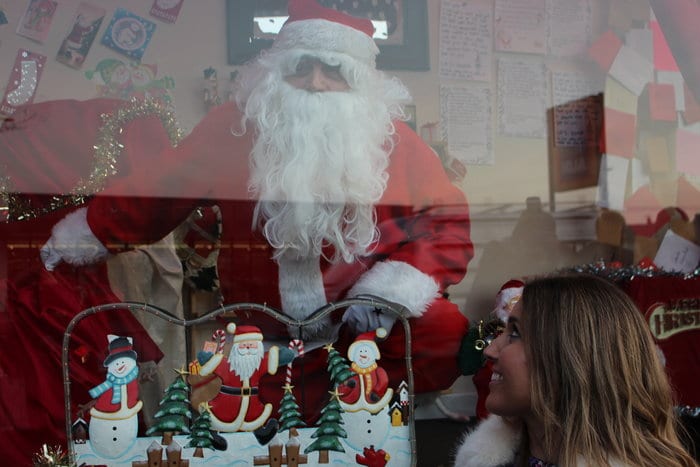 The celebrations then continued with a performance from St Philip Neri Roman Catholic Primary School's choir, which has appeared at the window opening for the past three years.
Led by choir master Mr Ben Harrison, the children, aged between seven and 11 serenaded the crowd while they were treated to mince pies donated by the neighbouring Aldi store with traditional Christmas carols and songs from around the world.
Head teacher at the nearby school, Mrs Val Douglass said: "St Oswald's Dunston charity shop Christmas window has quickly established itself as a must-see Christmas tradition for the close-knit Dunston community and the children love being part of it.
"We have supported the shop for several years now and have even filled our recently extended classrooms with furniture bought from the shop."
Kim was delighted to be a part of the festivities. She said: "It's very obvious how much thought, care and attention has gone into this lovely Christmas window decoration. I know that St Oswald's put the same care and attention into supporting people in their care. I'm really pleased to be a part of this magical day and I hope it raises lots of additional money for this vital charity."
Steve added: "It's been another brilliant day for our Christmas window unveiling with a huge turnout. We'd like to thank everyone involved in helping to make the day stand out, from our special guests, wonderful staff and volunteers and of course our customers.
"One even said it's like having Fenwick on your doorstep in Dunston, which was amazing to hear!"
St Oswald's Dunston Furniture Shop is open Monday to Saturday, from 9:00-16:30 at 13/16 Ellison Road, Dunston, NE11 9SS. Visitors can enjoy the Christmas window display until the shop closes for the festive break on Saturday 24 December 2016.
All profits from the shop contribute towards the excess of £7 million St Oswald's needs to raise through voluntary giving each year to continue providing its specialist services to families across the North East.
For more information about St Oswald's Hospice and its 28 charity shops across the region, visit: www.stoswaldsuk.org.
I Love Newcastle Magazine would love to hear your thoughts about the above post, so please feel free to share them in the comments box below.