To celebrate the launch of Byron Burger's new chicken special, Clucky Balboa, a flock of tiny chickens (not real ones!) will be hidden near Byron restaurant across Newcastle on the weekend of 7th, 8th and 9th October.
Spot one of the cute roaming toy chickens out and about, bring it to your nearest Byron restaurant (Grey Street or the Metrocentre), and you'll be the clucky recipient of free chicken burgers – it's that simple!
It's the perfect way to see if you reckon Clucky is a true match for Byron's famous proper hamburgers. Has beef meat its match?
Cluck yeah! Byron introduces new menu additions for Autumn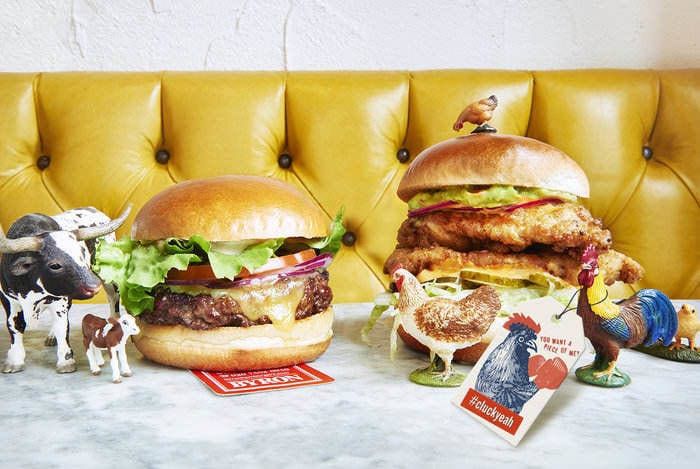 CLUCKY BALBOA (£10.50) – available from 6th Sept Beef – meat your match! Byron's new chicken special, Clucky Balboa, is here to challenge beef for the title of proper burger champion – but who will reign supreme? The new featherweight challenger comes with either buttermilk-fried or chargrilled chicken breast, guacamole, sriracha mayonnaise, pickled red onion, sliced pickles and iceberg lettuce. For extra punch, add spicy homemade buffalo sauce (for an additional £1.35).
CHICKEN NUGGETS (£4.50 for 9 or £7.50 for 18) – available from 6th Sept Complement the main event with Byron's proper chicken nuggets, made fresh from scratch, served with a sweet and tangy side of homemade BBQ sauce.
OREO FREAKSHAKE (£7.95) – available from 6th Sept Byron's famously thick Oreo shake goes heavyweight: vanilla ice cream, homemade chocolate brownie, whipped cream, Oreo cookies, chocolate and caramel sauce, and chocolate honeycomb.
LOCATIONS
104-108 Grey Street, Newcastle-Upon-Tyne, Ne1 6jg
Upper Qube, Intu Metrocentre, Gateshead, Ne11 9xz
CONTACT
0161 832 1222
www.byronhamburgers.com
I Love Newcastle Magazine would love to hear your thoughts about the above post, so please feel free to share them in the comments box below.