Do 'Lunch For Less' At Pitcher And Piano Newcastle with this great offer…
Tuck Into any lunch dish with a soft or hot drink for only £6. Or swap your hot/soft drink for a glass of wine or a pint of Amstel for an extra £1.50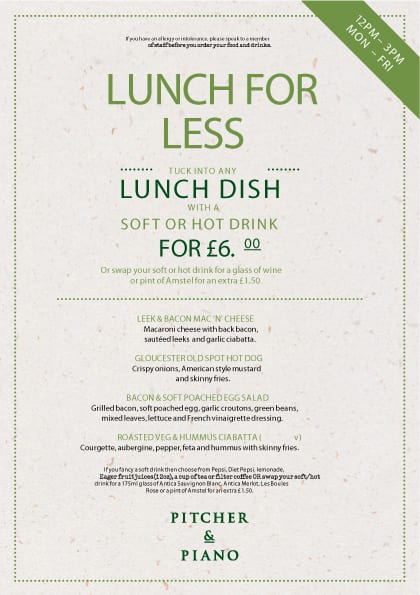 Definitely one Newcastle's most iconic bars – with fantastic views of the Quayside, Pitcher & Piano Newcastle is the perfect setting for any occasion.
From P&P's delicious breakfasts through to a light lunch, an after-work bite to eat with a glass of wine – or a big night out at the weekend, with cocktails and premium draught and bottled beers – Pitcher & Piano should definitely be on your list of places to go when you visit Newcastle.
Sundays are all about delicious roasts served between 12pm – 5pm every week, and you can't go wrong with our sharing roast for 4 people – it's the best way to end the weekend.
To keep up to date with all things Pitcher & Piano Newcastle sign up today, follow them on Twitter and become a fan on Facebook
Did you know?..P&P are also dog-friendly so there's no need to leave your pooch at home!
OPENING TIMES
Monday: 10am – 12am
Tuesday: 10am – 12am
Wednesday: 10am – 12am
Thursday: 10am – 12am
Friday: 10am – 1am
Saturday: 9am – 1am
Sunday: 9am – 12am
Closing times are subject to change throughout the year, so feel free to call and double check to avoid disappointment.
WHERE
108 Quayside, Newcastle, NE1 3DX
CONTACT
Tel: 0191 232 4110
email: newcastle@pitcherandpiano.com
Visit: http://www.pitcherandpiano.com/
I Love Newcastle Magazine would love to hear your thoughts about the above post, so please feel free to share them in the comments box below.