Elmer and Friends: The Colourful World of David McKee, the first ever major retrospective of David McKee's striking illustration is now open at Seven Stories, The National Centre for Children's Books.
For the first time ever, families from across the region can step into David McKee's colourful world in this playful exhibition as it celebrates 30 years of Elmer the Patchwork Elephant.
We were very excited to go along, so I took the family to see what they thought of Seven Stories new addition.
As you enter you are immersed right into Elmer's world, taking a colourful walk through his jungle encountering characters and stories along the way.
There's lots for the kids to interact with, including Elmer costumes for them to put on and a giant Elmer jigsaw which my three-year-old loved.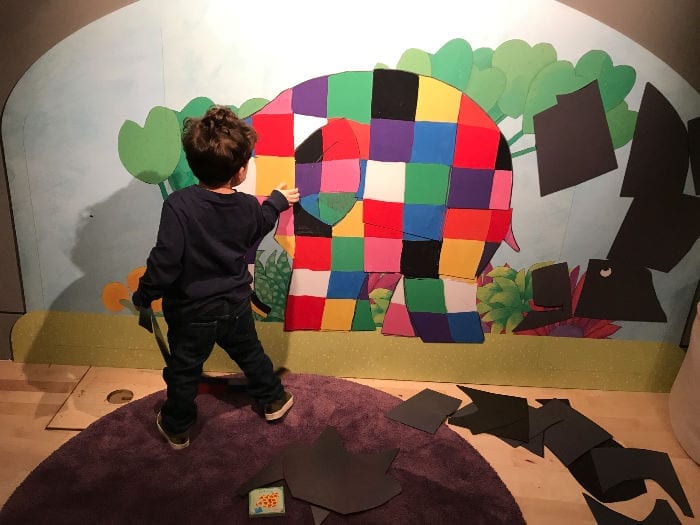 There are also lots of nice beanbags and cushions to sit and enjoy the Elmer stories, and we were very lucky that Elmer himself made an appearance while we were there.
As well as illustrations from the Elmer series and other books such as Two Can Toucan, there is original artwork from Not Now Bernard, Mr Benn and an original storyboard of King Rollo.
David McKee's lovely illustrations from are brilliantly brought to life with lots of very interactive and multi-sensory activities.
Little ones can explore colour, texture and sounds at various points around the exhibition, and my little boy loved hunting to find the 'treasure boxes'.
The 'hall of mirrors' apparently helps visualise McKee's use of perspective, something which both the kids and the adults seemed to find most entertaining.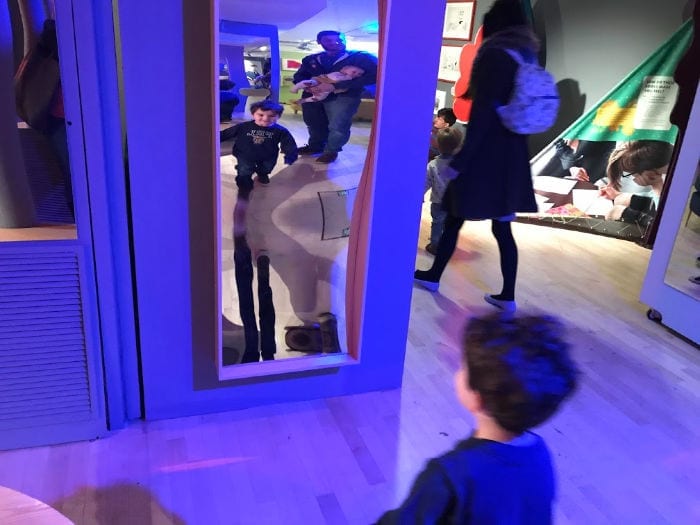 Our favourite bit though was the opportunity to visit the fancy-dress costume shop featured in Mr Benn.
Kids can choose a costume, put it on if they like, and scan it on a special button on the wall.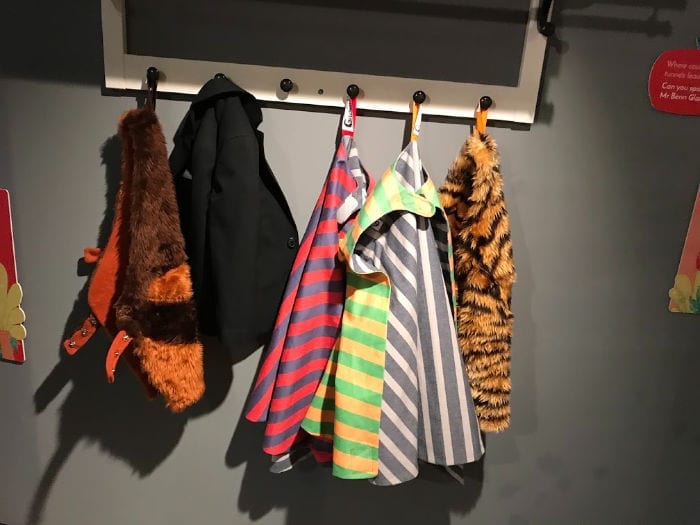 The scene then changes correspondingly, so if they pick up a Roman costume Mr Benn is in Roman times, a prison outfit, he's in gaol etc. My little one really loved this, and we saw a lot of the other kids enjoying it.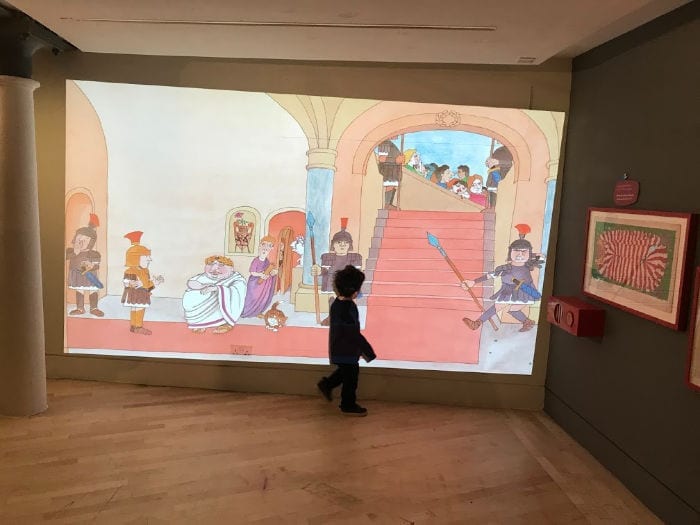 Once we had explored all of interactive parts of the exhibition we took advantage of the abundant, comfortable reading spaces and enjoyed some stories.
My three year old only has one Elmer book, so he wasn't very familiar with the original story.
In the first book, Elmer discovers that when he tries to change his appearance in order to 'blend in' with the other elephants, they no longer recognise him, or accept him.
This makes Elmer sad, and he experiences how it feels to be treated like an outcast, after being ostracised by his old friends.
It's only when it begins to rain, and the grey paint that Elmer has covered himself with starts to disappear, that Elmer's 'true colours' are revealed, much to the surprise and delight of his friends, who preferred his multicoloured and fun-loving self.
My little one really engaged with it, asking why he was so sad, and why he wasn't with his friends any more.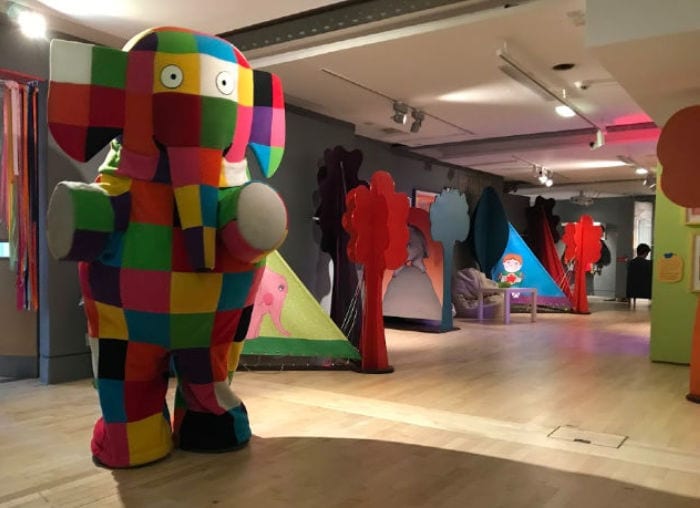 It was a nice, light and fun way to talk about diversity in a way kids can understand.
The organisers certainly seemed to be mindful of this, and had said when launching the exhibition: "Children's books help us discover the world and understand new and sometimes complicated things.
"The stories that we experience when we are young significantly shape our ideas and perceptions of the world, they help us to be curious and question things. We are living in a confusing political climate that children and young people can find difficult to understand.
"David's books are perfect for opening up conversations around diversity and being yourself, something that Seven Stories has championed throughout all of our work with children and young people.
"David's books are modern classics and Elmer's subtle message, that it is ok to be different, resonates with children across the globe."
Elmer remains one of the most widely read children's book series of all time, selling over ten million copies worldwide since it was first published by Andersen Press in 1989.
Coinciding with the exhibition, Elmer's Great North Parade will also be taking place across the city from August 2019.
This art trail of individually designed elephant sculptures will stomp its way across the region for 10 weeks from August to October 2019.
Organised by St Oswald's Children's Hospice in partnership with Wild in Art and Andersen Press, the trail will raise awareness and funds for the Children's Hospice.
Families and Elmer fans can enjoy the exhibition at Seven Stories, The National Centre for Children's Books every day, excluding Mondays during term-time until next year. Priced at £7.70 for adults and £6.60 children, visitors are encouraged to share their experiences using the hashtag #Elmer30.
Seven Stories will also have a variety of Elmer-themed half-term activities such as Elmer's Rainbow Playscape, Elmer's Pounce and Bounce Gallery Games including crafts and games hosted by its energic and playful Story Catchers.
Full ticket information is available on the website. https://www.sevenstories.org.uk/
The exhibition runs for a year before it packs its trunk to tour to visitor attractions and venues across the UK.
I Love Newcastle Magazine would love to hear your thoughts about the above post, so please feel free to share them in the comments box below.