Supper Clubs are the latest foodie trend to hit the North East with several restaurants around Newcastle hosting regular and increasingly popular events.
The idea behind the supper club is to experience a menu based on a theme, this could be a season, country or even a supplier, in an intimate setting. Interpretations of the supper club vary so we went along to experience the Tyneside Bar Café's well established offering.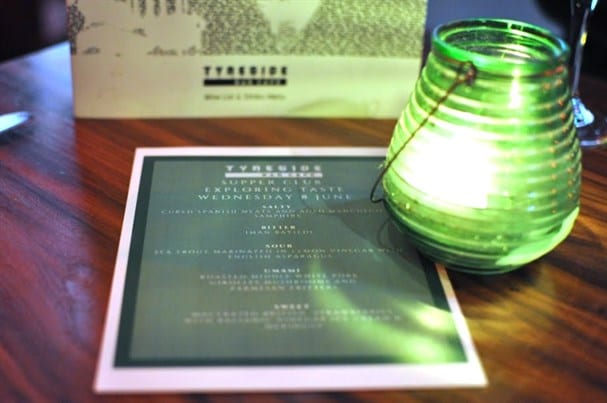 Chef Tom Adlem titled the event 'Exploring Taste': a 5-course menu based around the 5 elements of taste (sweet, sour, salty, bitter and umami, for those of you wondering). The menu was paired with both red and white wines, chosen to complement the food.
As soon as we arrived, the event felt exclusive. We were ushered behind red velvet curtains to a small dining area made up of tables for two or four, dimly lit and beautifully laid out. As soon as we sat down our order was taken for pre-dinner drinks and we familiarised ourselves with the menu for the evening.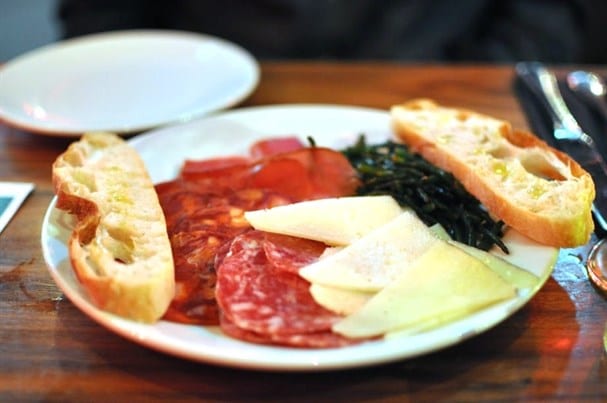 While we sipped our prosecco & vodka palette cleanser, Tom introduced his menu and talked us through the courses. Each focused on a single taste and it was fascinating to hear Tom explain his creations. Did you know pork, beef and tuna are the most umami meats?! To start (salty) a sharing plate of cured meat, manchego cheese and samphire was brought out, nothing groundbreaking but still delicious.
Next came bitter, Imam Bayildi – named because the Imam reportedly fainted after tasting this dish, it was that good – an aubergine and cumin based dish that was one of our favourites. The flavour was naturally bitter because of the aubergine but herbs lent a fresh taste that followed the salty meats perfectly.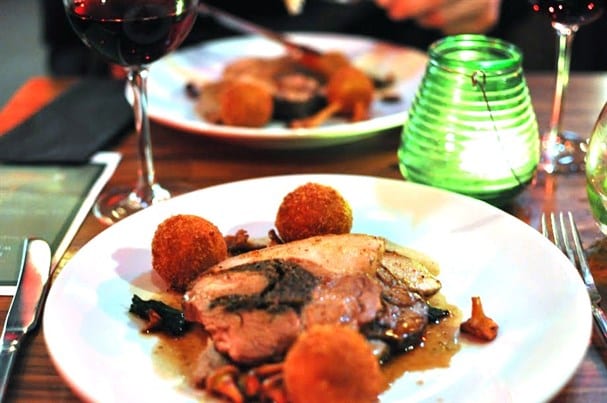 I was excited to see ceviche feature as the sour course as it's something I've wanted to try for a while. We were presented with sea trout marinated in lemon and yes it was certainly sour! But it worked well with the fatty trout. Although this was the course I least enjoyed it was paired with a gorgeous Chilean chardonnay which I'll certainly be ordering next time I visit Tyneside Café.
The supper club is more of an experience than just a meal because you're forced out of your comfort zone to try new foods and combinations that have been painstakingly thought through by a team of chefs. For example, we tasted balsamic vinegar ice cream which Tom warned us was an interesting flavour. I personally liked it as a refreshing end to the tour of our taste buds.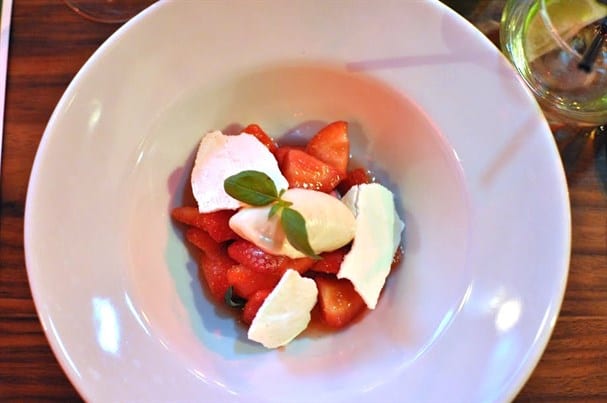 Tyneside Bar Café host a monthly supper club (£35pp including paired wine/beer), next month will be French cuisine to tie in with the Passport to Cinema screenings next door. It's great food and would make a interesting night out with friends as there's plenty of time to catch up between courses. The service was impeccable as is standard at the Tyneside and because of the intimate nature of the supper club we'd highly recommend booking. Past events have included Mexican theme and tapas, so we'll be keeping an eye out for Tom's future creations.
INFO
For more information on The Tyneside Supper Club, visit: www.tynesidecinema.co.uk/food-drink/tyneside-bar-cafe
I Love Newcastle Magazine would love to hear your thoughts about the above post, so please feel free to share them in the comments box below.