From Saturday 6 April to Sunday 21 April it's Discover National Parks fortnight. Aimed at celebrating how amazing and unique our country's national parks are, the event is the perfect opportunity to get out and discover Newcastle's breathtakingly beautiful neighbour Northumberland National Park.
So, what exactly makes Northumberland National Park so special? Well, it's arguably the UK's most tranquil national park considering it's the least populated and most remote. And within its bounds – 1,049 square kilometres to be precise – the park boasts a rich array of landscapes, from rolling moorlands to the stunning Cheviot Hills.
It's rich in history too with hundreds of listed buildings and ancient monuments and even a UNESCO World Heritage Site. Three nature reserves mean it's ideal for lovers of wildlife and as it's home to Europe's largest area of protected night sky it's perfect for stargazing too.
Better yet, even the furthest reaches of the park are only around an hour and a half drive from Newcastle. Really, you've got no excuse not to go explore all Northumberland National Park has to offer. Here are some tips on how best to enjoy it.
Stop by The Sill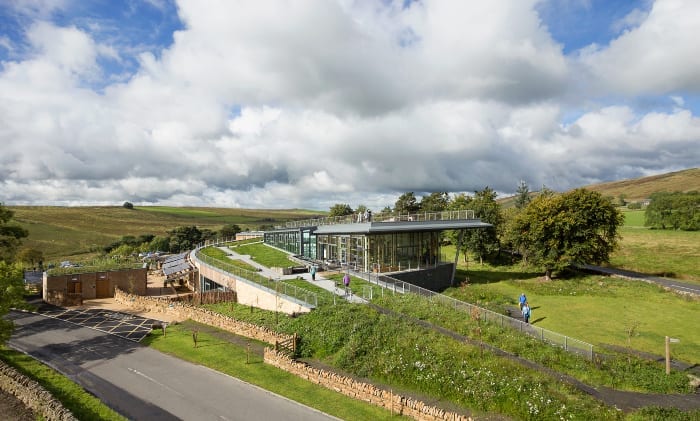 The delightfully named village of Once Brewed is home to Northumberland National Park's brand-new multi-million pound visitor centre The Sill. Opened in 2017 with the aim of inspiring people to discover all about Northumberland's rich history, culture and geography The Sill is like a gateway to the park.
Alongside a range of exhibitions and events that educate visitors The Sill is also home to a state-of-the-art youth hostel, a shop and a café whose menu showcases local ingredients. To top it off – quite literally – The Sill features a grass roof terrace with spectacular views of the surrounding landscape.
Take a walk
With 1,100 kilometres of walking paths and two National Trails criss-crossing its territory, it's not too surprising that Northumberland National Park is a popular walking destination. For those that aren't too handy with a compass and set of coordinates, there are lots of regular guided walks across the park of different lengths and difficulty.
For the more experienced walker, the whole park is your oyster from the undulating route that runs alongside Hadrian's Wall to the remote and romantic uplands of the Cheviot Hills.
Grab some local grub and have a picnic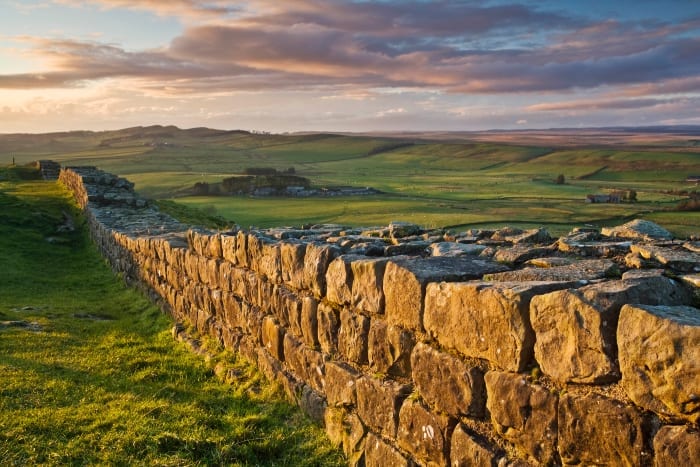 A couple of events like Greenhead Farmers' Market and Hexham Farmers' Market take place regularly on the edges of the park and are perfect for picking up some locally produced food for a picnic.
As for picturesque picnic spots? Northumberland National Park has plenty. As its name might suggest Walltown is home to a spectacular stretch of Hadrian's Wall and as such is one of the park's most popular picnic destinations. Head to the park's northerly reaches for more scenic spots in Harthope Valley where the burn of the same name that runs through it is fringed with grassy areas ideal for a picnic.
Go stargazing
Put simply, Northumberland National Park is heaven on earth for stargazers. Thanks to how remote and sparsely populated the park is it doesn't suffer from the kind of light pollution that blights urban areas so the night sky views are truly magnificent.
It's no surprise then that the park is home to part of the Northumberland International Dark Sky Park – Europe's largest area of protected night sky. It boasts tonnes of spots like the Stonehaugh Stargazing Pavilion where astronomy fans can see breathtakingly unobstructed views of such heavenly sights as the Andromeda Galaxy and the Milky Way.
Stay the night
If you're going stargazing, then you might as well stay overnight too. There are plenty of campsites in and around Northumberland National Park but if you don't fancy roughing it, the folk at Wild Northumbrian have the perfect alternative with a number of quirky yurts and huts for visitors to stay in.
If yurts and huts are still a bit too outdoorsy for your liking, a cosy B&B like Hethpool House should do the trick. Located in the northerly reaches of the park, the beautifully restored Edwardian manor boasts snug rooms and a separate cottage, locally grown food and absolute tranquillity.
Climb its highest point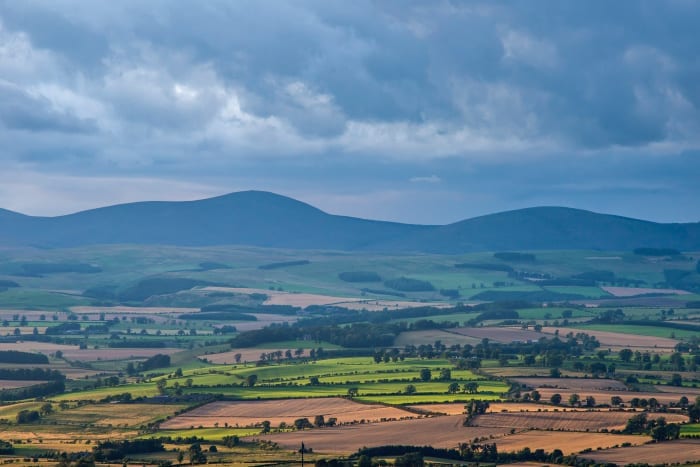 A top beauty spot in Northumberland National Park, the Cheviot Hills straddle the Anglo-Scottish border and were once described by writer Sir Walter Scott as "one of the wildest and most romantic situations which your imagination ever suggested".
Standing at 815 metres The Cheviot is their highest point. A pathway that forms part of the last few miles of the Pennine Way leads walkers to The Cheviot's peat bog-covered summit where on a clear day it's said that you can see as far as the Lake District and Edinburgh. Even if it's cloudy, you'll still get to see those wild and romantic views Sir Walter Scott raved about.
See one of Britain's most photographed trees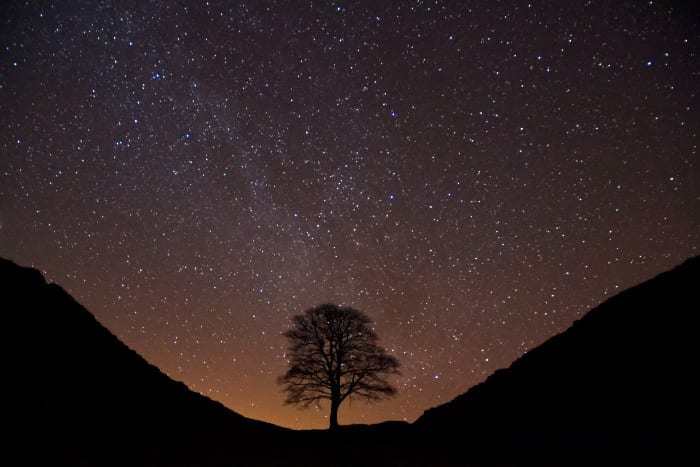 Perfectly framed by a dramatic dip in Hadrian's Wall, the Sycamore Gap tree is ridiculously photogenic. In fact, according to Northumberland National Park it's the most photographed spot in the entire park and one of the most snapshotted trees in the country. It was even recognised as the English Tree of the Year in 2016 by conservation charity the Woodland Trust.
If Sycamore Gap looks familiar, you might remember it from a scene-stealing moment in the 1991 film Robin Hood: Prince of Thieves starring Kevin Costner. More recently, the tree starred in the Northumberland-set crime drama Vera. Somebody give that tree a BAFTA.
Explore its pristine waterways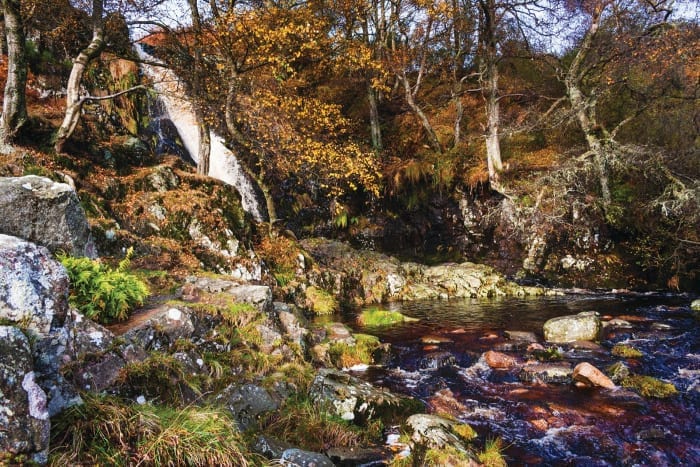 Northumberland National Park is home to some of the cleanest rivers in the country. For canoeists, anglers or families wanting to cool off with a paddle the North Tyne, River Coquet and River Breamish offer countless opportunities alongside the park's picturesque smaller streams and burns.
There's plenty of wonderful waterfalls to explore too. From the pretty cascades of Hareshaw Linn and the rocky gorge at Hethpool Linn to the spectacular 18-metre tall Linhope Spout, a waterfall tour of the park is definitely in order.
Go wildlife spotting
Thanks to the diverse habitats in its bounds, Northumberland National Park is home to a huge range of wildlife. Eagle-eyed visitors might be lucky enough to spot roe deer, the wild goats of the Cheviot Hills, a rare red squirrel or several species of the all-important bumblebee.
The park is a birdwatcher's paradise too. Many birds call the park home at various times of the year including species like the red kite, skylark and great spotted woodpecker and twitchers may even catch a glimpse of rarer species like curlew, spotted flycatcher or black grouse.
Brush up on local history
Northumberland National Park is a haven for history buffs. The iconic World Heritage Site that is Hadrian's Wall is obviously a must-do and a stunning reminder of the area's Roman Empire legacy, but the park's prehistoric rock art and Border Reivers' bastles are testament to Northumberland's rich history too.
Deciding exactly which of the park's many historical sites to visit is hard but a good place to start is one of its Historic Heritage Geocaching Trails. Simply input coordinates into your phone and the trails will lead you to eight unique historic and heritage-rich locations across the park.
I Love Newcastle Magazine would love to hear your thoughts about the above post, so please feel free to share them in the comments box below.