Since its opening last summer, social hub STACK has quickly become one of Newcastle's coolest hangouts, but with the new Lonewolf Ice Bar it just got a whole lot cooler.
Replacing Hadrian's Tipi, the Lonewolf Ice Bar is the latest concept to take over STACK's pop-up space.
A collaboration between STACK, Lonewolf Spirits and ice sculptors Glacial Art – the same guys behind the icy sculptures featured in Game of Thrones – the ice bar opened on Friday after three months of planning and I Love Newcastle were lucky enough to be invited along to its grand opening.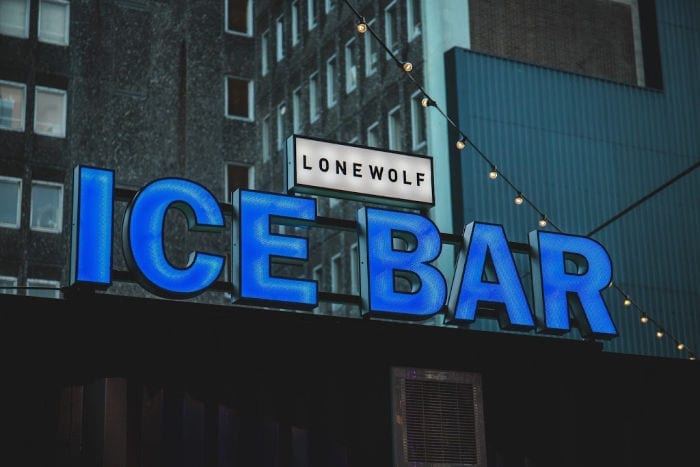 We began our tour in an unassuming little lobby where the ice bar staff kitted us out in hats, gloves and cosy, yeti-like fur coats to fend off the sub-zero temperatures inside – a chilly minus five degrees.
Then the door was opened and an icy, wintry blast welcomes us into the winter wonderland beyond.
A walk through a short, dark corridor leads us into a space that's small but positively packed with enchanting, painstakingly hand-carved sculptures and festively decorated Christmas trees at every turn.
Apparently, the Glacial Art team used over 20 tonnes of ice and every nook and cranny is a showcase of their incredible talent, from intricately crafted wolves and a life-size snowmobile to a skier captured mid-jump.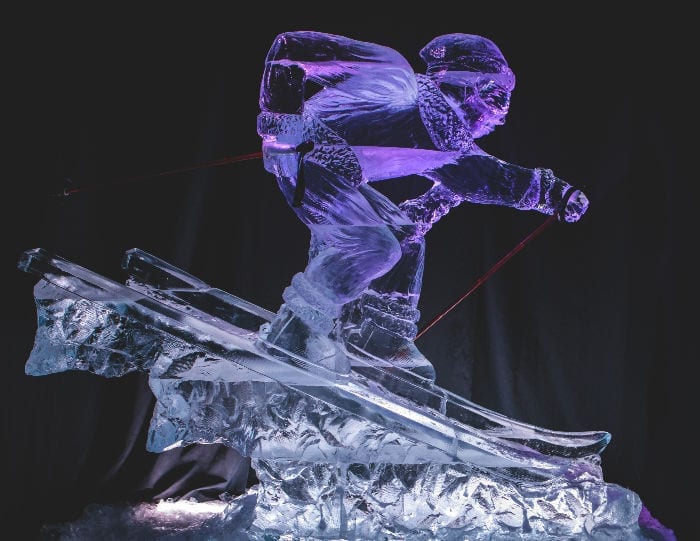 There's even an ice throne guarded by regal reindeer sculptures perfect for Games of Thrones-style photo opportunities which, naturally, we took advantage of.
After taking it all in (and taking a few more selfies too) we head to the bar where we're served our complimentary shot included in the ticket price. Non-alcoholic shots are available but being Geordies we went for the alcoholic option reasoning a quick glug of something strong would help warm our cockles in those sub-zero temps. Which it did, although the ice-cold Brew Dogs we treated ourselves to after kind of betrayed that logic but again – we are Geordies.
Bottles in begloved hands, off we totted to one of the ice bar's two VIP areas to sit on fur-covered ice seats to sip on our trendy beers and marvel at the icy surrounds before taking a detour via what we'd consider to be the ice bar's pièce de résistance – a cable car sculpture that despite essentially being a hollowed-out hunk of ice is strangely cosy once you're sitting inside it.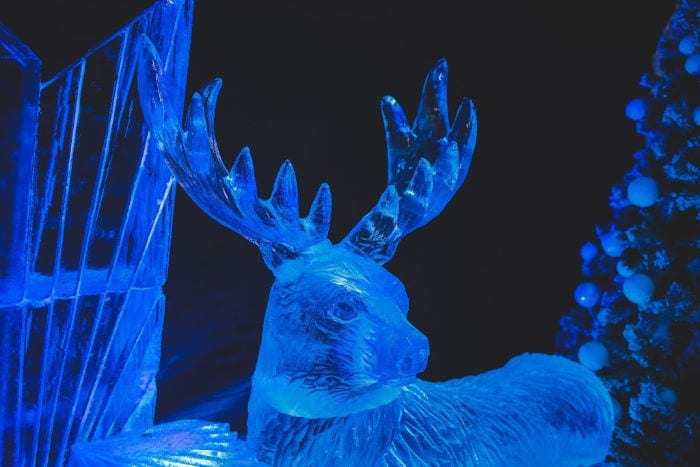 After 20 minutes our time is up but the experience doesn't end quite there and we're led to snug little marquee decked out with picnic tables and fur throws. There we're served hot chocolate to warm us up though after being in minus five degrees for the past 20 minutes, the comparatively balmy Newcastle weather is enough to get us feeling toasty again in no time.
As the first of its kind in the region, Lonewolf Ice Bar an exciting new addition to our city's social scene and definitely a fun and unique way to spend half an hour or so in the toon. And considering our god-given talent for braving a night out no matter how cold it gets, the sub-zero bar is sure to be a roaring success.
It's only in town for next three months, however, so you'll have to move quickly if you want to book a spot at the city's coolest new haunt. Packages are priced at £8 for kids aged 7 to 17 and from £12 for adults and include jacket and glove hire, an alcoholic or non-alcoholic shot and a cup of hot chocolate afterwards. Package upgrades are also available alongside family tickets and private hire.
Check out the Lonewolf Ice Bar website for more info.
I Love Newcastle Magazine would love to hear your thoughts about the above post, so please feel free to share them in the comments box below.