This week Gainford Hotels have launched their partnership with Teenage Cancer Trust at the iconic Vermont Hotel.
The Gainford Hotel Group own the Vermont Hotel Newcastle, the luxury Vermont Aparthotel, Aveika Bar & Restaurant, Livello Cocktail Bar and are also adding a brand new Newcastle city centre hotel to the portfolio in 2017.
Over the past few years staff at the Vermont Hotel have jumped out of aeroplanes, abseiled down the side of the Great North Children's Hospital and run in the Great North Run in support of Teenage Cancer Trust. Now the partnership is set to be taken to a new level across Gainford Hotels to help provide the specialist care needed to support young people ages 13 to 24 years old with cancer in the region. The first event planned to raise awareness and funds is the Fire & Ice Ball, set to be held on November 5th at the Vermont Hotel, where fire eaters will accompany young artist Chloe Watts performing before an exquisite dinner and live band show.
Shadia Hernandez General Manager at the Vermont said, "We couldn't be more excited about this event. We are very proud to be a local, independent business, and we are delighted to be working in partnership with Teenage Cancer Trust on our inaugural fundraising ball, which we hope will turn into an annual event. Teenage Cancer Trust is a charity very dear to our hearts and we value the opportunity to support cancer care for young people in the region; throughout December we will also be hosting Christmas Carol Afternoon Teas at the hotel to raise funds for Teenage Cancer Trust."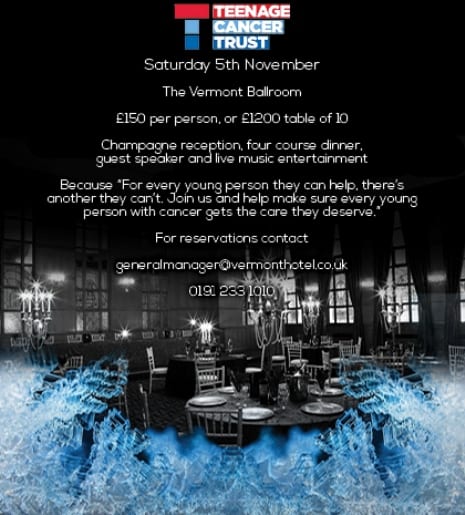 Louise Miles Fundraising Manager for Teenage Cancer Trust commented, "It is such an exciting partnership and vital in helping us to continue providing the specialist support young people need when they are faced with a diagnosis of cancer. Teenage Cancer Trust exists to support every young person with cancer in the UK, but right now we can only reach half of the young people who need us. This must change and this is why we need support from partnerships such as The Gainford Group. Funds raised from the partnership will help to achieve our mission of reaching every young person with cancer in the region and beyond by 2020."
Teenage Cancer Trust is the only UK charity dedicated to improving the quality of life and chances of survival for the seven young people aged between 13 and 24 diagnosed with cancer every day. The charity works to support young cancer patients and their families with expert care and support so that they do not have to face cancer on their own.
Teenage Cancer Trust fund 28 specialist units for young people with cancer in NHS hospitals, providing everything they need to feel comfortable in hospital. Without the units, young people with cancer can be treated alongside children or elderly patients, isolating them when they most need support and care that's specific to their age group. They might be treated by cancer specialists who have no experience of working with young people. They also might never meet another person with cancer their own age, and can feel frightened and alone. There are two Teenage Cancer Trust Units in Newcastle, one at the Great North Children's Hospital for 13 to 18 year olds and one at the Freeman Hospital for 18 to 24 years olds.
For event tickets contact: generalmanager@vermonthotel.co.uk.
If you would like to find out more about Teenage Cancer Trust or chat to someone about forming a partnership please contact: hello@teenagecancertrust.org
I Love Newcastle Magazine would love to hear your thoughts about the above post, so please feel free to share them in the comments box below.