A dedicated uncle is taking on the world's biggest half marathon to support the charity that his given his wheelchair-bound nephews a new lease of life.
Stephen Pringle, 33, has seen a huge change in nephews Dan, 16, and Andrew, 10, who suffer from Duchenne Muscular Dystrophy, since they got involved with Gosforth-based charity Smile For Life.
The charity, who aim to enhance the lives of disabled and disadvantaged children across the north-east, have taken the boys on days out they would never experience otherwise.
They have travelled to places including Lightwater Valley, the annual Newcastle pantomime and a weekly social club.
They have also been able to meet some of their celebrity heroes, including panto star and Smile For Life patron Danny Adams, and CBeebies presenter Alex Winters.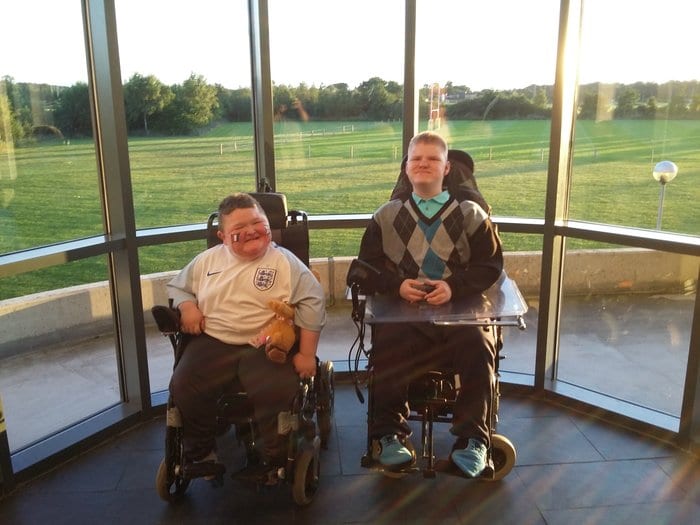 Stephen, from Walker, said: "I have wanted to do something which would help Dan and Andrew for years and now is finally the right time.
"I spoke to my brother Andrew and told him I wanted to do something for them, and he told me all about Smile For Life.
"I found out how the charity take them on unforgettable days out and, which they have really enjoyed, as well as enabled them to meet other young, disabled people. These experiences have made such a difference to them.
"As well as helping out the boys, the charity also help give my brother Andrew some respite, which is so important as caring for them takes its toll on them.
"I am really excited to take on the race but knowing that doing it will be helping such a fantastic charity will really give me that extra buzz and push me towards the finishing line."
Duchenne Muscular Dystophy is a severe, muscle-wasting condition which causes people's muscles to weaken and waste over time.
Because of the condition, Dan and Andrew have been confined to wheelchairs since they were seven and eight respectively.
Dad Andrew, 38, from the West End, said: "Smile For Life have done so much for my boys – they have really brought them out of their shells. They have made them feel like normal people.
"I wasn't expecting Stephen to do this for them, but he asked me what charity I would like him to run for and I told him Smile For Life – they do so much for children and young people with disabilities locally.
"They have made a massive difference to the lives of my sons, and I am so grateful for that."
Charity chief executive Paula Gascoigne added: "We first met the boys at 'The Tuesday Club', which is a place for young people to meet and enjoy themselves at our Café Beam in Gosforth.
"There they are accepted and have made loads of new friends. They have thrown themselves into it the activities and have loved all the outings we have taken them on.
"Having all these experiences – things that most people would be able to do and may take for granted – has really helped them to thrive.
"We want to say a big thank you to Stephen because it is people like him who help us to continue to provide equipment and experiences for young people like Andrew and Dan."
To donate to Stephen, log on to http://www.justgiving.com/Stephen-Pringle2
I Love Newcastle Magazine would love to hear your thoughts about the above post, so please feel free to share them in the comments box below.