On Sunday, Geordie Magician & Escapologist, Chris Cross, 27 of the West End of Newcastle, succeeded in an attempt to escape from a straitjacket in just 90 seconds, hanging upside-down by his ankles, whilst being suspended over 80ft in the air on the roof of the Newcastle Castle Keep, high above the City Centre…
TV & Film actress Charlie Hardwick checked to ensure the 2 male members of the audience had tied him up nice and tight, Cross was then put into position and raised up to form part of Newcastle's Skyline for a few minutes whilst he made his escape…
Despite the rain and wind, the stunt went ahead as planned and an audience gathered to watch, below the castle, as well as over 10,000 people watching online via a LIVE stream on Facebook.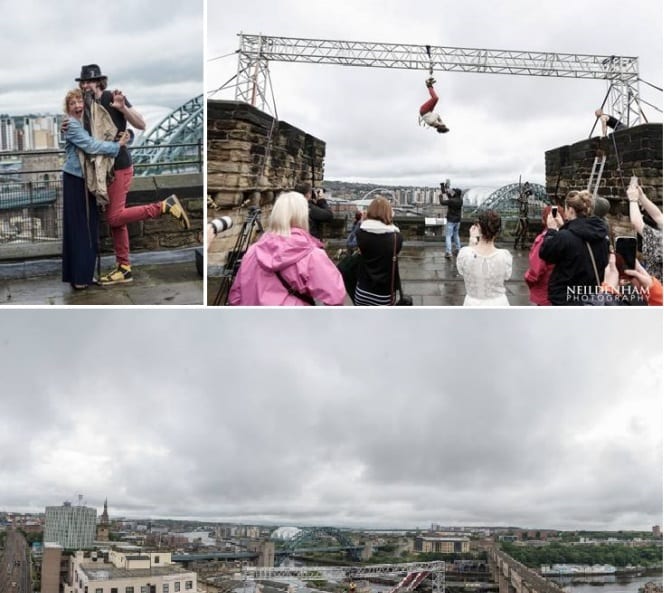 Chris Cross managed to escape in 90 seconds to noteworthy applause from the general public who had gathered to watch.
"I mean If you're gonna do a thing, do it properly…"
"I've performed similar escape stunts before, but never at that height. This was the biggest one to date. I've wanted to do a big head turning stunt in my home city for years now and I'm pleased all of the hard work organizing it paid off and that I finally got around to doing it!"
Chris added: "I'm so pleased the stunt was a success too, if I'd have fallen I'd have died. At some points when I was wrestling with the jacket up there, I was actually over 80 ft above ground when my body would swing out over the castle's parapet! It was a great view though. The millenium bridge looks like a big smiley face when you look at it upside down. It was as if the River Tyne was grinning at me in amusement throughout!
When I was raised up and into position ready to make my escape, I remember shouting down for someone to remove the crash mat below, it was a last minute decision just as I'd been raised up in the air, but the escape was all about the dangerous height I was hanging at, I mean If you're gonna do a thing, do it properly…"
The stunt was a tribute to one of Chris's idols, Harry Houdini, who appeared in the very same spot as Chris in 1920. Houdini visited the castle whilst performing his own show in Newcastle almost 100 years ago.
There's so much bad stuff going on in the World, you just need to turn the news on anytime of the day now, to see a bomb being dropped or people being killed. So turn off your TV, grab a hold of life, grab a ticket and come leave your worries at the door and escape reality for a few hours whilst you come along and Support LIVE Entertainment & Watch a Spectacular Variety Show in the Oldest working Victorian Theatre in the World!"
If you missed Chris Cross's Big Stunt, fear not, you can watch it below:
https://www.youtube.com/watch?v=StbZ7pqu2tk
'The Greatest Show on the Tyne' takes place THIS Friday 2nd September at 7pm,
The Show features over 15 World Class Variety Acts, all Compered & Hosted Newcastle's Favourite Magician, Chris Cross!
Tickets are available NOW @ £12 (£10 U16's)
Get yours Today: http://tynetheatreandoperahouse.uk/events/chris-cross-presents-the-greatest-show-on-the-tyne/
I Love Newcastle Magazine would love to hear your thoughts about the above post, so please feel free to share them in the comments box below.