Geordies (and wannabe Geordies) prove you're "run ready" and equipped to take on the Toon. Create your own Geordiemoji using their phone's camera, and then send it to your mates in messages straight from the Geordiemoji keyboard!
Add your favourite Geordiemojis to your picture to paint your face and surroundings and send directly from the keyboard.
Tim Webber, Fanmoji founder, spoke to I Love Newcastle Magazine and said:
"Newcastle, as a city, is dripping with character across all the areas we've covered in Geordiemoji – landmarks and places, phrases, sport, food and drink and identity. For a first release we think we've got a happy mix, and plenty of depth to reflect the city's heritage and, still be useful in everyday messaging and chat.
Geordiemoji will give people an interesting, visual way to communicate and make their messages more relevant to their everyday lives than the standard emoji set allows.
"Last month's poll, allowing the people of Newcastle to vote on the final few things that made the app's first release, saw one of the best responses we've had (yeah, it thrashed London), so we know it's an idea that people are definitely interested in."
"The app will be £0.79 to download in the App Store (and Google Play) and we hope that's a price that seems fair to users, given the depth of Geordiemojis that are available right from the start. If people like the app, they'll be plenty more to come as well, and we'll be adding to the app on a regular basis.
"We've been blown away by the support we've had, and hope we've done a good first job. We will continue to work hard on updates and improvements if people show they want them."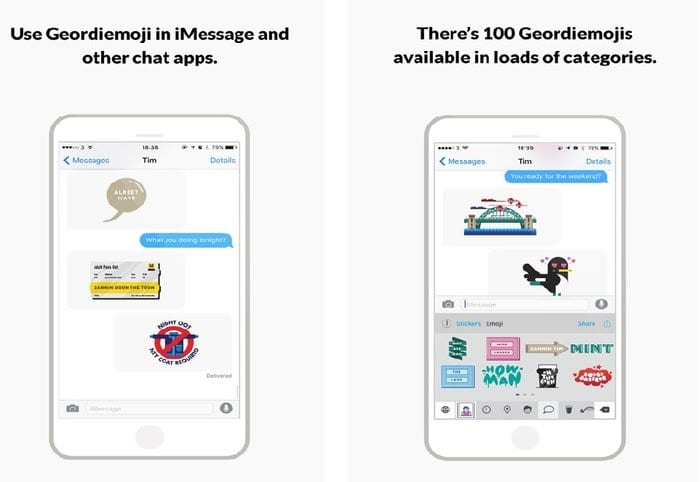 "Geordiemoji is a fun idea, and a way to let people communicate in a highly visual way. I mean, why merely type, when you can send someone a magpie with heart eyes.. Romance isn't dead in Newcastle anymore. Hopefully it's something that's not only fun, but also creates a sense of pride, is relevant to their everyday lives and is pretty useful!"
Dave Richardson, our illustrator has added his distinctive North-East style to the project, and we think it looks brilliant because of the time that's gone into each and every single Geordiemoji."
Dave said:
"I got to work on this project through a good friend I've worked with recommending me to Fanmoji. I should buy him a beer really. I fulfilled both job requirements of being from the North East, tick, and able to colour in, tick."
"The buildings were great to design, some are very intricate, especially St James' Park and I loved the challenge and the process of the building actually taking shape."
"I can quite honestly say that each and every one of these emoji-stickers has been fun to do, I've had a blast and I really hope that this is apparent in the finished designs."
"I think the Tyne Bridge is my favourite, how could it not be, it's the Tyne Bridge. It was the first emoji-sticker of the set I designed and is such an instantly recognisable iconic image. Hadrian's Wall is one of the more simpler ones, it takes a close second."
"I'm hoping the reaction to these new emoji-stickers will be really positive. I'm proud to be from the North East and I hope people use and enjoy them as much as I've enjoyed designing them."

How to get the app on your phone (it only takes a few taps):
iPhone
Search Geordiemoji in the App Store and download. Or click: http://apple.co/2c7ejgO
Open the app and the tutorial will take you through it.
If you want to jump ahead, you go to Settings>General>Keyboard
Tap Keyboards
Tap Add New Keyboard
Tap Geordiemoji>Tap Geordiemoji again and "allow full access"
Open iMessage or WhatsApp and hold down the globe button in the corner to switch between your keyboards.
Then Enjoy!
Android
Search Geordiemoji in Google Play and download. Or click: http://bit.ly/2c9aO9X
Open the app and the tutorial will take you through it, and help you add the Geordiemoji keyboard to your phone. A few taps and it's done.
To access Geordiemoji once it's installed, switch between your standard keyboard and Geordiemoji. (This process differs on various versions of Android phones.)
I Love Newcastle Magazine would love to hear your thoughts about the above post, so please feel free to share them in the comments box below.