Lunchtimes are meant to be enjoyable – we've worked hard all morning and what do we have to look forward to – a supermarket meal deal.
Well Dobson & Parnell located on Newcastle's Quayside are coming to the rescue with the launch of their brand new small plates menu.
Not only will it offer something different for our well earned lunch break, it won't break the bank either with two small plates for £10.
Available from 12-2pm Tuesday-Saturday and is aimed at modern day dinner routines allowing the diner the option of a quick bite to eat without sacrificing flavoursome dishes for mundane sandwiches.
The menu boasts some delicious dishes including hand rolled pasta with wild mushrooms and truffle butter sauce,; Slow cooked belly pork and apple relish; Eyemouth Crab, fennel and brown crab mayonnaise or Charred 4oz rump steak with Chimichurri.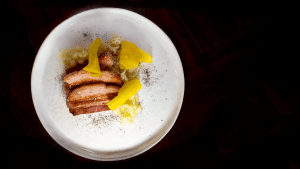 Owner of Dobson & Parnell, Andy Hook, said: "Our new lunchtime menu is designed to be flexible, casual and bursting with flavour enabling diners to enjoy a quick lunch whether they coming in for business or pleasure – the long lunches of the past have been replaced with a quick bite to eat and we're hoping our new take on casual fine dine will be a hit with customers".
December will see the two year anniversary of the restaurants opening and already in that time they have achieved listings in Michelin and Harden's guides thanks to chef patron Troy Terrington.
The Michelin Guide 2018 tells you everything you need to know about Dobson and Parnell.
"An iconic address in the city, this elegant restaurant is named after Victorian architects John Dobson and William Parnell. Cooking has a Nordic style, with plenty of drying, pickling and curing. Dishes are colourful and satisfying"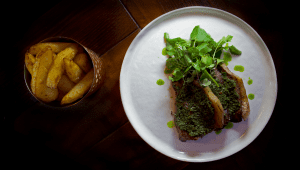 To finish off the two courses there are some great tasting deserts and similarly to the main course all dishes are lovingly prepared and imaginatively presented.
Expect to battle with yourself over which of the following you will decide to order.
Choices include rich chocolate cremeaux, caramel with a baked white chocolate crumb; lemon posset, blueberry compote and three or five British and French cheeses
There will also be a number of snacks available with prices starting from £2.50. Snacks include ham hock nuggets with mayonnaise; falafel scotch egg; Mini fried butter milk chicken sandwich or a Lindisfarne Oyster with pickled cucumber.
So ditch that supermarket meal deal or packed lunch and go and treat yourself to a supreme lunchtime – although following all of that delicious food we're not sure how productive the rest of your day may be.
I Love Newcastle Magazine would love to hear your thoughts about the above post, so please feel free to share them in the comments box below.