Since planting its roots in 2014, The Botanist, situated in Monument Mall has grown from strength to strength, running rings around it's competition and blossoming into one of Newcastle's key eating and drinking venues. (No more plant puns…I promise!)
The Botanist Team have also picked up a few awards along the way including Best Managed Pub for Yorkshire, North East & Scotland in The Great British Pub Awards, and have even helped break the world record for largest gin tasting session.
Last week, I brought the whole tribe with me – Wife Jessica, Matthew (13) and Jack (7) – as I wanted to sample the new Summer – food and cocktail menus and also reaffirm that the Botanist is as much a family friendly venue as is a popular adult haunt.
To kick start our evening, we (adults) gratefully accepted the ice cold glasses of two of the many cocktails that have come to make The Botanist such a popular attraction. The extremely fresh Lemon & Jasmine Collins and the 'Un-Put-Down-Able' Raspberry Disaronno Sour told us straight away that this is a place that has the palate of the people impeccably catered for.
The Botanist's menu is already a huge hit with the people of Newcastle. Already showcasing an array of superb dishes such as the legendary Hanging Kebab, their menu has had a little revamp and now boasts a selection of summer inspired dishes which we couldn't wait to try.
Mathew eats like a Gannet and frequently demolishes adult portions with gusto, therefore it was the full menu for him. Like most kids his age, Jack is quite parky when it comes to food and has a relatively low attention span, he therefore made for a great Guinea Pig when it came to putting the Botanist's children's menu through its paces.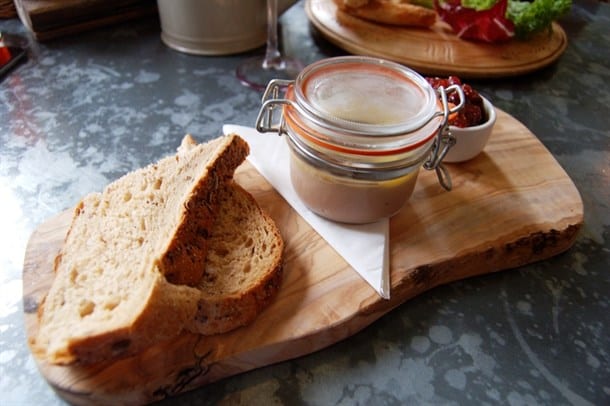 For starters I ordered the chicken liver and rum pâté (£5.95) served with green peppercorn butter and fig chutney. The dish arrived on a board accompanied by two slabs of fresh wholemeal bread. The generous amount of pâté was rich and tasty and worked well with the sweet tang of the chunky fig chutney. Overall an excellent starter.
Jess opted for the tasty homemade houmous board (£4.95) served with crudités and bread. A lovely dish crammed with Mediterranean flavours. The Starter 'Showstopper' had to be Matthew's basket of chicken wings (£6.25) These deliciously crispy, deep-fried wings came accompanied with a pot of piri piri sauce and were served in their own a wicker basket – like a little chicken picnic!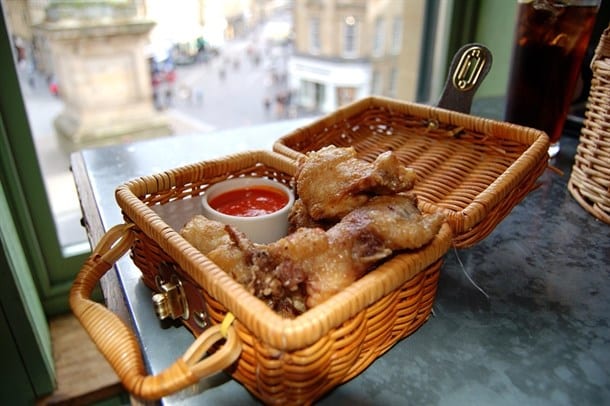 For main, I ordered the aptly titled – superfood salad with added chicken (£11.50). This colourful dish featured some heath food heavyweights including; avocado, broccoli, Persian couscous and soya beans – smothered in a tasty, zesty dressing. A perfect summer dish which was washed down with a very decent glass of Argentinean Malbec. Jess and Matthew ordered the popular – chicken hanging kebab (£11.50) This is a dish (or hook.) that cannot be passed up on, least because of the fact that it is clearly trade marked on the menu. The kebab is juicy and interspersed with wonderful vegetables and showered with a ginger, sweet chilli and garlic butter sauce that ingeniously uses gravity to sop the hanging meat in. Wonderful!
Then was the test…Jack. For him, we ordered two courses from the children's menu at a very reasonable £5.95 – Chicken fingers and chips for main and ice-cream for dessert. The main arrived served in a wooden garden box – the chicken in a bucket, lettuce in a watering can and the ketchup in a wheelbarrow. An original and quirky triumph!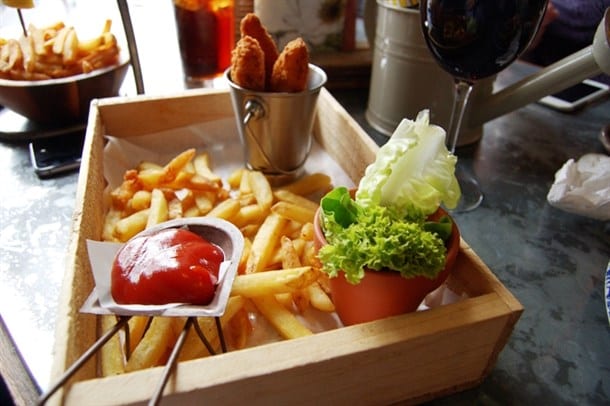 For dessert – Jess and I we enjoyed an obligatory slice of hot chocolate fudge cake (£5.50) it's goal easily realised, as I was full to the very point of bursting in the way that only really excellent comfort food can. Jack tucked into his ice-cream while Matthew showed no mercy to the 'awesome' (his words) baked chocolate chip cookie dough (£5.50) with salted caramel sauce and toffee ice cream.
The Botanist is a place for the nostalgics and the romantics. It's open, airy and rustic. It's impossible to order something without feeling the warm and fuzzies that can only be associated with home-time tea-time.
Rating *****
VISIT
Address: Monument Mall, Newcastle upon Tyne NE1 5AU
Tel: 0191 261 6307
Web: thebotanist.uk.com/location/newcastle
Facebook: www.facebook.com/thebotanistncl
Twitter: twitter.com/TheBotanistNCL
I Love Newcastle Magazine would love to hear your thoughts about the above post, so please feel free to share them in the comments box below.