Following the Success of the First "Greatest Show on the Tyne" Performance last Friday Night, it has been revealed that the Show WILL RETURN to the Tyne Theatre & Opera House on 6th October 2017, as part of the theatre's 150th Anniversary Festivities. A series of 'Live at the Tyne' Events are to be announced, with Chris Cross the Magician's BIG "Greatest Show on the Tyne" Variety Show to be a Major part of the Celebrations it has been announced…
Newcastle's Favourite Magician, Chris Cross, 27, from the West End of the City, will be co-promoting the big Celebratory show alongside the theatre.
The Tyne Theatre were wanting to stage a big variety show and invited Cross to curate the show, following the success of his "Greatest Show on the Tyne".
Last Friday's Variety Show received both a standing ovation from the audience and great reviews, with the show being described as a "Northern Saturday Night at the Palladium".
The stage spectacle featured 15 World-Class Variety acts, among which were flying acrobats, aerial circus performances, illusionists, showgirls, dancers, comedians, singers and the world's oldest working magician, among others! Local names on the bill included Bobby Pattinson, Alfie Joey & Sue Sweeney. The show was Compered and Hosted by Chris Cross the Magician performing some Escapology Stunts and Magic too, himself.
In attendance, The Deputy Mayor of Newcastle said what a Fantastic Night out she'd had, as did Malcolm 'Supermac' Macdonald commented: "Brilliantly staged by Chris Cross, who finished with his straitjacket act which is a favourite of mine, everybody really has put all of their heart and soul into making it a wonderful night for everybody. So Enjoyable. My Wife and I loved it and can't stop talking about it – it was Brilliant!" & Bobby Pattinson praised: "It was a Great Show, I couldn't offer any criticism because it was just Great. You've got to hand it to Chris Cross, he took the risk of booking an expensive show and it worked. It was Tremendous."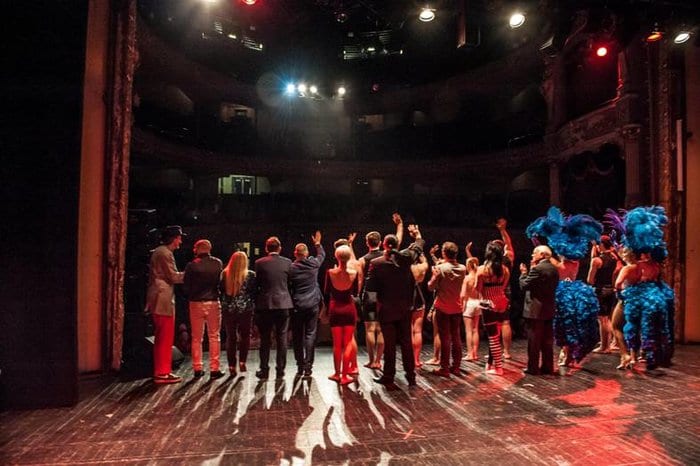 Cross spoke to I Love Newcastle Magazine about the show: "I'd always wanted to put on a proper big variety show at a theatre and what better place to have staged it than in my home city! It was a year in the planning and took a lot of time and effort to organize a show, by myself, of that size. Fifteen acts were on the bill and I wanted as much true musichall-esque variety as possible. I'm very pleased with the results and the end product of what the show became and I can't wait to start booking the acts and do it all again next year at The Tyne Theatre on the 6th October! It's such a thrill to have the Tyne Theatre on board this time around with my BIG Variety Show and it's an added honour too that it's part of the 150th Celebrations of the theatre's anniversary. It really is such a wonderful venue and it's a place that the people of Newcastle should be immensely proud of…"
"I'd always wanted to put on a proper big variety show at a theatre and what better place to have staged it than in my home city!
"People can expect the unexpected! I've already approached a few totally unique acts and invited them to be in the show. Watch this space. I'm very pleased to be bringing the Cabaret Culture up in Newcastle, as I've said before, there's that much bad stuff going on in the world, people need to just come to a show and live for the moment. Leave their troubles at the door and mobile phones in their pocket and come spend some time seeing something amazing that doesn't usually happen in the North East, that they can talk about with their families and friends and create memories that will last forever…Roll on next year, it'll be worth the wait…!"
CONNECT
www.chris-cross.co.uk
www.royalmagician.co.uk
Facebook: /chriscrossentertainment
Follow Chris on Twitter: @TheChrisCross
I Love Newcastle Magazine would love to hear your thoughts about the above post, so please feel free to share them in the comments box below.