Sarah and Chris Cookson lost their son Charlie at the age of just two after he had battled serious illness most of his young life.
Now his newborn baby brother Carter, who was born on Boxing Day, needs a heart transplant to save his life.
The elation the couple felt when their longed-for second son arrived was quickly replaced with devastation as baby Carter's heart failed.
He suffered three cardiac arrests before the team at the Freeman Hospital put him on life support.
Attempts to get his heart to begin to work were unsuccessful and baby Carter underwent open heart surgery.
Tragically, the surgery was also unsuccessful and baby Carter's only hope is if a donor heart can be found so he can have a transplant.
Now parents Chris and Sarah face a race against the clock to save their second child as the life support can only sustain him around another five weeks.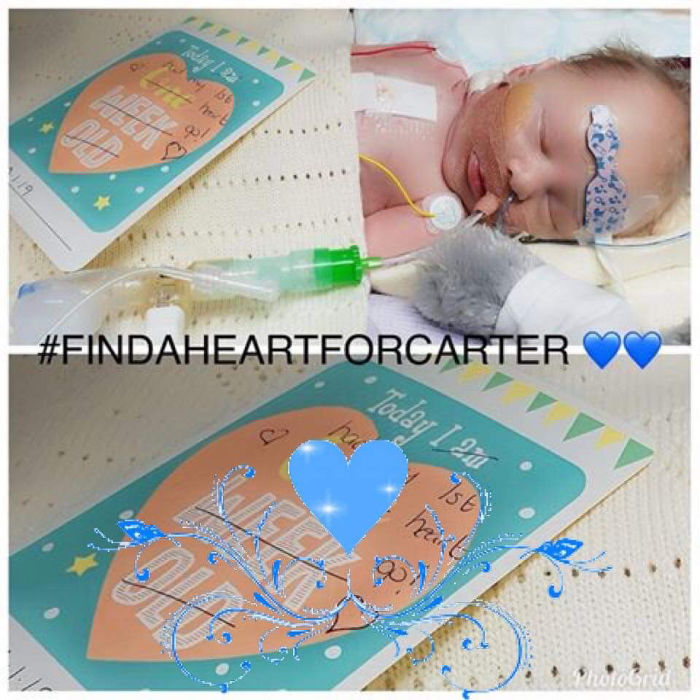 Carter is on the transplant list but the family want to raise as much awareness as possible to increase his chances of getting a donor.
Mum Sarah wrote on Facebook: "It has taken us days but we still can't get our heads around what is happening.
"We need a heart, or in five weeks we will lose our beautiful baby boy.
"I can't put into words how heartbroken we all are, but we will never give up on him."
"I just want everyone to share, tweet, tag and try raise as much awareness as possible in the hope that we can save our baby boy."
Sarah and Chris have dedicated their lives to raising money for the families of other seriously ill children since losing Charlie in 2013.
They started their own charity in his memory, the Charlie Cookson Foundation, and have been helping families all over the UK for the last five years.
Support for the couple has been pouring in on social media who have been spreading the appeal under the hashtag #findaheartforcarter
The couple's friend Joanne Nicholls said: "Charlie was their life so it was a big step for them to make the decision to try and have another child,"
"They were over the moon when she found out she was pregnant.
"Sarah and Chris are amazing. I think they have gone onto auto-pilot. They spent two-and-a-half years looking after Charlie, but they are just devastated. It's just so cruel, but they are just fighting for Carter.
"We just need to get it out there. Because Carter is so small I don't think it will be straight forward to find a heart."
I Love Newcastle Magazine would love to hear your thoughts about the above post, so please feel free to share them in the comments box below.