Newcastle is proud of its rich cultural heritage and is keen to celebrate and demonstrate the incredible diversity of its residents, visitors and students through a new project, 'Humans of NE1', an online album of portrait photographs cataloguing the people of Newcastle and their stories.
Hosted on NE1's Get into Newcastle website and NE1's other social media platforms, visitors will be encouraged to visit the site to review the images and read the stories and individual histories of the people photographed.
Over the past six months, NE1 has been collecting photographs and stories from residents and visitors to the city spanning all ages, genders, sexuality and ethnic origins – the aim is to collate stories that represent the city and show the enormous diversity of people who now call Newcastle 'home'. Five new stories will be posted each week – featuring a portrait photo together with a short biography of the person including a story of their life, past experiences, or future hopes and dreams. The images will be accessible on Instagram, Facebook and Twitter with a library of all images available on the website – www.getintonewcastle.co.uk/city-info/humans-of-ne1
Humans of NE1 follows the lead of New York and its world famous, Humans of New York project which has grown to include an extensive website, books and social media presence which tells the story of the city one photograph at a time.
Humans of New York began as a photography project in 2010 taking portraits of some 10,000 people on the streets of the city – the pictures became the subject of a popular blog featuring photos and a short story of the person photographed. Humans of New York has over 20 million followers on social media.
Ben Whitfield, Marketing and Events Manager at NE1 Ltd said:
"It's the people that make Newcastle such an amazing city and we hope to represent this with the photos and the online Humans of NE1 activity. We love the insight you get into the cultural diversity of New York through Humans of New York and we want to celebrate Newcastle's individual and unique personality through its residents and visitors. It's great to work on a project like this that delves a little deeper and gets under the skin of the city. Already, the photos we've taken give a real snapshot of Newcastle's diversity and we expect the site to become extremely popular."
All the photographs are being taken by professional photographer, Stephanie Oswald. Stephanie is originally from France and has lived in Newcastle for the past 17 years after moving to the city to study for a Masters degree in Film at Newcastle University.
Tasked with taking 30 individual profile shots for the project each month, Stephanie discovered that Newcastle's two Universities, Northumbria and Newcastle were great locations for capturing the spirit of the city with students and lecturers not only keen to get involved but also from a huge variety of different places.
Stephanie said:
"A project of this sort has always been a dream of mine and I have thoroughly enjoyed taking the pictures and capturing the hidden stories of the people of Newcastle. It is both an exciting and humbling experience to meet so many different people, from all walks of life and from every corner of the globe, all keen to share their stories and experience. Humans of NE1 shows what a truly cosmopolitan place Newcastle is and tells extraordinary stories about people's lives and histories."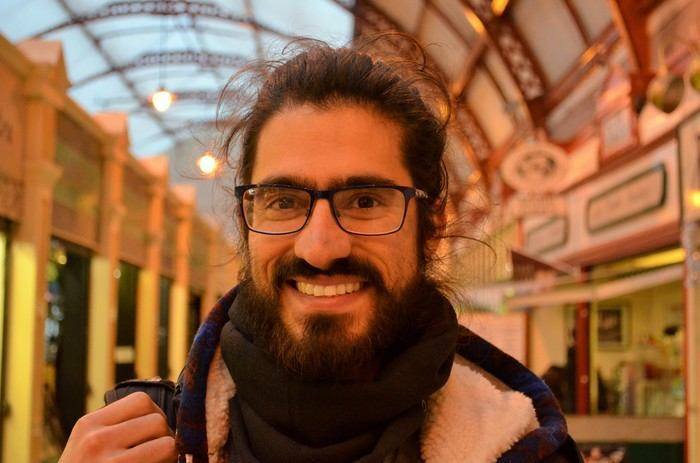 I'm a maths teacher by profession, but I'm taking a few years out. Myself and my partner and few other friends, we hold meditation sessions, yoga meditation sessions at university, in Durham and Newcastle, that's where I'm spending my time.
Being a teacher is quite a life of devotion so I think that I'm just postponing that full abortion into teaching. I just turned 26, so I'm giving myself a few more years before I go into it, and then my whole life will be around teaching, so for now I'm just trying to delve into something different. I'm still teaching, but teaching yoga so it's a different style. It's about teaching things that people don't get taught in schools, stress/anxiety relief, and be calm and present, mindfulness, that kind of thing.
I was at Durham Uni, and a friend brought us to Newcastle to a centre behind Newcastle University business school, on Westgate road, a sort of a Hare Krishna meditation thing. They still do these Wednesday sessions where it's 2 hours of musical meditation, and then they have a meal. And it was nice, it was in the middle of the week, you get your thoughts together, zone out, interact with people, there are people from all over the world there.
People from New Caledonia, Mauritius, or a guy from Bulgaria is coming tomorrow, it's crazy. The guy who runs it is from Hungary, there are a few from Malaysia, a few from India, it's nice. So you discuss, you share thoughts, while eating food, but you also have a sort of 2 hours of chanting to delve into and I really enjoyed it. I thought it was wonderful. I thought it was worth sharing with other students, and that's why I'm taking the year out to do it at University, so that students can get an opportunity to zone out from the world, and get their thoughts together, just a clarity of vision, a different perspective.
You know sometimes you have to take a step back. Just to see things in a different light, and that's really just it. We cook a meal for the students, on a Monday, and because they'll have exams from next week, we're just going to do quick meals, but usually it's like a whole 6 course meal, we cook it up my friends and I, and we have a meditation session for about 30 to 45 min, then we sit down, and we just chant for the next 40 minutes. In the night, and it's nice. I enjoy it thoroughly. The yoga philosophy is nice, just food for thought.
I Love Newcastle Magazine would love to hear your thoughts about the above post, so please feel free to share them in the comments box below.