Fresher's week is now behind us and students will now be getting over their hangovers and preparing themselves for settling into University life.
There is no doubt that going to University whilst exciting and new can also be one of the most daunting experiences of a young persons life.
The life of partying hard, student discounts and spending 'free' money is sometimes seen as the only 'student life' – but there is more to it and hundreds of students will find themselves away from their safety network in the coming months.
For most going to University will be the first time of living on their own – and with that comes all of the other chores and responsibilities that up to now they have not had to worry about.
Research suggests that young people between the ages of 16-21 are prone to suffering poor mental health. This year Bristol University has given their students the option of nominating a family member or friend that the University can contact if their feel a student is suffering from a mental health issue.
Part of the coverage showed how some students who were now moving into their second year had been suffering from poor mental health in their first year – after feeling they had taken the wrong course – but felt under pressure to complete their studies due to the burden of student debt.
That's why this weeks annual student shopping night to be held at intu Eldon Square will not only offer students great discounts in restaurants, stores and have live music on offer from Capital FM but the shopping venue have also teamed up with the charity Blurt.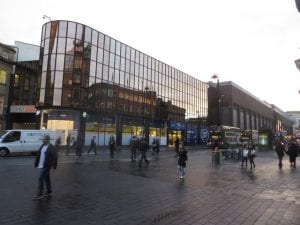 The Blurt Foundation works tirelessly to raise awareness of depression and mental health and they will be on hand outside Tapas Revolution to offer advice on where to seek help to cope with stressful situations all night.
Jayne Hardy, Blurt's founder and chief executive, said: "Being a young person today is a lot harder than it was say 30 years ago.
Young people can face challenges including exam stress, family breakdowns, bereavement, bullying and more serious issues such as domestic violence and abuse, not to mention the added effects of living in an "always on" world thanks to social media.
We admire intu's socially responsible approach and look forward to seeing what impact this partnership brings to young people at a time when support for mental health is greatly needed.
The annual event will run from 4pm-9pm this Tuesday and will see more than 70 of the shopping centres top retailers and restaurants take part to offer discounts of up to 50% for the students of Newcastle.
Phil Steele is the general manager at intu Eldon Square and thinks it will be a night to remember for our students.
"We're looking forward to giving Newcastle's student population a night to remember where as well as being treated to some brilliant discounts and deals they'll be able to enjoy all the entertainment on offer.
"We've teamed up with some of the country's best known brands and fantastic acoustic live acts to create some truly memorable experiences."
The event is always a huge success with so many huge brands such as Top Shop, HMV, All Saints, Superdry and many more stores offering great discounts to get students started for the year ahead.
Restaurants like Frankie & Benny's are offering 50% off mains, other favourites like Bella Italia and Tapas Revolution are offering 40% off with Giraffe and Pizza Express also offering discounts of 30%.
These are just a few of the many discounts to be had by students on what is sure to be a night to bring a smile to the faces of our students.
For full details be sure to check out the official website.
I Love Newcastle Magazine would love to hear your thoughts about the above post, so please feel free to share them in the comments box below.