Toby Carvery in Kenton has recently reopened after being closed for a big refurbishment. A significant investment has given the pub and restaurant a total makeover, indoor and out. Meaning that guests can now enjoy their roasts in refreshed surroundings.
The Newcastle carvery is pledging its support to charity, the MS Society, after the restaurant recently reopened following an extensive remodel. The carvery and its staff are planning a host of fundraising events and activities in the upcoming months and are aiming to raise money and awareness for a great cause.
The Newcastle-upon-Tyne carvery celebrated its local charity commitments by inviting a MS Society representative to officially reopen the new look restaurant, making them guests of honour at the grand reopening.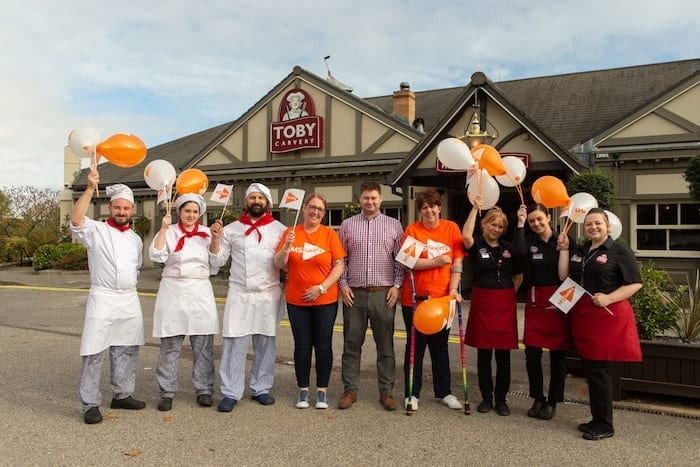 Located on Ponteland Road, the refreshed Toby Carvery resumed serving roasts to diners after an extensive two-week refurbishment. Following a significant investment in the restaurant several new jobs have been created for the local area.
Speaking about reopening Toby Carvery Kenton Bank, Newcastle & Gateshead MS Society representative, Kelly Forster, said: "We're so pleased to have been given the honour of officially reopening Toby Carvery Kenton Bank, and for the Newcastle and Gateshead MS Society to have been chosen by the restaurant as its charity partner is brilliant.
"We can't wait to start working with the Toby team to help raise funds and awareness for our cause. They have some great looking local events in the pipeline to support the MS Society and we're sure they'll be well received within the local community."
Commenting on the restaurant's new look, general manager, Chris Hart, said: "We're so pleased at how brilliant Toby Carvery Kenton Bank looks following the refurbishment, and we were thrilled to have the MS Society here to cut the ceremonial ribbon for us.
"The MS Society is such a great charity, and the work they do to help those with MS, and their families, is brilliant to see. We're really excited to get stuck in and support the
"For many, the great British roast is the ultimate heart-warming food, and we just can't wait to serve the people of Newcastle-Upon-Tyne a traditional dinner in our fresh surroundings. With our specially trained chefs, friendly and attentive team, and our warm and welcoming atmosphere, guests will find their new look Toby Carvery is the perfect place to get together and enjoy a delicious roast dinner.
The restaurant offers a family-sized feast of five low and slow-roasted carvery joints freshly cooked everyday alongside eight types of seasonal veg including roasties, mash and the full monty of accompaniments.
I Love Newcastle Magazine would love to hear your thoughts about the above post, so please feel free to share them in the comments box below.