BTEC Hospitality students at George Stephenson High School were paid a visit by owner and head chef; Bob Arora of Sachins restaurant in Newcastle which specialises in Punjabi cuisine. Bob Arora held a masterclass for the students and passed on tips and tricks as they study the practical side of business ownership.
Arora, who in a previous life, narrowly missed out on presenting BBC's Top Gear, made sure the youngsters were in the fast lane to success, as he demonstrated a range of industry techniques for the various jobs the students have been looking at as part of their studies – which sees them comparing different businesses and the way they are run.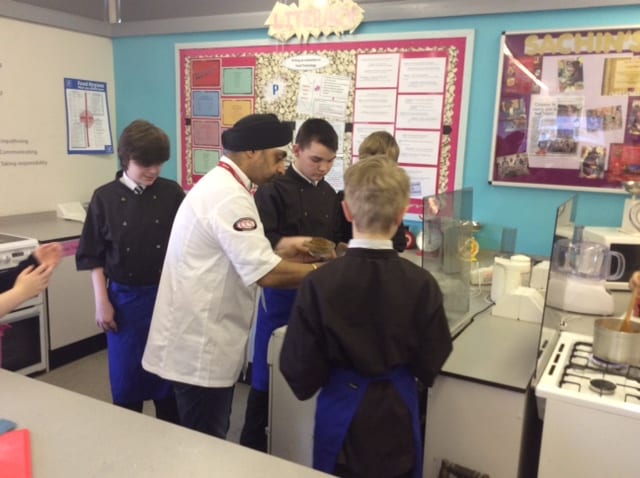 Eleanor Little, food and health education curriculum leader at the school says the year 10 students found the experience invaluable from start to finish.
"To explain to the students what to do is one thing, but to have an expert with the experience Bob has come in and actually show and pass on those skills makes a real difference.
"They really benefitted from seeing Bob, and the information he passed on as business owner will really help them in their future careers."
It's not the first time Sachins' joint owner Bob has stepped in to help out in schools – he is a regular in school kitchens around the region helping teach pupils the daily happenings in a working restaurant. He says he is more than happy to help.
"It's a great feeling being able to come in and teach the chefs and business owners of tomorrow the tricks of the trade. You can see they are listening and looking to learn. Hopefully, it inspires some to take their careers forward in the future."
The visit follows Arora's cooking tutorial at Whickham School, where food preparation and nutrition students were also introduced to different cultural influences in food, in addition to learning the skills required to meet GCSE standards.
I Love Newcastle Magazine would love to hear your thoughts about the above post, so please feel free to share them in the comments box below.