Red's True BBQ Newcastle this week finalised the deal which will see head chef Anthony Hepburn serve the American style BBQ – which has helped Red's establish itself as a Tyneside favourite – 100ft in the air.
However for Anthony, whose 15 years of experience in the restaurant business includes designing menus for celebrities including Olympians, this won't be his first adrenaline fuelled experience – having dished up delicacies for a Formula One team, as he explains:
"I've done a little bit of everything since I started in the restaurant world, but one thing that sticks out is when I worked in Formula one.
"It was such a brilliant experience being around the cars and the personalities from drivers to the behind the scene staff. Seeing how everyone worked together it really reminded me of a kitchen in a way – fast and furious"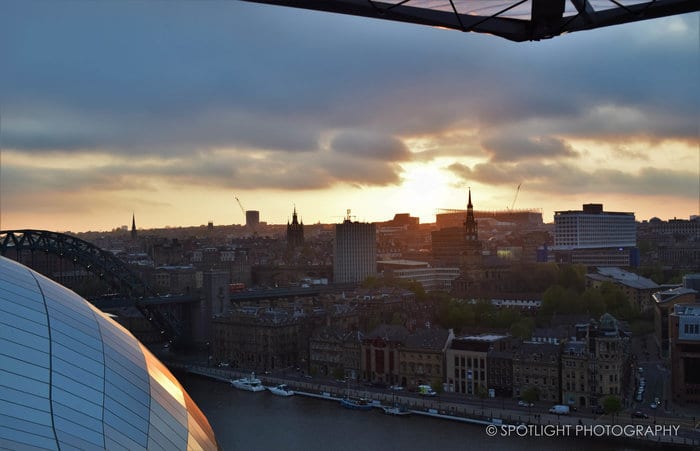 Anthony continued: "When I heard about Newcastle in the Sky and the opportunity to add to the list of experiences I was more than happy to get involved. It's not every day you can do what you love suspended 100ft above Gateshead Quays so I'm really looking forward to it."
Red's True BBQ only opened in late November last year however has wasted no time at all in attracting a following. Anthony says it's down to the efforts of everyone who is part of the Eldon Square operation.
"At Red's we've tried to offer something completely different to the restaurant scene. I know whenever I prepare the dishes, I do so with the same passion shared by everyone who is part of Red's and I think it shows.
"We get a lot of people coming back and remarking how good the whole experience has been, so I would say it's definitely paying off."
Anthony is set to take to the skytable as part of Newcastle in the Sky 2017 on August 27th, 28th and 29th from 3.30-4.00 and 4.30-5.00.
Tickets for the event are limited but are still available. For more information or to book your spot on the skytable see www.eventsinthesky.co.uk.
I Love Newcastle Magazine would love to hear your thoughts about the above post, so please feel free to share them in the comments box below.