Set up by local foodie Amy Whitfield, Triple A Food Tours is launching the first ever walking food tour of Newcastle this Friday (26 April).
An ideal experience for anyone passionate or curious about Newcastle's culinary scene, the tours are designed to showcase the delicious food on offer from local independent eateries while letting participants soak up the Toon's vibrant atmosphere and learn about its rich history along the way.
It was Amy's love of all things local that inspired her to set up Triple A Food Tours, but a trip to the Big Apple that really spurred her on:
"I'm an absolute foodie and most weekends myself, my husband and my baby boy visit the Grainger Market to buy six oysters from Lindsay's as our treat. We also try to buy as much of our shopping as possible here. I think it's really important to shop local and we love the buzz of the Grainger Market.
"A few years ago, I went on my first food tour in New York and remember thinking that we had nothing like it in Newcastle. It was after the birth of my son last May when I was on maternity leave that I decided to pursue my dream of launching Newcastle's first foodie tour."
It's no secret that Newcastle's gastro reputation has grown considerably in recent years.
The city is now home to a Michelin-starred restaurant—House of Tides—and fellow local foodie meccas like Peace & Loaf and Träkol are getting attention and praise on a national scale. Amy's tours aim to show just how amazing our region's cuisine is, so naturally the focus will be on local, independent places that are dishing up locally and sustainably sourced ingredients.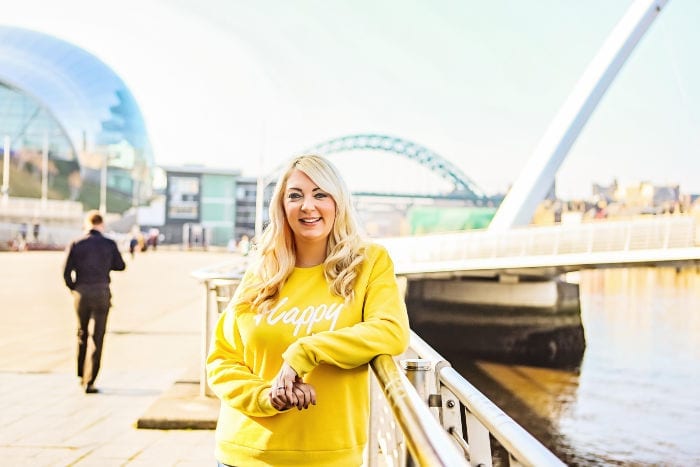 "I love our city and feel that it has such a fantastic mix of eateries. When I first set out, I was looking for eateries that were independent businesses and were proud of their northern roots.
"That's why all of our partnership eateries all source local and sustainable produce. From Lindsay Bros fishmongers in the Grainger Market who sell the freshest of Lindisfarne oysters daily to Six Restaurant at The Baltic who are really passionate about sustainably sourced, local produce for their kitchen," says Amy.
The walking food tour of Newcastle lasts for approximately three hours and take participants on a journey through the streets Newcastle that includes visits to five or six local eateries.
There they will sample small but ample portions of food and drink guaranteed to leave any self-confessed foodie more than satisfied by the end of the tour.
Alongside Lindsay Bros and Six, foodies can expect to visit other local hotspots like The Great British Cupcakery, gastropub The Bridge Tavern and Spanish deli La Casa.
Although food is of course the focus, foodies will also learn about the rich history and culture of our fair city as Triple A's friendly and knowledgeable tour guides take them past some of the Toon's most iconic landmarks like the Sage and Tyne and Millennium bridges. As Amy puts it: "It really is a tour with a difference!"
This is just the beginning for Triple A Food Tours, however. In the not-too-distant future, Amy intends to introduce a couple of new incarnations of the walking food tour of Newcastle —one designed specifically with vegan cuisine in mind and another that will showcase the cuisine of the Northumberland coastline.
Triple A's food tours currently run every Friday and Saturday and cost £49 per person which includes all food and drink sampled on the tour. They also offer bespoke and private tours that are an ideal gift for birthdays and anniversaries or perfect for putting a unique, memorable spin on hen dos or corporate events.
To find out more about Newcastle's first walking food tour and details on how to book, check out the Triple A Food Tours website.
I Love Newcastle Magazine would love to hear your thoughts about the above post, so please feel free to share them in the comments box below.