A HUGE fundraising effort by Miller Homes North East has seen the company UK-wide more than double its fundraising target for global development charity Habitat for Humanity, raising almost quarter of a million pounds in just 12 months.
The leading housebuilder has raised over £228,000, considerably surpassing an initial target of £100,000, for the charity's GB Hope Builders Campaign.
Employees were challenged to raise money for the charity throughout 2016, which was smashed in September – four months ahead of schedule. The total raised is enough to build more than 75 'Habitat Homes' for orphans and vulnerable children.
The company's North East region raised over £34,000 of the overall total, as a result of fundraising activity including the build of a Habitat Charity House which saw the cost of time in labour donated to the fundraising pot, quiz nights, bake sales, a partnership with a local school bringing a special Hope Shelter to its playground and a charity ball.
Chris Endsor, Chief Executive of Miller Homes, said: "I have been completely overwhelmed by the efforts of our team in support of the Hope Builders Campaign. When we set the initial target of £100,000 I thought we had a challenge on our hands but the way our employees have got behind the campaign and raised much more than we ever could have expected is fantastic.
"They have worked tremendously hard organising fundraising events, everything from bake sales and bikeathons to fun runs and tough runs, with some pigeon racing thrown in for good measure! We also donated the cost of time in labour from one of our properties in the North East towards our fundraising total."
Habitat for Humanity's focus is on shelter and recognises that home is the cornerstone of hope for those living in poverty. Working with established partners in more than 70 countries across the world, the charity offers simple, sustainable solutions to help lift some of the poorest and most vulnerable people in the world out of poverty housing. The average 'Habitat Home' costs around £3,000 to build and provides families with a home which is wind and watertight and light and airy.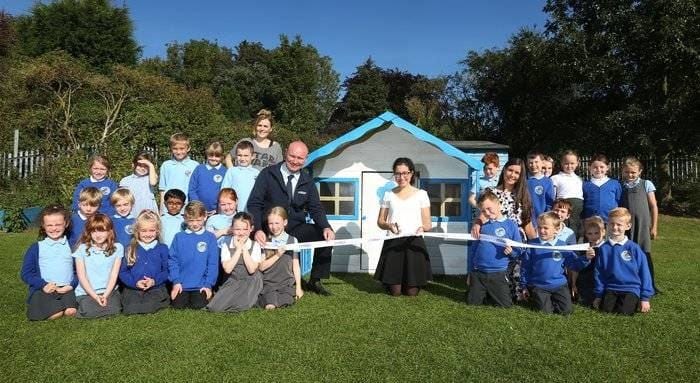 Chris continued: "As one of the UK's leading housebuilders we recognise the importance for all families, no matter where they are in the world, of having a safe, secure place to call home and to build a future. This is a basic human right and by supporting this campaign we have had a fantastic opportunity to use our experience, resources, enthusiasm and determination to make a real difference to some of those who need it most.
"However, our support for the Hope Builders Campaign was about more than just raising money and we sponsored 16 volunteers from a variety of roles across our business to take part in a Global Village Trip to Malawi and experience our fundraising efforts in action. I was privileged to be part of that team and can speak for everyone when I say how wonderful it was to see the tangible benefits our money will provide. The impact on the families is truly life-changing."
In September, the team including Chris and two employees from the North East, travelled to Malawi on a Global Village Trip to build homes for families supported by Habitat for Humanity's Orphans and Vulnerable Children's programme. The team's aim was to build three 'Habitat Homes', however due to their hard work and determination they actually built four, breaking a record for the number of homes completed during a Habitat build in Malawi, and providing much needed help for another family.
Meryl Davies, CEO of Habitat for Humanity GB, said: "Our partnership with Miller Homes has been an astounding success. Witnessing the enthusiasm with which employees across the company have taken our cause to their hearts has been inspiring, and strong relationships have been built across our two organisations as a result.
"More importantly, our partnership has allowed us to help people who desperately need our support; from building four houses in Malawi to raising over £200,000 to support our broader mission, Miller Homes can be proud of what it has achieved. On behalf of Habitat for Humanity and everyone we support, thank you!"
An infographic produced by Miller Homes provides some advice to companies on fundraising for charity.
For more information about Miller Homes, visit www.millerhomes.co.uk. Further information about Habitat for Humanity can be found at habitatforhumanity.org.uk.
I Love Newcastle Magazine would love to hear your thoughts about the above post, so please feel free to share them in the comments box below.