With only five months until diners are suspended 100ft in the air, some of the best chefs in the north east set their eyes on a new location after the announcement of a delay in renovation works at its previous home.
Following the unfortunate announcement that Stephenson Quarter would not be ready due to ancient ruins being found, organisers at Newcastle in the Sky announced the event would have to be moved.
The sky-high dining even will be returning to its 2016 location of The Sage Gateshead with stunning views across the Quayside, River Tyne, Gateshead and city of Newcastle upon Tyne.
From the 24 – 29 August 2017 for an exclusive period only, chefs from Browns, SIX, Aveika, Hawthorns, Chaophraya, Artisan, La Yuan, The Vermont Hotel, Livello and The Gin Bar will be giving all they've got, ensuring guests of 2017 will be as astonished at the views as they will be with their food.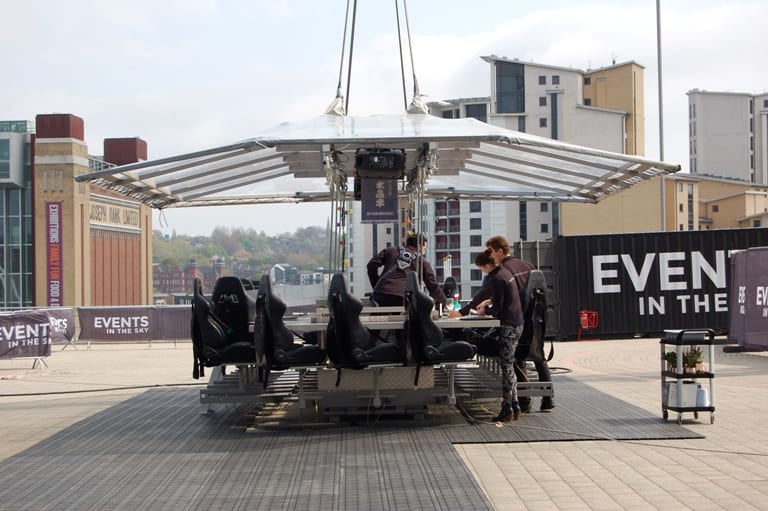 Jacqui McKirdy, event director of Newcastle in the Sky is looking forward to returning to The Sage Gateshead with the team.
"We are happy to return to Performance Square, the views of the river and bridges are spectacular. With our Title sponsor DS Automobiles and other exciting changes, the team are more determined than ever to deliver another outstanding event in the heart of the North East."
Latest broadcasts announced DS Automobiles as the events national title sponsor, with the further news that Motel One has this week confirmed as the events' hotel partner. Designed for customers looking for a means to express themselves as individuals, the DS collection comprises DS 3, DS 3 CABRIO, DS 4, DS 4 CROSSBACK & DS 5. Featuring remarkable styling, premium materials and refinement in every detail, the DS Automobiles' collection also stands apart with its advanced technology
With tickets in high demand after a phenomenal pre-sale, anyone interested in purchasing seats on the sky table is advised to book as soon as possible via www.eventsinthesky.co.uk. For corporate bookings please call 07808 527 039.
http://www.eventsinthesky.co.uk/events/newcastle-in-the-sky-2017/
Twitter: @Newcinthesky / @EventsinSkyUK
Facebook: www.facebook.com/Newcinthesky
Instagram: @newcinthesky
#Newcinthesky
I Love Newcastle Magazine would love to hear your thoughts about the above post, so please feel free to share them in the comments box below.