The brand-new botanical inspired all-day dining, drinking and dancing destination, eden, is officially open in the city of Newcastle following a sensational VIP launch party held on Friday. The celebrations will continue this weekend, with celebrity DJs booked for the Friday and Saturday evenings, in the exclusive club rooms.
The party started on the Friday, as eden's doors opened for the very first time with an exclusive, invite-only party. Superstar DJ and chart topper, James Hype took to the decks with an energetic set for lucky partygoers. Then on Saturday night celebrity TV presenter and DJ, Mark Wright, took to the decks greeting the crowds and bringing his exciting party set to eden for pleasure-seekers looking to dance the night away.
A floral wonderland, eden Newcastle provides a playground of sensory delights for the city's revellers, with three nightclub experiences under one roof. From daytime soirées to partying in paradise, eden will be a hedonistic escape offering sheer unadulterated fun for all.
Breathing new life into the city, the glamorous 'Garden of Eden' inspired haven offers a globally inspired menu from morning to night. From bottomless brunches, to sharing platters, wood-fired grills and authentic pizzas – there's something for all occasions. A jewel in the eden Newcastle crown, the three-floor venue boast three sumptuous private dining rooms, providing an opulent hideaway for any dining occasion. Each private dining room encapsulates the botanical bliss of eden. Choose from Adam's Allotment, a trove of eclectic artefacts; Eve's Florist, which features rustic décor and beautiful bouquets; and Serpent's Secret Garden, a mystical inspired den.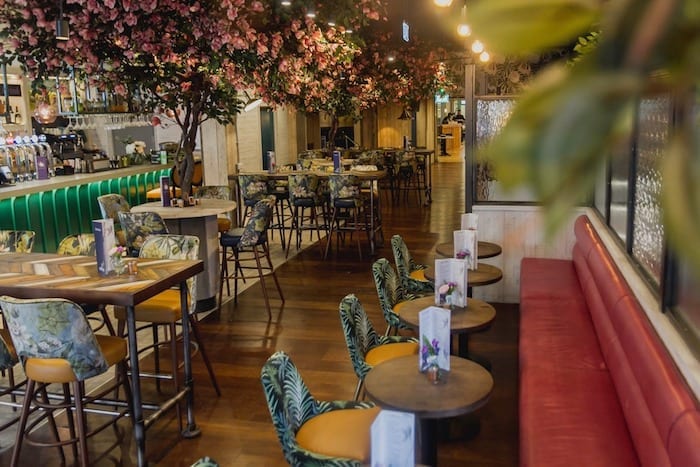 From sunrise, eden presents an enchanting eatery starting the day with a delicious brunch menu served Saturday and Sunday until 3pm. Menu options include Crushed Avocado Sourdough, Buttery Crumpets, Full British Breakfast and Full British Vegan Breakfast. Introducing a wondrous way to spend your weekend, eden's bottomless brunch is priced at just £25 per person. Indulge in your choice of free flowing Bellinis or bottomless bubbles with any of the brunch menu dishes.
Transforming traditional dining, eden offers chic dining options inspired by the land, earth and sea.
For those who like it sweet, an eclectic choice of desserts is on offer with a selection of British classics.
For social eaters, eden offers a bespoke platters menu; priced at £20 for a 'Fruits of eden' platter and a vegetarian 'V-eden Paradise Platter'. Diners can also opt for the set menu of two courses for £14 or three courses for £19, with vegan, vegetarian and gluten free options included. Families can make the most of the kids' menu with a simplified offering of starters, mains, pizza and desserts with dishes starting from £2.50. For pizza lovers, guests can choose any classic pizza, a bottle of wine and a dessert to share between two people for £20 from Monday to Thursday, 5pm to 10pm as part of the Dine Out 2 for £20 offer. And between 12pm-4pm Monday to Friday, diners can enjoy a 2ft classic eden pizza for only £6. The open kitchen provides the perfect setting for date nights, dinner with friends or a special celebration.
In the early evening, eden's elegance blossoms; with an elegant drinking and dining scene, where guests can sip on botanical-themed artisan cocktails, worldly liquors, craft beer and wines. eden's inspired signature cocktail menu has everything from bespoke fresh blossoms to wondrously wild creations, including Adam & Eve: Midori, Brooklyn Gin, lemon juice, honeycomb syrup, topped with eden's own insignia and Original Sin Buffalo: Trace Bourbon, bitter orange & chocolate cookie syrup. Classic cocktails, mocktails and an extensive Gin & Tonic menu is also available. eden's Herbaceous Happy Hour is available from 5pm-9pm daily and Fizz Friday finishes the week with a little sparkle, as prosecco is just £15 a bottle all night.
As dusk nears, eden transforms into a wonderland for late-night revelry. Party in paradise with three next-level club experiences on the top floor: Hedonist – Endless pleasure awaits in the main state-of-the-art club room. Genesis – a retro inspired, 80s, 90s and 00s party. Playing all the classic hits and featuring eden's iconic flashing dancefloor. Forbidden – Hip Hop beats, old school 90's club room. For singing sensations, Voice of eden features an exclusive state of the art karaoke system, private booths and eclectic music mix of over 1000 songs.
eden's energetic nightclub experience offers everything with herbaceous happy hours, exclusive ticketed events, live entertainment, star DJs and VIP service. Boasting contemporary, floral-themed interiors, complete with botanical inspired artwork and captivating graphics; eden marries elegance with exoticism and opulence with energy.
I Love Newcastle Magazine would love to hear your thoughts about the above post, so please feel free to share them in the comments box below.