The newest and most unique shopping destination opened this summer in Newcastle, arriving with a bang and a buzz of activity.
Stack is a collection of 60 shipping containers on the site of the former Odeon cinema on Pilgrim Street, described as a 'creative social hub' housing shops, eateries and health destinations including yoga therapies and Newcastle's only 100% vegan nail salon.
The latest of these food sites is Beacon Burgers, a street food vendor seen across the country at music festivals. Owner Daniel Halpin, a Northeast local from Whitley Bay, has been developing the ideas around Beacon Burgers for three years since a trip to the West coast of America set his heart racing.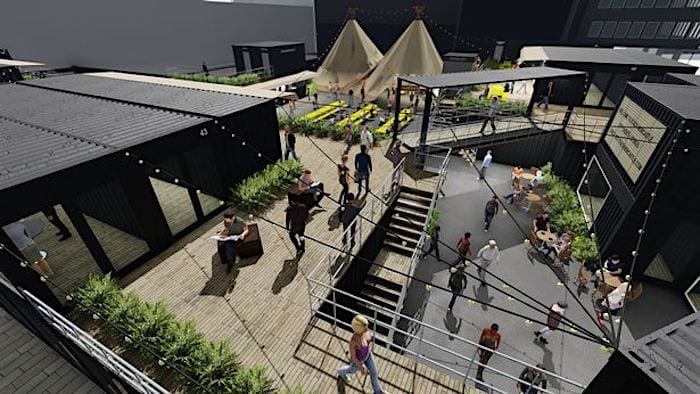 Daniel has finally found a permanent home within Stack and knows the region's love for street food will help grow his business alongside the development itself, bringing further investment and quality traders. "The street food scene here in the region is thriving and we are delighted to be playing a key part in it. The launch of Stack and other similar container villages will only enhance the variety and quality of food on offer."
Alongside his site within Stack Daniel is looking to grow Beacon Burgers further still with a new vintage food truck, allowing him to do private outside catering and possibly continue the festival market next Summer. "…mobile, street food is where we began and we are committed to keeping our mobile truck on the road so will be operating the restaurant alongside an increasingly busy schedule of festivals and events around the UK."
The launch of Stack mirrors several other container villages across the UK, with similar successful projects in Bristol, Manchester and Shoreditch in London. Stack is a development between builder Brims construction and developer Danieli Holdings, which also runs Yolo Townhouse & Ponteland.
There is scope within the project to include temporary, seasonal attractions including a Winter cocktail bar, and the Enchanted Garden once Spring and milder weather returns. Antarctica will be a colony of igloos across the main plaza of Stack, purpose built to watch the world go by while drinking cocktails from ice glasses, snuggling in front of fires and wrapping up in their comfy fur-lined chairs.
This month will also see Hadrian's Tipi back within Stack, the tipi was in place prior to the shipping containers being moved in a ground being broken. It will be a haven from the cold winter with fireplaces, mulled cocktails and warm vibes emanating throughout.
As Stack's reputation and portfolio grows, it becomes more and more a destination for nights out, shopping dates and relaxation.
I Love Newcastle Magazine would love to hear your thoughts about the above post, so please feel free to share them in the comments box below.