Food lovers can now indulge in a gastronomic journey thanks to a new tasting menu being launched at Dobson & Parnell on Newcastle's Quayside.
Troy Terrington, chef patron of Dobson & Parnell, which opened at 21 Queen Street last year, has carefully crafted a tasting menu, together with matching wines, showcasing the very best of refined British and European cuisine.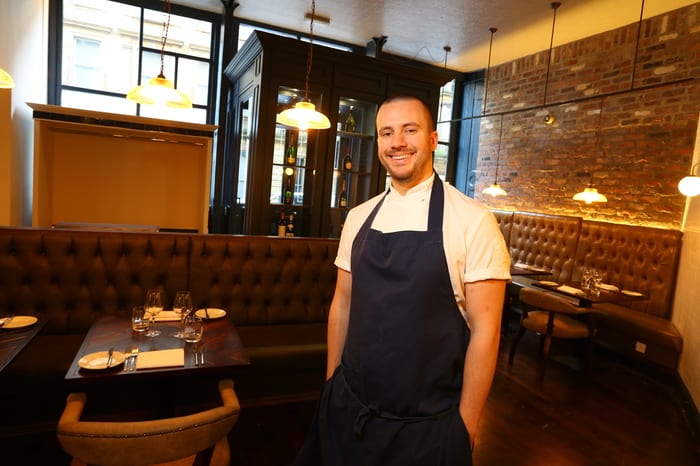 The new tasting menu will change daily but an example of dishes customers can experience includes North Shields crab and parsley risotto; Cured Skrei cod with dill; Glazed pigs cheek; Waterford House Farm lamb; Yorkshire rhubarb ricotta, and Valrhona'manjari' salt caramel with peanut butter.
A vegetarian tasting menu has also been developed which highlights some of the region's finest vegetables on offer. This menu will also change daily and include dishes like Preserved vegetable salad, north country shoots, slow cooked egg charred broccoli with pickled radish and sourdough; North country beetroots with celeriac remoulade and Potato pasta, mushroom, truffle and parmesan.
The seven-course tasting menu is priced at £65 per person or £100 with wine pairing. It is available from 5.30 – 9pm between Tuesday and Saturday and guests are advised to allow around three hours to enjoy the tasting menu experience.
Troy moved to the North East in 2005 and worked as head chef at both Blackfriars Restaurant and Jesmond Dene House before opening Dobson & Parnell.
He said: "Launching a tasting menu has always been our aim since we opened so we're delighted to finally offer it to our customers. We work closely with small, local producers and are always impressed by their passion for food and the quality of their produce. The new tasting menu not only allows us to take our guests on a culinary journey and experience new and exciting flavour combinations but also showcases the work of the wonderful suppliers we have on our doorstep.
View the full Dobson & Parnell tasting menu here: http://www.dobsonandparnell.co.uk/_assets/media/dobson-parnell-tasting-menu.pdf
Dobson & Parnell is located within an elegant Victorian Grade II listed building and is named after two of Newcastle's Victorian architectural stalwarts, John Dobson and William Parnell, who designed the original building in 1863. The restaurant also offers an excellent value three course lunch and fizz for £24 (Monday to Saturday) and a cracking roast from 12-4pm on Sundays, ideal to combine with a stroll along the quayside.
The Victorian building has long been an attractive location for restaurateurs. It was the original home of Terry Laybourne's Michelin-starred 21 Queen Street as well as the popular modern-British restaurant Pan Haggerty.
Dobson & Parnell is part of the Hooked-on Group, alongside Blackfriars Restaurant in Newcastle and Hinnies Restaurant in Whitley Bay.
Dobson and Parnell, 21 Queen Street, Newcastle, NE1 3UG, Tel: 0191 2210904 www.dobsonandparnell.co.uk
Twitter: @DobsonParnell Facebook/Instagram: DobsonandParnell
I Love Newcastle Magazine would love to hear your thoughts about the above post, so please feel free to share them in the comments box below.