Ouseburn, a formerly industrial valley to the East of Newcastle city centre, has become city's first plastic free community.
The award, from marine conservation charity Surfers Against Sewage (SAS), recognises residents' efforts to start reducing the impact of unnecessary single-use plastics on their local environment.
Award-winning musician Chad Male, who started the Plastic Free Ouseburn campaign in 2018 following concerns about litter in the river, said: "I'm thrilled that Ouseburn has become the first area of the city to gain Plastic Free Community status.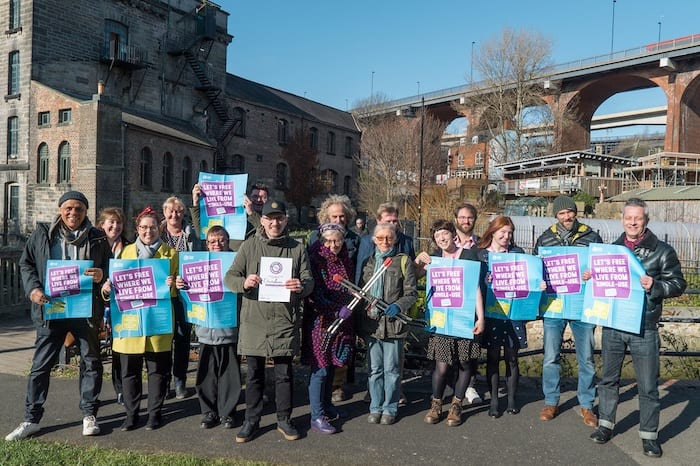 Plastic Free Communities is a community initiative designed to unite and empower individuals, small businesses, local government and community groups to reduce their collective plastic footprint and protect the environment together.
Driven by inspirational local volunteers, it tackles single-use plastics and plastic litter in our villages, towns, cities and rural locations.
"Everyone has embraced it with open arms and relished in the opportunity to do something positive for their local area and the environment.
"A grassroots campaign like this goes to show how each and every one of us really can make a difference and, of course, though Ouseburn isn't yet completely plastic-free, the show of commitment towards that aim is truly inspiring and I couldn't be prouder of this gem of an area in the heart of Newcastle."
As part of their work campaigners organised everything from plastic-free street food festivals at Ouseburn Farm to environmentally themed events at the national centre for children's books, Seven Stories, and education sessions for schools.
Local businesses too, such as Ouseburn Coffee Co, helped by swapping out disposable items such as plastic straws, coffee cups and takeaway containers for more environmentally friendly alternatives.
And Newcastle City Council – which has already stopped using a range of single use products, backed schemes like the Refill app, and promoted citywide efforts to reduce plastic waste – supported with technical support and advice.
Cllr Nick Kemp, cabinet member for environment and regulatory services, said: "It is great to see how the Ouseburn community has come together to tackle the plastic problem.
"We recognise the damaging effects of unnecessary single-use plastics on the environment, which is why we have taken a number of measures across the city to reduce its use.
"And we are proud to support the efforts of local people as they help us to make our city a cleaner, greener and more attractive place to live."
Across the city the council will, in the coming weeks, be working with community groups to tackle litter as part of the Keep Britain Tidy led Great British Spring Clean, while also continuing its ongoing Your City, Your Home campaign to tackle fly-tipping and dropped rubbish.
Rachel Yates, SAS' Plastic Free Communities project officer, said: "It's great to see the work that Ouseburn has done to reduce the availability of avoidable plastics, raise awareness and encourage people to refill and reuse.
"Every step the community and the individuals in it take is a step towards tackling the problem at source, challenging our throwaway culture and encouraging the habit and system changes we need to see."
I Love Newcastle Magazine would love to hear your thoughts about the above post, so please feel free to share them in the comments box below.