From 27th – 30th October at Newcastle's Times Square, local people are in for a
treat of fresh German beer, delicious food and a fabulous party.
Go nowhere as the grand Oktoberfest is coming to Newcastle this October. The festival promises a nice evening for friend get-togethers, a special occasion for company parties and an unforgettable experience for whoever just loves a good time. "The mood at our event is as good as the one in Munich.", said Carsten Raun, Festival Director. "One thing the British and the German have in common is the joy of life with a nice beer, so Oktoberfest is a perfect place to meet."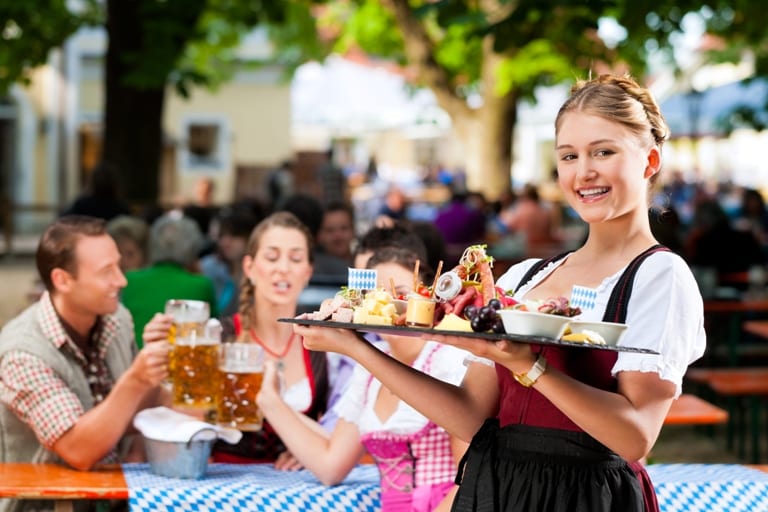 Oktoberfest is celebrated in a giant marqee with a capacity of 1,800 seats. Long
rows of tables and benches fill up the tent and blue and white colors amount to
the cheerful atmosphere. A German band entertain revelers all night with live
music and performances. Although the event is 18+, kids are allowed to join on
Sunday. Special Bavarian Lunch and kid activities such as face painting
guarantee some quality family time. Of course, it wouldn't feel right without
traditional Lederhosen and Dirndl in which all of the serving staff are dressed.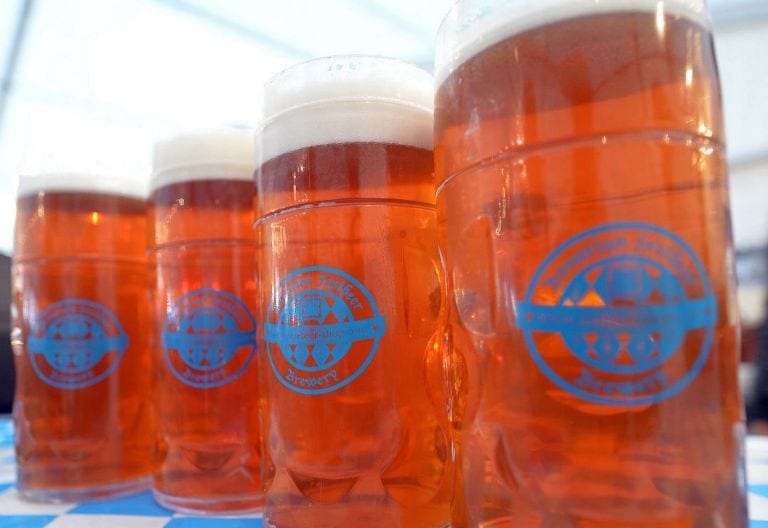 Oktoberfest is fundamentally about beer. The beer on offer, Bavarian Festbeer,
is a true German beer (ABV 5%) brewed according to German purity law. It is a
dark golden lager with beautiful white foam and embraces a touch of sweetness
and a strong yet slightly bitter aftertaste of the hops. Transported in a
20,000-liter tank, the beer is fresh from the brewery in Bavaria through the
craft system directly to guests' glasses.
But Oktoberfest is much more than just beer. A delicious selection of German
specialties is on offer. Guests are advised to taste Schnitzel (deep-fried pork
cutlet), prezel (twist-knot bread), Händel (grilled chicken) and Schweinebraten
(roast pork). Vegetarian option is also available. On Sunday, a Bavarian-special
lunch is prepared for families to enjoy an interesting cultural experience.
Newcastle Oktoberfest is open from 27/10 – 30/10 at Times Square. Entrance is
free on Thursday and Sunday, £5 on Friday and £6 on Saturday. Event is 18+,
except Sunday when kids are allowed to get in for free.
EVENT INFORMATION
Date: 27/10 – 30/10 | Venue: Times Square
Ticket info: newcastle-oktoberfest.co.uk
Email: info@newcastle-oktoberfest.co.uk
Phone: +44 20 3239 5070 | Press: +44 20 3239 5032
I Love Newcastle Magazine would love to hear your thoughts about this article, so please feel free to share below.
I Love Newcastle Magazine would love to hear your thoughts about the above post, so please feel free to share them in the comments box below.