A Newcastle-based art gallery welcomes second prize BP Portrait Award winner, Richard Twose as its headline artist this spring.
The Biscuit Factory, the UK's largest arts, craft and design gallery, launches its new spring show on 4 March featuring the work of more than 200 artists, including a new exhibition from Twose, titled Hypnos.
Twose, who was Artist in Residence at the Royal College of Art last autumn, won second prize in the prestigious BP Portrait Award at the National Portrait Gallery in 2014 for his painting of fashion model, Jean Woods.
His new solo show, Hypnos, explores two themes – interiors and portraiture – as Twose explains: "The first theme focuses on interiors with blurred figures. I have been painting scenes like these for years; trying to evoke a sense of presence and absence, and how empty a space can feel as someone leaves.
"The other set of images arose from my time working with Gifford's Circus and later, The Mark Bruce Company – a contemporary dance group. I made drawings and paintings during these visits but nothing seemed to work. However, I saw a photo of Nell Gifford standing casually on a horse and using one of my drawings from the circus, I substituted myself for the acrobat and something clicked. My wife photographed me falling off chairs, steps and tables and I then painted myself falling off a horse.
"I was obsessed with this juxtaposition. It reminded me of Greek myths; Icarus and Sisyphus particularly. Other images bubbled up: a girl in a summer dress, birds held on cords, a bull, the clown Pierrot and a garland of roses. These images began to feel like words in a sentence; tragic, mythic, dream-like, heroic, foolish. They please and unsettle in equal measure and, like a lucid dream, float on the boundary of comprehension."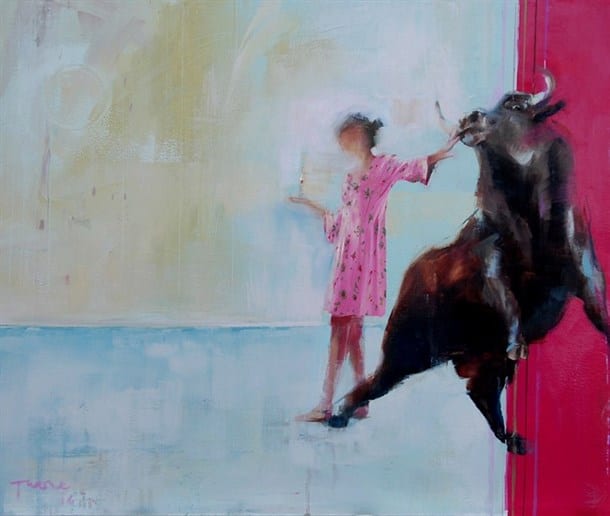 Alongside Hypnos – Twose's first solo show at The Biscuit Factory – the Bath-based artist and painting tutor at the National Portrait Gallery will also be exhibiting in New York this year.
Rachel Brown, General Manager of The Biscuit Factory, adds: "We're very proud to be hosting a large solo show of Richard's work this season. We're great admirers and have immensely enjoyed following his career to date. It's wonderful to bring a show of work to the North East by an artist that has already achieved so much and yet continues to achieve acclaim on an international level. The fact that I also genuinely appreciate and enjoy Richard's work is an even more exciting prospect for me to be involved in the hosting of this beautiful exhibition."
All of the work on display at The Biscuit Factory is available to buy. For those who express an interest, the gallery can arrange a private viewing of Twose's work ahead of the exhibition opening to the general public.
The spring show, which includes a diverse collection of contemporary paintings, prints, glass, sculpture, textiles and jewellery, opens with a special launch event on Friday 4 March, which Twose will be attending. The Hypnos exhibition runs until 29 May 2016.
INFO
For more information, visit: www.thebiscuitfactory.com
I Love Newcastle Magazine would love to hear your thoughts about the above post, so please feel free to share them in the comments box below.