TWO employees from Miller Homes North East will be building better lives in Malawi as part of the housebuilder's fundraising efforts for global charity Habitat for Humanity.
Emma Bartle, 34, from Tynemouth, and David Kempster, 43, from Sunderland, will form part of a 17-strong team of Miller Homes employees on The Global Village Trip to Salima, setting off this Saturday 17 September for one week.
Habitat for Humanity is the housebuilder's nominated charity for 2016 and over the course of the year Miller Homes has pledged to raise £100K for the charity's Hope Builders Campaign, enough to build over 30 'Habitat Homes' to make a real difference to those living in poverty housing.
Already reaching the £90K mark in just eight months, the team at Miller Homes is sharing what it has learnt to offer inspiration for other companies looking to raise money for their own chosen charities via the attached infographic.
Fundraising can include anything from volunteer trips and charity balls, to sporting challenges and bake offs, as well as activity which is a little different, like Miller Homes' 'Habitat Charity House'.
Currently under construction in the North East, the 'Habitat Charity House' will see the cost of time in labour from the build of the home being added to the company's fundraising efforts for the charity, with many contractors kindly providing materials free of charge.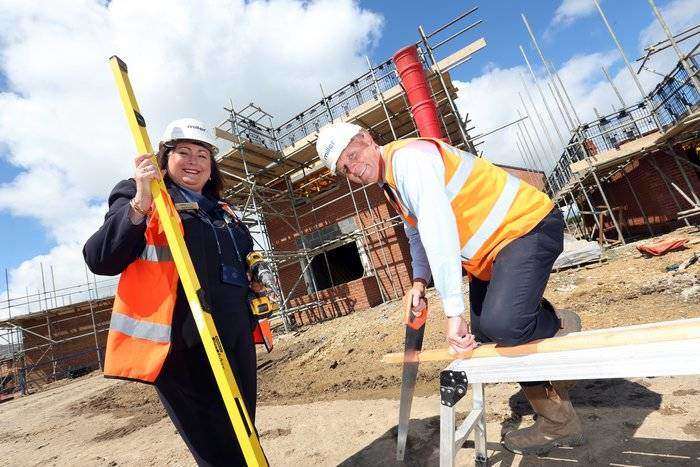 Chris Endsor, chief executive at Miller Homes, explains that for any business to reach a fundraising target, it has to be a real team effort.
He said: "I'm extremely impressed and genuinely proud of all the hard work that has been put into raising the tremendous sum already achieved by our team.
"It really has been key for everyone to pull together and take part in fundraising activities from pub quizzes and dress down days to big events like our Global Village Trip to Malawi. For any business to raise funds for charity, they need to set themselves a target and then work towards achieving it as a team."
The Global Village Trip is being funded entirely by Miller Homes, with each of the volunteers having raised a minimum of £1,000 as part of their contribution toward the £100K fundraising target.
Chris added: "Seventeen volunteers from Miller Homes, including myself, are taking part in this once in a lifetime experience where we will be helping to build homes for families in Habitat for Humanity's Orphan and Vulnerable Children Project.
"This is something I've always personally wanted to do and it will be an honour to be part of the dedicated team going to Malawi. We are all very excited to be involved and are really looking forward to helping transform the lives of the families we will be supporting."
Commenting on her upcoming participation in the trip, North East volunteer Emma Bartle, said: "I feel very lucky to have been chosen to represent the North East region in Miller Homes' Global Village trip and support our fundraising efforts for Habitat for Humanity. I decided to volunteer as I am keen to help those who are in real need and experience first-hand how the money raised for this great cause is used to make a difference. I'm really looking forward to this once in a lifetime opportunity."
To support Miller Homes North East's fundraising efforts for Habitat for Humanity donate at: https://www.justgiving.com/fundraising/malawimillerhomesNE and for more information on the company's charity activity visit: www.millerhomes.co.uk.
I Love Newcastle Magazine would love to hear your thoughts about the above post, so please feel free to share them in the comments box below.