The true-life story of a Polish Holocaust survivor is the latest ebook from North East publisher Dilliebooks, launching on Remembrance Day.
Krystyna Porsz was just 18 years old and living in Warsaw when Germany invaded. Born Dorca Szafir, to survive the horrendous events that followed Krystyna changed her identity, pretending to be Polish Catholic instead of Jewish, and choosing a new name that she kept even after the war ended.
The memoir Being Krystyna tells the story in her own words of how she miraculously survived the Nazi invasion, despite being arrested and imprisoned as well as later taken to a concentration camp. Sadly, most of her family didn't make it and the book also tells how others perished. In 1947 Krystyna married Alfons Porsz and they came to England to settle.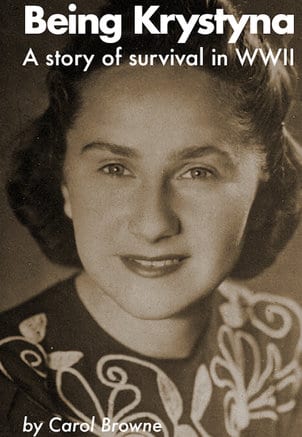 Sharon McKee, founder of independent publisher Dilliebooks said, "It is a story that both inspires and horrifies, it really brings home the reality of what happened to people during World War 2. We wanted to publish it because we feel it is so important that these true accounts are recorded and passed down. Krysytna is now 95 years old and as the years go by there will be fewer people from that time around to tell their story. We were also struck with how many lessons there are still to be learned – especially given some of the events happening across the world today"
Dilliebooks author Carol Browne said, "It was a big responsibility to write Krystyna's story, and, as I usually write fiction, I wasn't sure I could do it. But I felt that it is a story that needs to be told. Getting to know Krystyna and the enormity of what she went through really does bring it home what horrendous experiences happened to ordinary people. We must never forget what this brave lady and so many others went through and we should make sure it can never happen again."
Being Krystyna is published by Dilliebooks as an ebook for Kindle. It's available from www.dilliebooks.com and Amazon from Friday 11 November 2016
I Love Newcastle Magazine would love to hear your thoughts about the above post, so please feel free to share them in the comments box below.