Noveltea is a innovative alcholic tea brand which was dreamt up by two Newcastle University students, and has won a host of awards both for innovation and taste.
Thought to be the first alcoholic tea fusion in the world, the brand was launched at Fenwicks in Newcastle in April 2017 and is now stocked in stores all over the UK.
Noveltea sells three potent varieties, The Tale of Earl Grey, which is distilled with gin, the Tale of Tangier infused with rum and the Tale of Oolong, which is infused with Scotch whisky.
Founders Vincent Efferoth and Lukas Passia said that it was living in Newcastle that inspired Noveltea.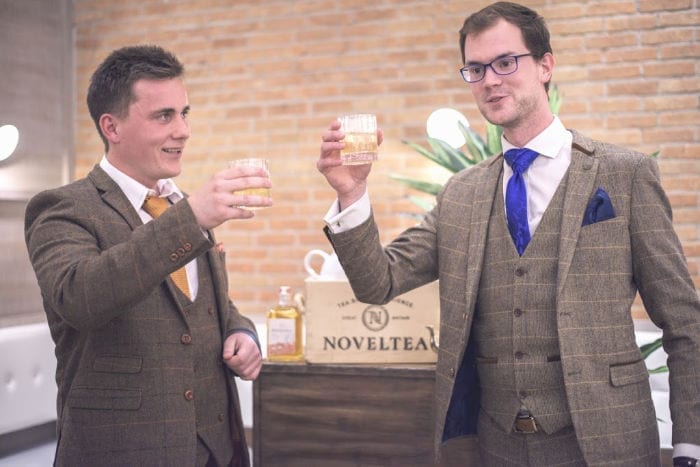 Vincent, who hails from Cologne, said that both he and Lukas, who is also German, were immediately fascinated by the British passion for tea and alcohol, specifically the growing 'craft' alcohol and afternoon tea scenes:
"A Geordie friend of mine told me all about afternoon tea, and I loved the British tea drinking culture in general.
"My business partner Lukas was ill one night, and one of his friends poured some alcohol in his tea. It became the drink of the night, we wondered if we were on to something.
"Yet we couldn't find anywhere where alcohol and tea were fused together. A wrong we felt obliged to right!"
It was support from Newcastle University that helped the pair realise their dream of bringing the product to market.
Vincent and Lukas applied for a Foundership Programme which allowed them to explore the the logistics of making it happen, as the pair's only prior experience with alcoholic drinks had been drinking them.
Noveltea chose iconic Newcastle institution Fenwick's to launch the product which went into the department store's food hall in April 2017.
Now stocked in 150 stores around the UK, Noveltea has seen revenue grow by 320% over the past year.
The boozy brews are also doing well in the export market, with the firm recently having signed a deal to sell tea to China.
Vincent said that he and Lukas consider themselves himself 'Geordies by choice' and that Newcastle has been the perfect place for them to launch Noveltea:
"Newcastle is the most under-rated city in the UK.
"It has an excellent infrastructure, it's 20 minutes to the sea, three hours to London, under two to Edinburgh and you can be at the airport in 20 minutes to fly direct to destinations like Shanghai.
"The people are amazing and there is a very innovative spirit here. It's one of the best cities to live in and build a business, we probably couldn't have done something like this in London, the costs would have been too high."
Noveltea's regard for it's birthplace is even evident in its flavours. The blends start with tea, taking inspiration from its ingredients and origins to create unique flavours that can be enjoyed hot or cold.
The first flavour was The Tale Of Earl Grey, which is Earl Grey tea infused with juniper and British gin and was inspired by Grey's monument and Newcastle's links to Earl Grey.
The other varieties are also inspired by places The Tale of Tangier – An exotic infusion of Moroccan green mint tea with sp­­earmint, dried lemongrass, dried apple, blackberry leaves and Caribbean rum, and The Tale of Oolong – A floral infusion of oolong tea infused with Scotch whisky.
Vincent added: "Tea is the most consumed beverage in the World, drank with all kinds of flavours and ceremonies all over the globe.
"We wanted to celebrate this and create a new product category.
"We aren't even close to achieving our vision yet, we've had a lot of interest in the US, Canada and Germany and we are going to keep pushing into new markets.
"We will stay loyal to Newcastle though, we are Geordies by choice after all."
I Love Newcastle Magazine would love to hear your thoughts about the above post, so please feel free to share them in the comments box below.