NEWCASTLE creative communications agency O PR has raised more than £5,000 for its chosen charity of 2015 – The Sunshine Fund.
The team at O have all taken part in various challenging activities throughout the year including running to the top of Arthur's Seat – a monumental 251 metres high hill in Edinburgh, the Great North Run and the Sunshine Run 5K.
Staff at O also arranged a fashion show at Quayside restaurant Gusto with Gordon Brown Law Firm, as well as a successful ladies only 'networking and nails' event at House of Savannah spa for local women in business, where they made donations for mini manicures and eyebrow shaping.
All money raised will go towards helping to change the lives of children living with disabilities in the region providing specialised equipment individuals, groups and registered organisations. Special and mainstream schools and hospitals can also access their support.
O PR managing director Kari Owers said: "As the business turned 10 years old earlier this year, we set ourselves the challenge to take part in at least 10 charitable activities throughout 2015 to raise as much money as possible for our chosen charity The Sunshine Fund.
"We wanted to make a bigger difference to just one charity to mark 10 years of not just being in business, but putting back into our community.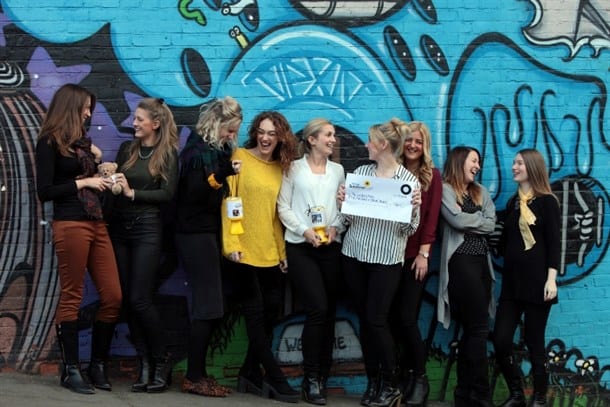 "As well as strenuous challenges we also had a lot of fun along the way by taking part in Go Bananas Day and Superhero Day to name a few, and I'm sure we've eaten quite a lot of charitable cakes throughout the year too!
"I'm really proud of my whole team who got stuck into their own charitable challenges. We chose The Sunshine Fund as all money raised goes directly to North East children and their families and it's a charity that touches us all."
Clare Savory head of fundraising at The Chronicle Sunshine Fund said: "A huge thank you to all the staff at OPR, they raised an amazing amount. We were delighted to be their nominated charity. The money raised will be supporting children with disabilities in the North East.
As well as the 10 charitable activities in 2015, staff at O also supported the charity by volunteering at numerous events and being present on the annual fundraising ball committee. O has committed to pledge its support to charity in 2016, with one member of staff who has already started fundraising to take part in one of The Sunshine Fund foreign trek challenges.
Since its inception O has always had a corporate social responsibility policy, supporting many charities from local organisations such as Women's Aid Newcastle to national campaigns such as Breast Cancer UK's Wear it Pink Day.
O also actively encourages its staff to give their time and skills to the local community and as part of its volunteering programme has seen its staff help organise events and advise charities and non-profit organisations on PR and communications such as Age UK, Childline North East and Young Enterprise.
I Love Newcastle Magazine would love to hear your thoughts about the above post, so please feel free to share them in the comments box below.