Spanish TV chef, Omar Allibhoy is bringing a taste of the real Spain to Newcastle in February 2017 with his biggest opening yet – Tapas Revolution, Eldon Square. Dubbed the 'Antonio Banderas of cooking' by Gordon Ramsay, he's a man on a mission to bring authentic tapas to the UK and Newcastle is his next stop.
Eldon Square, the heart of shopping and dining in Newcastle is the sixth venue for Omar's all day, contemporary tapas bar concept. Offering dishes cooked with the finest ingredients sourced from small artisan producers in Spain, all freshly prepared. Served alongside premium Gin Tonics, in the traditional Copa de Balón (balloon glass) and an extensive Spanish inspired cocktail list created in collaboration with the award winning Cocktail Trading Co.Omar's menu will take inspiration from his family's recipes that he grew up with and Spain's culinary culture of sharing, socialising and eating. Omar says: "tapas is more than food, it's part of our everyday culture: food and life are always best shared."
Madrid born Omar has cooked for a whole host of celebrity and royal diners, including Penelope Cruz, Johnny Depp, Antonio Banderas, Tom Hanks, Bill Nighy and Prince William, The Duke of Cambridge. Alongside his five critically acclaimed tapas bars, Omar has also written two cookbooks 'Tapas Revolution' and 'Spanish Made Simple' and made numerous TV appearances including Saturday Kitchen, Masterchef, The One Show, Sunday Brunch and This Morning, all in aid of revolutionising the Spanish food scene in the UK.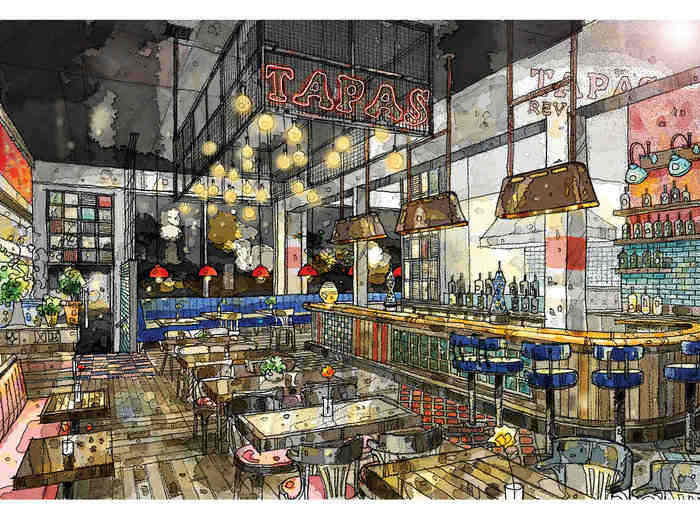 Omar comments: "There's a great restaurant and bar scene in Newcastle and I can't wait to get involved in the buzz happening here and bring a little Spanish twist to the city. Tapas Revolution in Eldon Square is my version of the lively and bustling tapas bars in Madrid, Barcelona and Seville. We can't wait to open our doors!"
Open all day, the menu guides diners on a culinary adventure across Spain, from breakfast in Barcelona to dinner in Seville. The menu is simply divided into fish, meat and vegetable sections, complemented with the best Spain has to offer in terms of charcuterie and their famous Jamon Iberico, hand carved to order by a skilled maestro jamonero. Expect all the classics, such as tortilla, croquetas de jamon, calamares, chorizo cooked in Asturian cider and freshly-made Churros. There will also be 'Platos', large tapas dishes to share including Txuleton de ternera – Rib eye and Sirloin steak from 10 year old cows in the Basque region of Spain, grass fed and aged for 40 days giving a great depth of flavour.
For those who just want to stop for a quick drink, Tapas Revolution has collaborated with the award winning Cocktail Trading Co to create a new cocktail menu of classics with a Spanish twist. Highlights include Blood Orange & Cherry Royal, a blend of Larios gin, blood orange, aguardiente de cerezas, pimento dram shaken with lemon and topped with Cava and the Espresso Blanco Martini made with Veterano brandy shaken with espresso, milk, dark chocolate liqueur, Kahlua and Frangelico.
Also on the Drinks Menu is a selection of Spanish craft beers, including an exclusive in bringing the famous Rioja region's only draught craft beer to the UK and a monthly rotating draft beer from Wylam Brewery. There is an array of soft drinks and wine from a number of small Spanish producers. Wine is served Catalonian style with a porrón – a traditional wine glass pitcher with a long spout that's perfect for sharing and is used to bring extra air into each sip. Honouring Spain's position as the biggest consumer of Gin and Tonics in Europe, Tapas Revolution serves a range of premium 'Gin Tonics' as well as the only exclusively Spanish Gin menu in the country.
Tapas Revolution in Eldon Square, Newcastle opens 13th February 2017.
Opening hours are Monday – Saturday 9am to 11pm and Sunday 10am – 10pm
Twitter: @tapasrevolution and @tapasnewcastle
Facebook: Tapas Revolution
Instagram: tapasrevolution
I Love Newcastle Magazine would love to hear your thoughts about the above post, so please feel free to share them in the comments box below.