The Ouseburn Valley will be transported back to the 1940's over the weekend – Saturday and Sunday the 3rd and 4th September 2016. The free and fun filled family event will be held in connection with the Time Bandits, commemorating 75 years since the Blitz and coincides with the anniversary of the heaviest bombing raids in the local area.
This FREE event is from 10am to 4pm on both days, the Ouseburn Valley will have an array of 1940's themed activities and experiences, including:
WW2 Guided Tours and Blitz Experience starting at 11am, 1pm and 3pm.
Free taster tours of the Victoria Tunnel running throughout both days
Authentic 1940's NAAFI Field Kitchen
Home Guard carrying out drill and re-enactments at the Ouseburn Farm / Village Green 12pm and 2pm
Film's being shown at the Victoria Tunnel Visitor Center (55 Lime Street)
Ouseburn Trusts Antiques Roadshow (please bring along any items you would like valued)
Market Stalls
Live Music
The Cluny will also be serving a special menu to include items such as Oxtail Soup, Spam Fritters and Corned Beef Hash!
This event promises to be a fun filled weekend with a difference!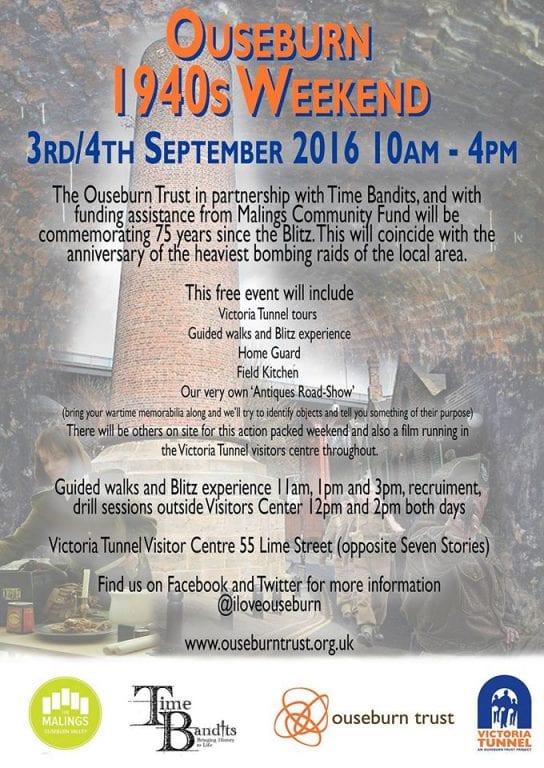 I Love Newcastle Magazine would love to hear your thoughts about the above post, so please feel free to share them in the comments box below.