Thinking about moving to London to seek your fortune? Think again.
Because when it comes to getting to the end of the month with some dosh left in your bank account, London is the worst place in the country.
And the best place is – yes, you guessed – Newcastle.
Research by HomeLet, a leading supplier of landlord insurance, tenant referencing and tenant insurance, has found the best and worst cities in the UK for disposable income – salary minus living costs – for anyone in the early stages of their careers.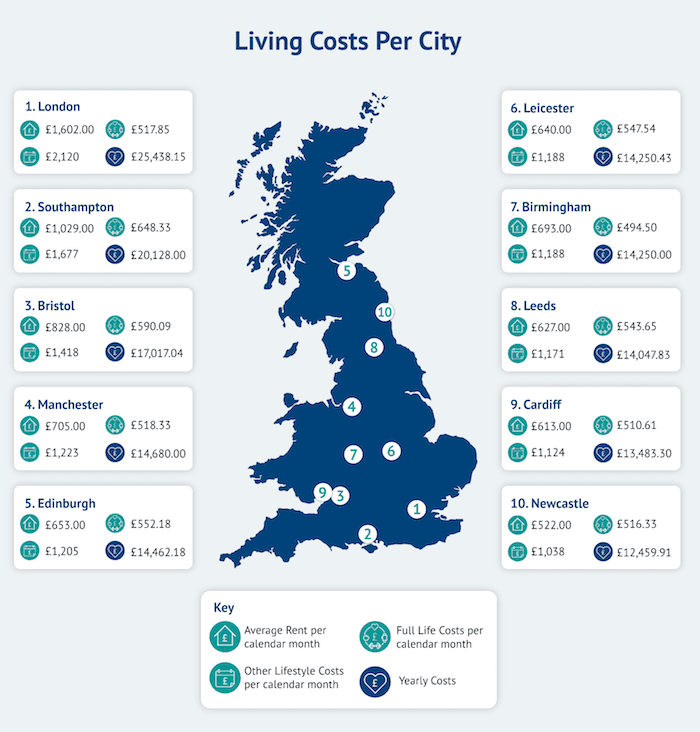 By analysing monthly rental data from the HomeLet Rental Index alongside cost of living expenses from the Office of National Statistics, the study shows the average annual cost of living in the top ten most populated cities in the UK.
Anyone looking to build a new career in London will have to get by with an annual average disposable income of just £1,077 at the start of their career, whilst they could be pocketing a massive £10,363 if they lived in Newcastle.
Of the cities featured in the study, Newcastle comes top of the disposable income table, ahead of Birmingham in second place and Cardiff in third.
And Newcastle has the lowest living costs, making up for the disparity in starting salaries compared to cities such as London, Southampton and Bristol.
HomeLet also analysed average starting salaries for 21 different careers to show how much of your annual salary would be left after lifestyle costs have been deducted.
They found Newcastle to be the best location to start a career in six different industries – construction, manufacturing, education, engineering, finance and marketing.
So unless you've got a very well paid job waiting for you, if you're thinking of moving to London as a career move, you might want to think again.
I Love Newcastle Magazine would love to hear your thoughts about the above post, so please feel free to share them in the comments box below.