A leading North East restaurateur is opening a flagship eatery on Newcastle's vibrant Quayside in December.
Andy Hook, owner of Blackfriars Restaurant in Newcastle and Hinnies Restaurant in Whitley Bay, is teaming up with head chef Troy Terrington to open Dobson and Parnell at 21 Queen Street, specialising in refined British and European cuisine.
Set within a Victorian Grade II listed building, the elegant high-ceilinged dining room will add a touch of old-school, understated glamour and comfort to the venue.
The 65-seat restaurant, which has created 20 new jobs, has been named in honour of two of Newcastle's Victorian architectural stalwarts, John Dobson and William Parnell, who designed the original building in 1863.
The Victorian building has since been an attractive location for restaurateurs. It was the original home of Terry Laybourne's Michelin-starred 21 Queen Street as well as the popular modern-British restaurant Pan Haggerty.
Chef Patron, Troy Terrington, who is taking the reins within the new Dobson and Parnell kitchen, moved to the North East in 2005 and worked as head chef at both Blackfriars Restaurant and Jesmond Dene House. His menus, which he'll re-write every day depending on the freshest produce he can find, will use ethically-sourced local, seasonal produce direct from nearby farms and markets.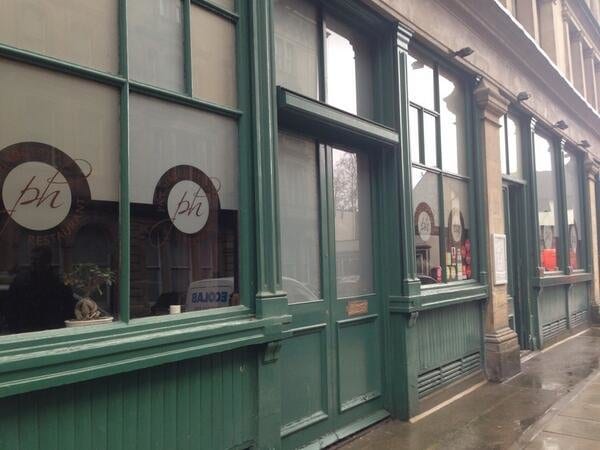 He said "I'm really enjoying having the freedom to work closely with small producers and really nurture the relationship between supplier and chef. It means I get a better understanding of what's coming through the door every day".
The restaurant will be open six days a week serving lunch and dinner. The Set Menu, to be served on weekday lunchtimes and early evening, will feature dishes such as Pressed wild rabbit, pickles, pumpernickel; Hake smoked clam frumenty pickled lemon, wake; and Pressed shoulder of pork, parsnips, trivet onions, pickled walnuts, and Bitter 'manjari' chocolate with Candied clementine to finish at a price of £21 at lunch and £25 at dinner for three courses.
"when we saw an opportunity to open in such a vibrant location, we just couldn't resist."
A refined à la carte menu will also be served in the evening with dishes including Smoked wild duck breast, sea buckthorn, chicory, linseed crisps to start and Turbot cooked on the bone, salsify, oxtail, horseradish for the main course, alongside a soon-to-be-introduced tasting menu with matching wines which will feature dishes such as Line caught mackerel with charred alliums; Ash rolled aged lamb with artichokes cooked in whey, green sauce; and Bread pudding with baked custard, sloe gin berries.
Florin Stan, who has worked at such renowned local venues as Slaley Hall and Doxford Hall, has been appointed as Dobson and Parnell's restaurant manager
Andy Hook said: "I fell in love with this site the first time I saw it. That was back in in the mid-nineties when I used to peer longingly through the windows at the elegant Victorian dining room and happy diners. It's perfectly proportioned as a restaurant with a cavernous kitchen ideally suited for Troy's innovative and creative cooking.
"What's more, Newcastle's Quayside has experienced a revival of top notch restaurants and bars in the past year, so when we saw an opportunity to open in such a vibrant location, we just couldn't resist."
The Victorian brasserie-inspired interior has been designed by Newcastle-based Dakota House of Design and blends modern elegance with key Victorian features, including traditional pendant track lighting, original brickwork, cast iron columns, high ceilings, banquette seating with glass partitions, rich dark timber flooring, a brass bar top and decorative tiled counter fronts.
The restaurant will be open Tuesday to Saturday from 12-2.30 and from 5.30 till 9.30PM from December 2nd 2016. It will also be open for lunch on Sundays from 12-4pm.
Earlier this year, Andy opened Hinnies in Whitley Bay, returning to the coast ten years after opening his first restaurant – Sidney's in Tynemouth. Hinnies offers Geordie comfort food and won the OpenTable Diners' Choice Award within the first few months of opening. The restaurant has now been shortlisted for Best New Business in the North Tyneside Awards (to be announced on December 2).
Meanwhile, at Blackfriars Restaurant, Andy has further plans to expand into the unused areas of the historic 13th Century building at the beginning of 2017 including a new Parlour, Workshop and Tasting Room, as well as a refurbishment of the existing restaurant. Andy took over the running of the medieval friary in 2001 and it has since become one of the best-known restaurants in the city, winning the Taste of England accolade at the North East England Tourism Awards.
Dobson and Parnell, 21 Queen Street, Newcastle, NE1 3UG, Tel: 0191 2210904 www.dobsonandparnell.co.uk
Twitter: @DobsonParnell Facebook/Instagram: DobsonandParnell
Other restaurants in the group are:
Blackfriars Restaurant, Friars Street, Newcastle, NE1 4XN, 0191 261 5945 www.blackfriarsrestaurant.co.uk @BlackfriarsRes
Hinnies Restaurant, East Parade, Whitley Bay, Tyne & Wear, NE26 1AP, 0191 447 0500 www.hinnies.co.uk @HinniesRest
I Love Newcastle Magazine would love to hear your thoughts about the above post, so please feel free to share them in the comments box below.