Almost a year since its opening, Rossopomodoro Restaurant, located in Eldon Square's John Lewis, has become a real hit with the Geordie masses, rivalling any Italian venue in the city for value, authenticity and indeed taste.
Rossopomodoro have proven that the integration of an authentic restaurant based within a modern department store can not just work, but thrive!
I was delighted when the good people behind the Neapolitan Kitchen recently invited the family to sample some of the latest additions to their Neapolitan menu.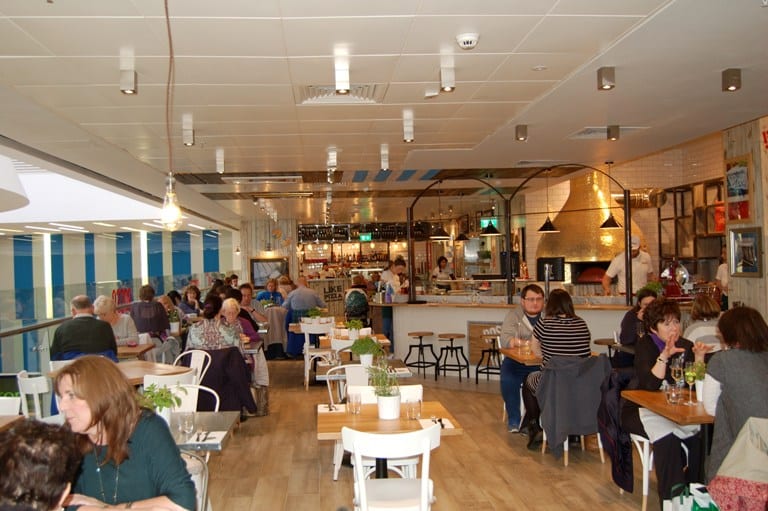 Rossopomodoro's pitch is…They're truly Neapolitan – With Chefs from Neapolitan Pizzaioli families – prepairing Neapolitan dishes from ingredients, sourced from the Napoli region. It really doesn't get any more authentic than that!
The restaurant is a spacious, open plan area situated on the first floor of the department store. The venue's interior is simple yet functional. Weathered wood cladded walls adorned with authentic Neapolitan art, along with an eclectic mix of Mediterranean furniture help create a tangible beach shack feel. The pizza oven and preparation areas are exposed and are situated at the heart of the restaurant.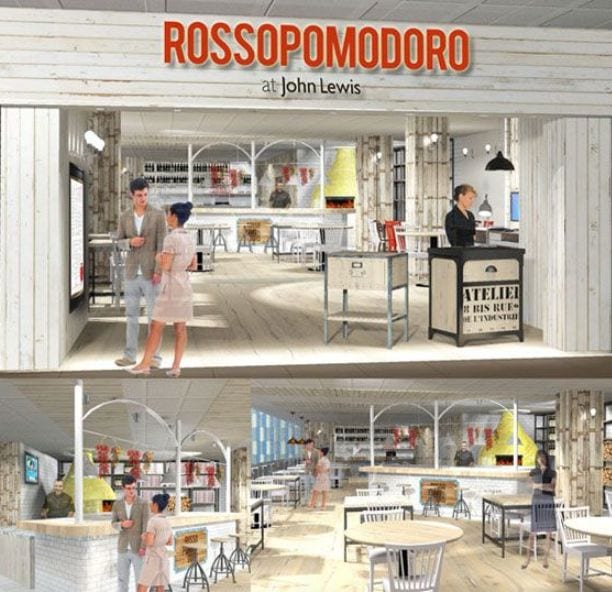 There's also some nice little touches around the venue such as; fresh potted herbs on each table, condiments presented in large tomato cans and a menu featuring a portrait of the beautiful Italian Icon – Sophia Loren.
One side of the venue is open with waste high glass dividers. This enables diners to view the hustle and bustle of Eldon Square shoppers below them, which is surprisingly entertaining, if not therapeutic.
Overall…considering its set within a department store, in the middle of Eldon Square, Rossopomodoro's combination of both decor and branding achieves a welcoming ambience.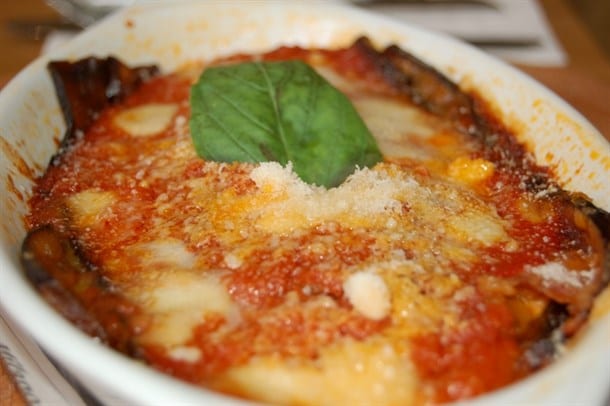 As we perused the menu, which is brimming with Italian classics along with dishes exclusive to the Napoli region, we gleefully munched our way through the bread basket (£3.95) – a delicious selection of homemade, tomato, grissini and focaccia breads. For starters Jess chose for the delicious Parmigiana (£6.95) which is a hearty aubergine bake dish smothered in smoked mozzarella, parmesan and a rich tomato sauce. This wholesome rustic dish could easily be eaten as a main course.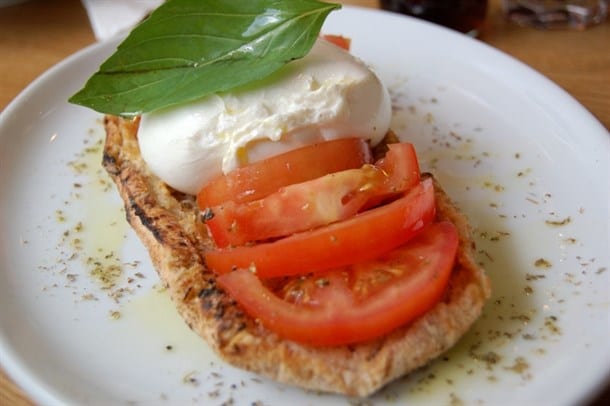 My starter, Capresona (£9.95) – Fresh buffalo mozzarella served on a whole-wheat crispy focaccia with tomatoes, basil pesto, olive oil and oregano – was delicious and easily large enough for two to share.
"Is this the Most authentic Italian food in Newcastle?…Definitely. Is it the best?…Probably!"
For the main, Jess and I ordered the Calzone (£12.95) – Smoked mozzarella, Neapolitan salami, buffalo ricotta, tomato sauce and basil. For our son Jack (8) we ordered two courses and a drink from the children's menu at a very reasonable £7 – Spaghetti Bolognese for his main and an traditional ice-cream for dessert.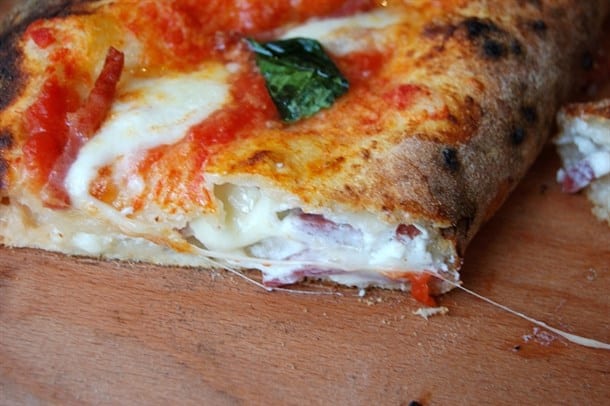 Although the place was busy, service was brilliant and everything we ordered arrived promptly. The Calzones' joyfully gooey filling boasted a complex and tasty infusion of flavours – derived from the rich tomato sauce, the salami and the smoky mozzarella. It's the pizza dough which really separates these pizzas from other Italian joint in Newcastle. The 24-hour dough-making progress creates the most fantastic of bases that's light and full of flavour. Jess and I both declared that this is one of the best Calzone pizzas we'd ever had. Jack showed no mercy to his Spaghetti Bolognese, polishing the lot off!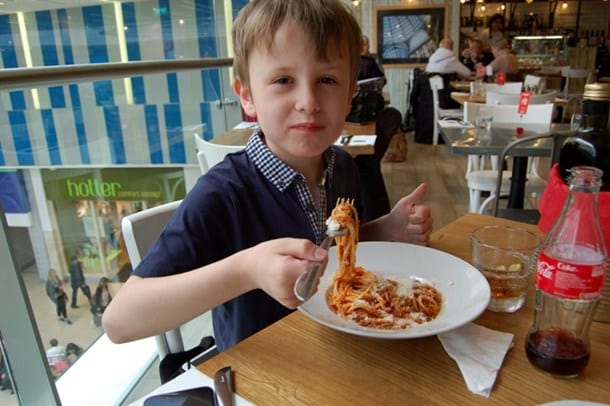 After tackling such formidable starters and mains, we literally had now room for dessert and settled for an espresso (which was damn fine!) Jack, however ate all of his ice-cream with gusto!
Rossopomodoro is an exciting and vibrant place where you can eat amazing authentic, good honest food within a family friendly and relaxed atmosphere. I highly recommend you try this!
Rating*****
WHERE
John Lewis, Eldon Square, Newcastle Upon Tyne, NE99 1AB
OPENING HOURS
Monday to Friday: 9:00 – 20:00
Saturday: 9:00 – 19:00
Sunday: 11am – 17.00
CONTACT
Tel: 0191 232 5200
Email: newcastle@rossopomodoro.co.uk
Twitter: @rossopomodoroUK
I Love Newcastle Magazine would love to hear your thoughts about the above post, so please feel free to share them in the comments box below.