Newcastle School for Boys is hoping for success on the rugby pitch this season after teaming up with local healthcare organisation Nuffield Health Newcastle Hospital.
The school has a longstanding relationship with Nuffield Health – earlier this year consultants and physiologists from the hospital delivered a mini-series of lectures for students with the aim of promoting health and wellbeing in the lead-up to exams, as well as explaining the potential career opportunities within medicine.
Staff at the school has also benefited from the advice of Nuffield Health Newcastle Hospital's health and wellbeing physiologists, Gavin Watt and Aidan Innes, who delivered stress-busting advice sessions for teachers earlier this year.
Now the hospital has stepped in to kit out the school's players with brand new rugby balls as the season gets into full flow.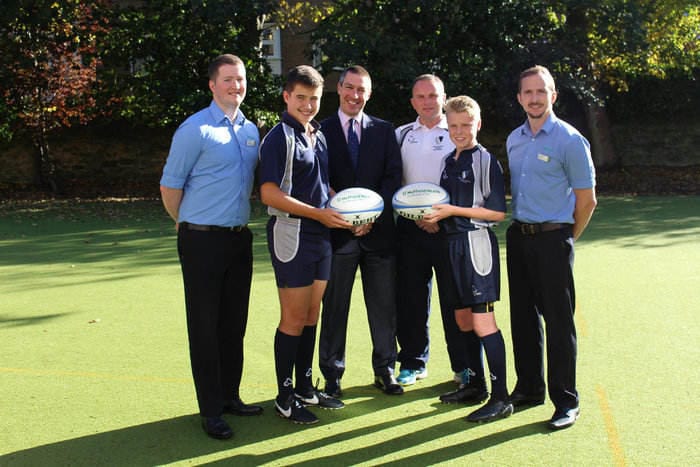 Gavin Watt, health and wellbeing physiologist at Nuffield Health Newcastle Hospital, said: "We have worked closely with the school over the last couple of years and are delighted to be able to support its rugby teams this season. As part of our work we focus on improving wellbeing with the aim of helping people lead healthier, happier lives, and thanks to our partnership with Newcastle School for Boys this is something we have been able to promote amongst both their staff and students.
"We are sure there will be plenty more opportunities to carry on working with the school in the future and we wish all the boys the best of luck for the rest of the season!"
Newcastle School for Boys headmaster David Tickner said: "Promoting the wellbeing of our students and staff is a priority for us and our partnership with Nuffield Health is one way that we are able to do this.
"Everyone here has enjoyed the talks that the experts from Nuffield Health have delivered and it has helped us implement a number of new initiatives. Our partnership with Nuffield Health Newcastle Hospital is a key link for us and we are currently in talks to explore how we might work together again in future."
Lee Hogarth, director of sport at the school, added: "We really appreciated the support from Nuffield Health, not only sponsoring the rugby team but with the advice that their specialists have given. We try and instil into the boys, the importance of not just taking part in sport but an all-round healthy lifestyle, and the talks from the guys at Nuffield Health have been really helpful for this."
Nuffield Health is the UK's largest healthcare charity and has two sites in Newcastle – the Nuffield Health Hospital in Jesmond and Nuffield Health Fitness and Wellbeing Gym in Gosforth. Nuffield Health delivers a wide variety of inpatient and outpatient private healthcare treatments and services using the best possible technological facilities.
I Love Newcastle Magazine would love to hear your thoughts about the above post, so please feel free to share them in the comments box below.